"We want everyone to know that this is where the Irish progressives hang out at the beginning of March. And we all always have a great time and everyone is welcome!
"There is one parade in the St. Patrick's month of March that is dedicated to progressive Irish movements and thought, people who as immigrants or as the children of immigrants stand for racial justice, women's equality, reproductive rights, LGBT justice and love, not hate."
So says co-chair of the St. Pat's for All Parade Kathleen Walsh D'Arcy, in advance of the colorful and proudly community-focused annual parade that will progress from 43rd Street in Sunnyside along Skillman Avenue to its conclusion in Woodside, Queens.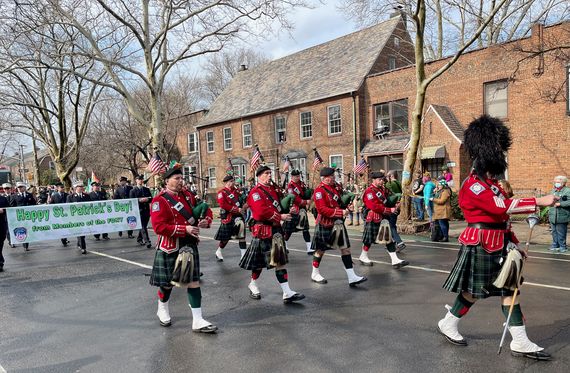 2
Leading the parade this year as Grand Marshals will be the Pulitzer Prize-winning Irish poet Paul Muldoon and the equally celebrated Irish rocker and radio host Cáit O'Riordan (Pogues, Elvis Costello, Radiators; The Rocky O'Riordan Show, U2 X-Radio).
The inclusive celebration of the best of Irish culture, now in its 23rd year, will also be joined this year by Roderic O'Gorman, Ireland's Minister for Children, Equality, Disability, Integration, and Youth.
O'Gorman, a Green Party member, is the latest in a long line of senior Irish government ministers to support the welcoming philosophy and progressive politics of the parade.
"Our motto of 'Cherishing All the Children Equally' will be represented by the smiles and joy of so many children and families along the route," said Walsh D'Arcy, who is joined this year by co-chair Miranda J. Stinson.
"In the words of community activist Jim Burke: 'We're straight, we're gay, we're Muslim, we're Catholic, we're atheist and we're all Irish today and celebrating together," Walsh D'Arcy added.
"We will fight for the right for people to unionize, And there are some amazing groups in the parade who stand up for these things, reminding us of the Irish history that we sometimes forget here.
"In the Irish community here we have produced heroes like Mother Jones, Mike Quill the labor leader, and the attorney Paul O'Dwyer. We need to remember them as we support the young people who are coming out now in a climate of growing hostility. We want to show them how we will strongly respond to a new wave of right-wing hate really, that's what it all seems to be about.
"In particular we want everyone to know that this is where the Irish progressives hang out at the beginning of March. And we all always have a great time and everyone is welcome to come along to Sunnyside and Woodside and celebrate with us."
View this post on Instagram
Lively participants on the day will include the flash dance team called Mother Earth Versus The War Machine, so bring your boogie shoes. Gays Against Guns will also march again this year.
As will the Triangle Fire Coalition, remembering the women who died in the triangle shirt factory fire in 1911, many of whom were Irish, in one of the turning points in labor's struggle to achieve fair wages, dignity at work, and safe working conditions.
Does Walsh D'Arcy and the St. Pat's For All Committee feel their own parade is connected to the massive march in favor of immigrant rights in Ireland in recent weeks?
"We do, and it was wonderful to see!
"You know, the Irish government has been supporting St. Pat's For All and our progressive mission for many, many years for and through many Consul Generals. They really helped to bring peace to the Fifth Avenue standoff and they helped Irish LGBT groups to finally march on Fifth Avenue, which was so important in the centenary year of 2016.
"To see a massive response to a small group of right-wing, racists was wonderful. To see tens of thousands of Irish people come out and say, 'No, this isn't who we are. They can't represent us. We are welcoming.'
"And that's who we should be as immigrants in New York because we are immigrants ourselves or the sons and daughters of immigrants.
"New York should be welcoming refugees and immigrants from everywhere and making it easier for them, not harder for them, to become Americans like our parents and grandparents did."
It takes a village to run a parade, so how is the St. Pat's For All village, doing I ask? "We have a great team. And everybody's been working very hard. We'll be there on Sunday, and I can't wait. It will be great.
"We are also so happy to have artists of the caliber we do agreeing to be the face of St. Pat's For All this year. They're very generous and so amazingly talented.
"One of the many marching groups we'd like to highlight this year is our Irish language-speaking groups. They do much great work keeping the language alive and it's so important that they are out in the New York Irish community and teaching the language to all comers.
"The Brehon Law Society will participate again and they give such generous support to all progressive movements in the city. Also the New York Irish Center march with us every year.
"Their groundbreaking LGBTQ monthly soirées and important social programs and cultural events have been game changers in the life of the Irish LGBT community in city, each being overseen by NYIC director George Heslin."
The St. Pat's For All Parade steps off on Sunday, March 5 at 1 pm, marching through Sunnyside and Woodside to 58th Street and Woodside Avenue, where informal parties and gatherings will continue for the rest of the day, including at local Irish venues The Beerkeeper and Donovan's Pub.