Seeing a new Broadway star being born in front of your eyes is always a delight - so step forward, Colton Ryan.
Few Broadway stars appear as fully formed as Irish American actor, singer, dancer, and musician Colton Ryan, 27, who's currently tearing up the stage as affable Irish crooner Jimmy Doyle in Kander and Ebb's musical love letter to the Big Apple "New York, New York."
It's something seasoned theatergoers like to boast of, I was there the night Colton Ryan brought the house down, but the thing is he's doing it six nights a week including matinees. That's some kind of talent right there.
Hailing from Lexington, Kentucky to an Irish father and part-Irish mother, Ryan made his Broadway debut in 2016 as the standby in "Dear Evan Hansen," in which he stayed until 2017, later graduating from university. 
But it's his all-electric and surprisingly affecting turn as Irish musician Jimmy Doyle in "New York, New York" this month that is really putting his name on the map.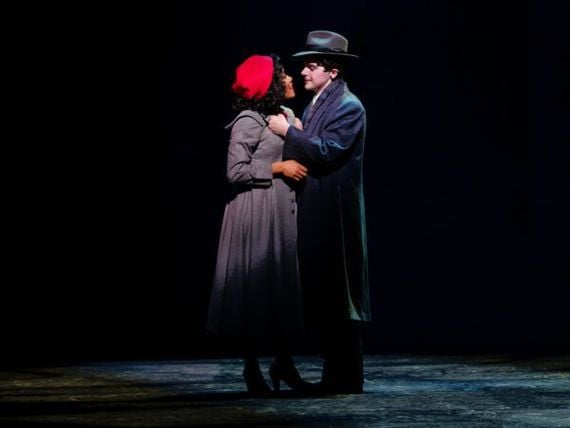 3
Ryan looks like one of the tribe and crucially he sounds like us too. His exasperated onstage cry of "Ah, are you joking me?" brings the house down and is un-distilled authentic Ireland in a way that can't be taught.
The show is a big-hearted ode to the city and to the immigrants who make it run, but it could do with an edit here and there. Subplots sometimes fail to take flight due to the impressionistic way and sometimes generic way they're written. 
But when Ryan shares the stage with his co-star Anna Uzele (playing the gifted black singer Francine Evans,) things kick up a notch in the acting and dramatic stakes and the show takes flight. Here is a full-throated interracial love story at a time (1947) when even in New York it challenged racial taboos. 
"New York, New York" is loosely based on the poorly received 1977 Martin Scorsese film starring Robert De Niro and Liza Minnelli, with music by John Kander and Fred Ebb and additional lyrics by Hamilton'sgolden boy Lin-Manuel Miranda. 
I can't say that apart from its iconic title song, which will be sung for centuries, that I was overly impressed by most of the numbers here. The two songs that slayed me and the entire house were both performed by Ryan. "Quiet Thing" is an ode to love's austere and lonely offices and Ryan has the talent to make it his signature song for all time the way Minnelli once did with the show's title track. It belongs to him, it belongs to the character, and the division does not exist.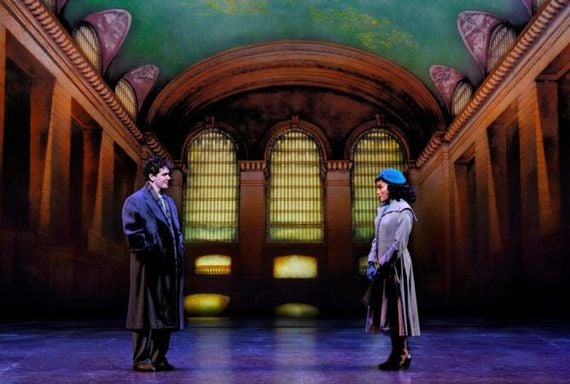 3
Equally, he nails his performance of "Sorry I Asked," a heartbreaking bare your soul eleven o'clock number that made me feel glad to be back in a theatre among an appreciative audience (masked up with an N95, but still) for the first time in years. 
Ryan's phrasing is as good as his pure tenor voice, and his light touch dancing and acting turn a fine a performance a great one. This is the kind of breakthrough that you don't often see on a Broadway stage or anywhere and it's worth the price of admission to catch in itself. 
Another Kander and Ebb classic "But the World Goes Round" allows Ryan's talented co-star to lift the roof off the St. James Theatre in the second act with the kind of ease that only the colossally talented can accomplish. 
The pair are a superb onstage coupling but the script gives them little to work with, making this a frustrating watch at times when the chemistry between the two actors is so palpable. It's a bit like casting two Rolls Royces when all you needed was a Honda Civic. 
Despite its uninspired book, the songs often really do take flight and the central performances really do some heavy lifting, which means you'll have an enjoyable night out at the theatre in celebration of this big, bright sometimes rotten, sometimes candy apple. Don't miss these stars on the ascent.