The jacket Liam Neeson wore in a 1981 production of "The Informer," as well as the play's programme and poster, are going to be auctioned via Whyte's this Saturday, May 13 in support of the Irish Hospice Foundation.
In 1981, Neeson played the part of Gypo in Tom Murphy's adaptation of Liam O'Flaherty's novel "The Informer" which was produced by Noel Pearson in association with the Dublin Theatre Festival and ran at The Olympia in October of that year.
Little did anyone know at the time where Liam Neeson's career would lead him - his Oscar-nominated performance of Oskar Schindler in "Schindler's List" was still 12 years away, while his starring role in "Michael Collins" was 15 years away.
Roll on almost 42 years later and that same jacket worn by Liam Neeson in the 1981 production of "The Informer" is now in possession of the Irish Hospice Foundation (IHF), along with an original programme and promotional poster. 
These items were donated to IHF by Bernie Bourke, daughter of the late Peadar Bourke whose father PJ 'Paddy' Bourke had established the family theatrical costuming business with his wife Maggie in 1905. P.J. Bourke Costumiers, Dame Street, were well-known purveyors of theatrical costumes for stage and film until the business closed in 1995.
Bernie very generously donated these 'thespian treasures' to IHF to be auctioned to raise funds for IHF in thanks for the incredible care her late mother received in October 2021. Having this support meant her mother received expert end-of-life care in her own home at the wonderful age of 98 which meant so much to her family.
As a further gesture of generosity, Liam Neeson recently signed both the poster and original programme which made the journey to New York for that purpose, making these collector's items even more special.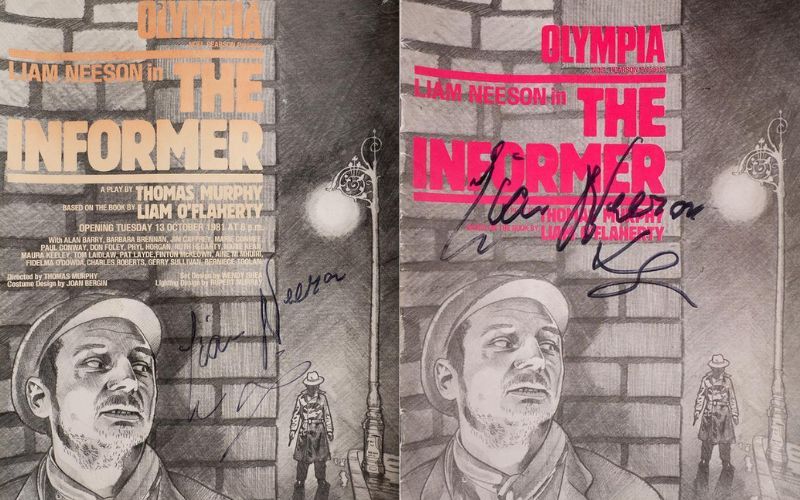 4
The jacket itself has also had quite a journey since 1981 when it was worn by Liam Neeson. Bernie taught English and Drama at the time and her father gave her the jacket for a school play after which it served in many a drama production and narrowly escaped being destroyed when the school costume room and all its contents were ravaged by fire. The jacket was on loan to another local school at the time and escaped the fate of all the other costumes, surviving to tell its tale.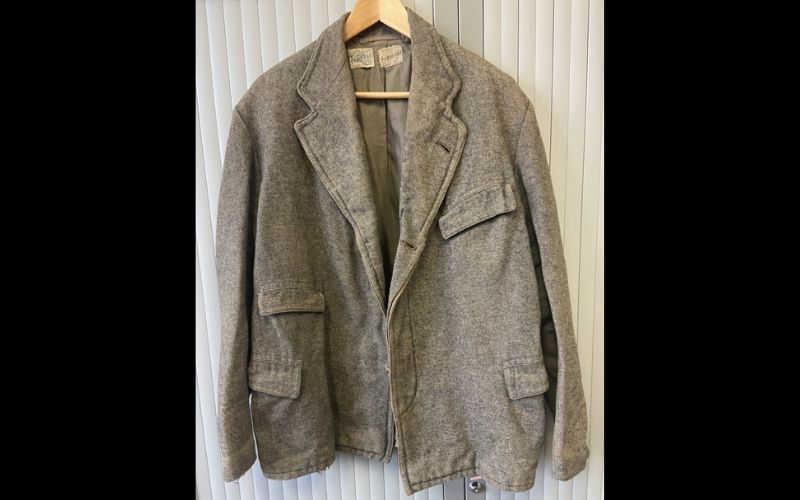 4
Bernie Bourke said, "I am delighted to donate the jacket worn by Liam Neeson in 'The Informer' in 1981 for auction for the benefit of Irish Hospice Foundation.
"My Dad always wrote on the garment labels the name of the established and up-and-coming actors who wore them, so we knew Liam Neeson had worn this particular jacket for the role.
"By donating the jacket and the promotional items from 'The Informer' in the hope they will raise funds at auction, I wanted to give thanks for the amazing care Mam received from the Nurses for Night Care service."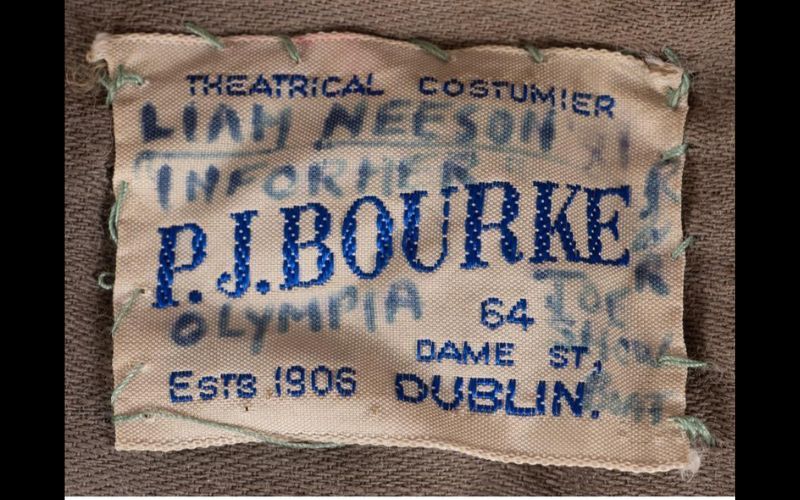 4
Helen McVeigh, Director of Fundraising at IHF, said: "We are very grateful to Bernie Bourke for donating the jacket from her father's theatrical costume collection for auction to make a difference for end-of-life and bereavement care for other families across Ireland.
"We are grateful also to Whyte's Auctions for their support in managing the sale and hope the jacket and the poster and programme kindly signed by Liam Neeson generate interest and are successful in raising funds for our work here at IHF."
The jacket, signed progamme, and poster will be auctioned at Whyte's Annual Eclectic Collector Auction on Saturday, May 13. It will be a timed online sale with viewing at Whyte's galleries from Wednesday, May 10 to Friday, May, 12, 10 am to 5 pm daily. 
For more details about the upcoming auction, visit Whyte's. You can learn more about the Irish Hospice Foundation on its website.