To coincide with the release of U2's retrospective album "Songs of Surrender" on Friday, March 17, Disney+ will debut air a new documentary and concert film about the iconic Irish rock band.
"Bono & The Edge: A Sort of Homecoming With Dave Letterman" follows U2's two founding members as they embark on a journey back to their roots.
Everything we ever needed was always right there, says Bono about his band, his bandmates, his family, and his storied career in the biggest rock and roll band of his generation.
You have a treat in store when this film finally drops on Friday. Not just a history of the band or their era-defining music, but also of Ireland and the history that they have reflected and lived, it's one of the best rock and roll documentaries in years.
To help Letterman better understand the band's journey and the Dublin they emerged from, Bono and The Edge take him for walkabouts and stage a pared-down but sensational concert at Dublin's Ambassador Theatre, which once used to be the Rotunda Hospital where Bono himself was born. ("Brendan Behan says if you weren't born here you aren't a real Dub," he quips).
The arrangement of classic U2 songs is the most beautiful and heartfelt rendition of the band's catalog I've ever heard, coming from a place of understanding and yes surrender, to what inspired them, guided them, and made them superstars. 
Where were you when you heard the opening chords of "Where The Streets Have No Name" from their seminal album "The Joshua Tree" this documentary will make you reflect? And why has that music lost none of its potency in all the years between?
"U2's thing is ecstatic music, you have to jump and believe you can fly," Bono tells Letterman. "It took me a while to understand that." Then he launches into "Beautiful Day" with the awareness that it very well might be.
"I am rarely ever in my comfort zone and I don't let the band be either," Bono confesses early in the documentary. "For me, music and singing is just heart surgery."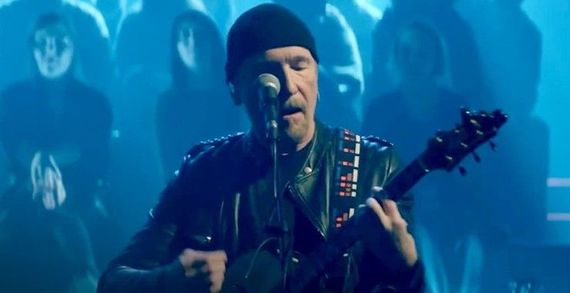 3
Letterman, who's now 75, has emerged as an unlikely fan of the band and as Rory O'Neill (aka Panti Bliss) notes, he's also become an unlikely fashion icon. Bearded, sporting a peacoat and a perfectly judged wool hat, he looks more like a beat poet via Jcrew stylist these days than the conservatively dressed talk show host he played for decades.
Commenting on the band, its relationship to Ireland and to rock music are whip-smart stars like Glen Hansard, Panti, and public intellectuals like Fintan O'Toole, but interestingly few other rock stars or critics. This is a paired down and sometimes very movingly honest portrait that will at times – I have no doubt – stop you in your tracks.
"The thing I don't like about you," he says to The Edge onstage in the middle of a concert, "is that you don't need me. He could be playing or producing on his own, but he doesn't."
"Because it's not as much fun," The Edge replies and smiles. This emotional honesty between two straight men of a certain era is worth the ticket price alone. It reminds you that the band is almost 50 years old and the friendships that guided it are still strong, even after all this time.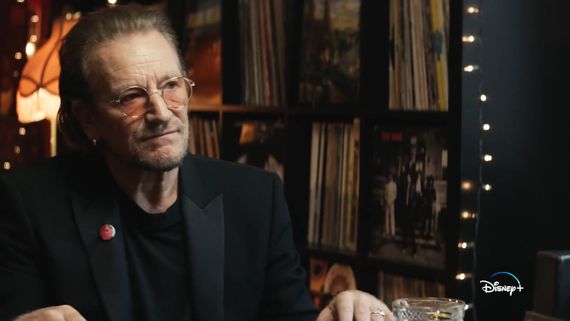 3
Bono admits that his political activism, in particular his canvassing of Jesse Helms, the Republican senator who defunded the National Endowment for the Arts and who wanted to send gay men to concentration camps during the worst years of the AIDS crisis, created deep discomfort within the band.
Helms's politics was directly opposed to the rest of the bands and they let Bono know. Don't invite him to a concert, they warned him, yet Bono did just that. Flying this close to the wind in pursuit of a greater good was what motivated the singer, but it almost spelled the end of the band more than once.
The long friendship between the two Dublin men turns out to be the heart of the film, but it gets even better, they both sing. The Edge, it turns out, can hold his own against the band's lead singer and this makes for some of the best and most surprising scenes in the film. 
"I always tell audiences that The Edge is from the future," Bono confesses, "and when I ask him how things are there he invariably replies, 'better.'"
How remarkable that this band can still find ways to surprise us after so long. Actually, surprise is too little a word, at times I was stunned. Not just by the beautifully pared down, stripped of all artifice music and singing, but also by the honesty of the two men in this band.
As Panti says in her interview, gay boys were leery of U2 in the 1980s. The cowboy hats and boots, the flag waving, the power chords, and the unbroken sincerity, we didn't always feel like we were invited to their rock party. 
How times have changed. Onstage, U2 have been just as changed by their experiences in the wider world and Ireland has made the journey along with them. Ireland, by the way, is another character in this story, and often it's the most profound one. As Glen Hansard and company put it, the victors write the history and the losers write the songs and in this country, we have a lot of songs. Then he launches into a version of The Pogues' "A Rainy Night In Soho" in McDaid's pub that moved me to tears. 
"Now this song is nearly over / We may never find out what it means / Still there's a light I hold before me / And you're the measure of my dreams, the measure of my dreams," the lyrics go.
This documentary is often like a hymn or a love poem, I suddenly realized. U2's long journey is also modern Ireland's, the two are indivisible, and love them or hate them, they know it too. 
It may be the best, the most revealing, portrait of the band that's ever been committed to film but it's also the most unassuming and direct. It wears its heart where Bono has always worn it, directly on his sleeve. 
Larry and Adam are conspicuously absent – Larry to a hand injury, Adam to the production of a film score - but it's impossible to think of the band without their input so in a way their absence only makes their presence more felt.
"You're still doing it, and you're not tired of doing it," says Letterman.
"I've certainly thought about walking away from U2 and every member has," Bono replies. "The right instinct is to question whether this should be a going concern. And the reason why I want to go forward is because something is stirring in my voice and in my singing - and this desire to write the song that we haven't got yet.
"We're sort of chasing the dragon of the song we can't get."
"Bono & The Edge: A Sort of Homecoming With Dave Letterman" premieres on Disney+ on March 17.