Secretary of State Rex Tillerson has told Irish Foreign Minister Simon Coveney that the Trump administration will appoint a US special envoy to Northern Ireland to try and get the talks process back on track.
"We're giving some names to the White House as we currently speak," said Tillerson.
Talks on the resumption of a power sharing government collapsed in Northern Ireland last week after unionist objections to an Irish Language Act amid renewed calls for American involvement.
Read More: Trump White House St. Patrick's Day bash for the Irish may be canceled
The positions of both Ambassador to Ireland and Special Envoy have been unfilled since Trump took office.
"We made it very clear that we would like to see a special envoy to Northern Ireland again. I think it would be helpful," Irish Foreign Minister Coveney said. "We would also like to see an Irish ambassador named. Obviously the St Patrick's Day celebrations and events would be a great opportunity to bring some clarity."
He said the importance of US engagement was "less about Brexit and more about trying to ensure that political structures and the implementation of the Good Friday agreement continued to be bedded down."
Pressure had been building for a special envoy after the talks collapsed. The Ancient Order of Hibernians, America's largest Irish group, had called for one.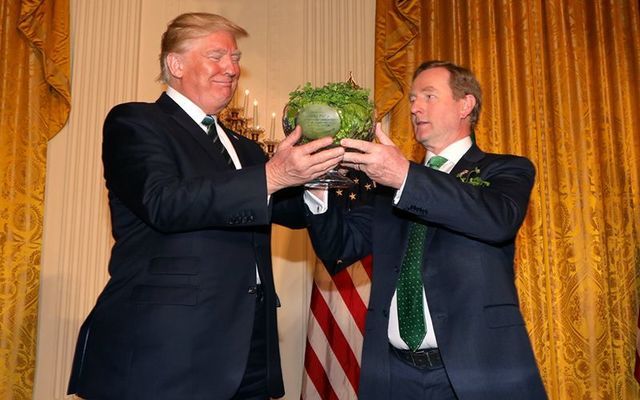 2
Meanwhile, at a conference on Irish America and Northern Ireland on Thursday in New York which was hosted by CO-operation Ireland and IrishCentral, Jim Clerkin Chairman of CO-operation Ireland, concluded with a call for a special envoy.
The conference was attended by former US Envoy George Mitchell who voiced concern that the talks had collapsed.
Meanwhile, in Washington, the bipartisan Friends of Ireland caucus in Congress also called for a special envoy.
Read More: AOH renews call for US Special Envoy to Northern Ireland to break Stormont deadlock
"With the breakdown of cross-border talks in Belfast last week aimed at restoring the power-sharing institutions, we once again urge president Trump to name a new Special Envoy to Ireland at the earliest opportunity," said the statement signed by 22 members of Congress – both Democrat and Republican.
Coveney also met with Trump son-in-law Jared Kushner to discuss Ireland and also the Middle East.