Vice President Mike Pence is set to be the commencement speaker and receive an honorary doctorate from the University of Notre Dame, ending a controversy over inviting President Trump. Pence was raised an Irish Catholic but is now a born again Christian.
A major standoff had begun on the South Bend, Indiana campus between those students and faculty, who spoke out strongly against inviting the new president because of statements he has made, and those who support Trump on campus who urged the college to invite Trump.
Notre Dame has welcomed four of the last six presidents as commencement speakers in the president's first year in office.
"It goes beyond politics. It is not an endorsement of policy; it is an engaging of the office and showing respect for it," said Dylan Stevenson, 22, a senior and vice president of the Notre Dame Republicans. "Simply because Donald Trump has said things that some might consider a bit off color, I don't think that's just grounds for not inviting him."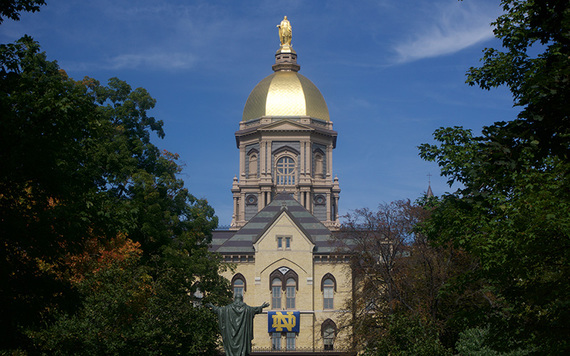 3
Mylan Jefferson, 21, a senior and co-chair of the university's diversity council, told the Washington Post he was strongly in opposition to inviting Trump.
"He has had so much hateful rhetoric in his campaign and since he has been president," Jefferson said. "The actions and words that Donald Trump uses directly contradict our mission statement. It would allow all of the attention to go to Trump instead of to all of our graduates who have worked so hard to get here."
Pence will be the first vice president to deliver Notre Dame's commencement address. The school praised the VP as a natural choice.
"It is fitting that in the 175th year of our founding on Indiana soil that Notre Dame recognize a native son who served our state and now the nation with quiet earnestness, moral conviction and a dedication to the common good characteristic of true statesmen," President John Jenkins said in a statement.
The grandson of a bus driver from Tubbercurry, County Sligo Pence will be a familiar face to many at Notre Dame, having served as Governor of Indiana for four years prior to his elevation to the Vice Presidency in January.
3
Jenkins added: "With his own brand of reserved dignity, Mike Pence instilled confidence on the state level then, and on the world stage now. We are proud to welcome him to represent the new administration."
And the Vice President was clearly delighted to accept the honor. "It is extraordinarily humbling to return to my home state and address the graduates of Notre Dame," he said.
"The young adults in the Class of 2017 will leave school with the charge and opportunity to make new discoveries and assume leadership roles that will make a profound impact benefiting the lives of millions of people. The hopes of their parents and our country go with them as they enter a world filled with optimism for the future."
Notre Dame holds a unique place in the hearts of Irish Americans. The university was founded in 1842 and the school's strong Catholic ethos meant tens of thousands of Irish American students passed through its doors in an era when attending a Protestant college would have been frowned upon.
The success of its football team – known as the Fighting Irish – in the early 1900's meant the university attracted recognition and praise as an institution of learning nationwide. Although the nickname may seem uncontroversial now, at the time it was resisted by some at the university who didn't want to be associated with the Irish in a time when anti-Irish and anti-Catholic sentiments were still strong. A famous stand-off between the Ku Klux Klan and Notre Dame students ended in victory for the college.
Today Notre Dame still has a strong tradition of honoring its Irish roots. The Irish language is available as an option for students to study and its Law School even counted former President of Ireland Mary McAleese as a faculty member for a while. Almost 30,000 Notre Dame football fans flew to Ireland in 2012 when the Fighting Irish played Navy there.
Read more: Joe Biden's son Hunter is dating his late brother's wife Hallie
H/T: WNDU