There were warm smiles from both British Prime Minister Boris Johnson and Taoiseach Leo Varadkar as they met at a Monday meeting in Belfast of the re-constituted Northern Ireland power-sharing administration after a political vacuum of three years.
Both predicted the restored power-sharing is going to work, but their smiles didn't hide the suspicion that still lingers over Johnson's commitment to the deal. He remained silent over how much money his government intends to plunge into it.
Read more: Belfast home barely escapes pipe bomb blast
There has been speculation that Britain has a £2 billion sterling financial package ready for Northern Ireland following last week's deal when the new Stormont Assembly sat for the first time in three years on Saturday.
When Johnson arrived on Monday, he didn't discuss money but conceded it was a "fine thing" that leaders in Northern Ireland had put aside their differences and "stepped up to the plate."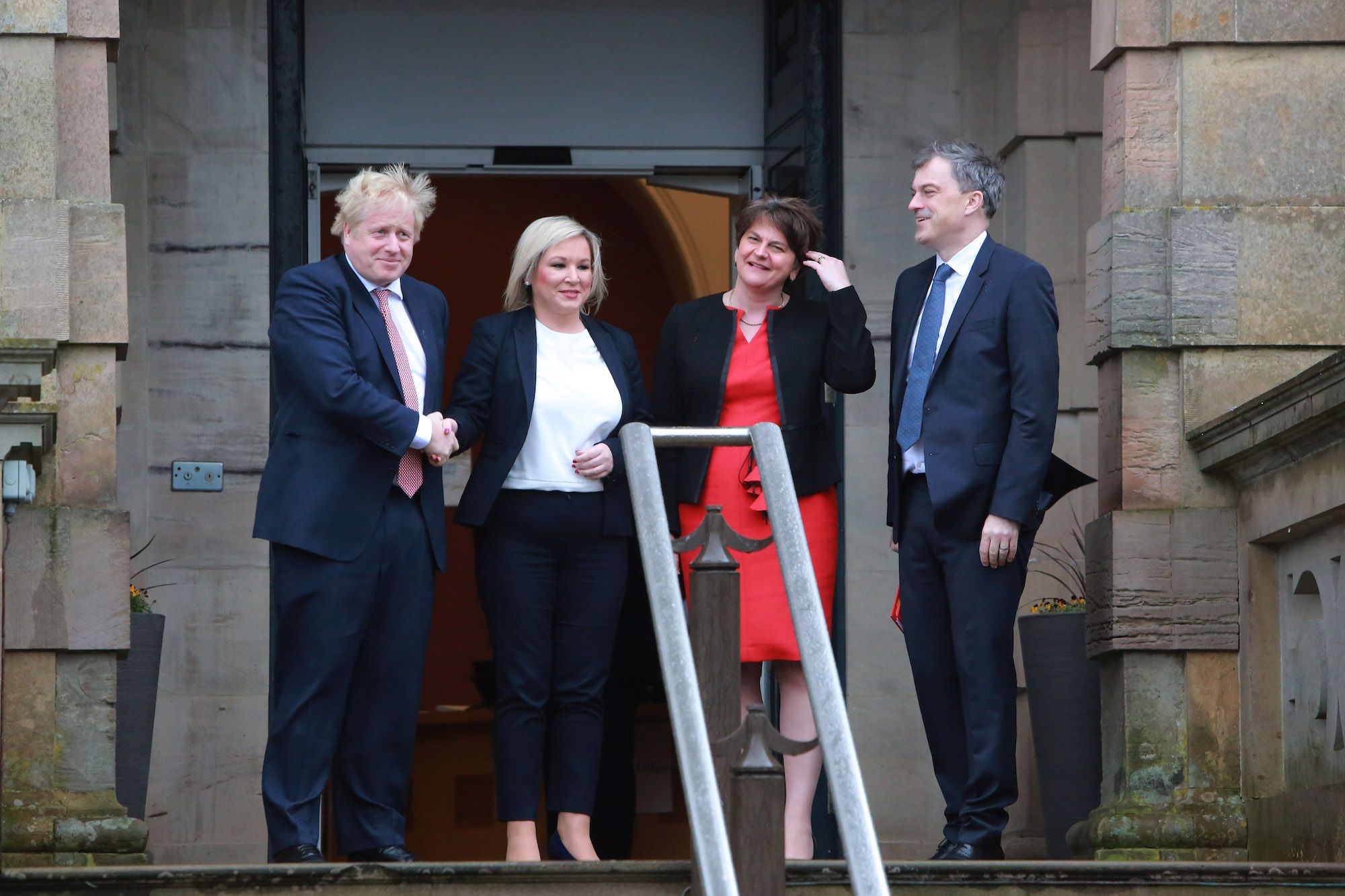 2
The Republic, too, is injecting €120 million cash intro the restored devolution process. The Irish government has made financial pledges within the agreement made last week to honor commitments to part-fund some north/south projects, such as the A5 dual carriageway linking Derry to Aughnacloy in Co. Tyrone and running on to join the N2 that continues from the border to Dublin.
Varadkar said, "To me, the Good Friday Agreement is visionary and the Good Friday Agreement is working again.
Power-sharing here in Northern Ireland, north-south cooperation, is going to resume.
"We're going to be deep in cooperation between Britain and Ireland in the interests of everyone who lives on these islands."
Varadkar and Johnson were accompanied in Belfast by Northern Secretary Julian Smith and the Republic's Foreign Affairs Minister Simon Coveney, both of whom played a major behind-the-scenes role in the talks over Christmas and the New Year which finally brought the North's five main parties together in agreement after the three-year break.
Read more: Same-sex marriage is finally legal in Northern Ireland
The first meeting of the resumed Stormont Assembly on Saturday appointed Sinn Fein's Alex Maskey as speaker, the Democratic Unionist Party's Arlene Foster as first minister and Sinn Fein's Michelle O'Neill as deputy first minister.
Interestingly, another woman, the Alliance Party leader Naomi Long, was given a vital role as head of Justice in the new administration.
The renewed power-sharing deal followed Britain's December general election in which both the DUP and Sinn Fein lost support in the North with gains going to the Alliance and the SDLP.
Smith had threatened a new Stormont election by last Monday if a successful deal to restore power-sharing wasn't concluded.
In their opening speeches, both Foster and O'Neill acknowledged their political differences and hurts of the past, and pledged to rebuild public trust and confidence in the future.
Top of their new executive's in-tray is an industrial dispute in the health service that has seen nurses on strike action on three occasions in the last month.
Under the terms of the deal, the new executive will also take action to reduce spiraling hospital waiting lists, increase the number of police officers on the beat, and resolve an industrial dispute involving teachers.
In a deal called New Decade; New Approach, and which has been described as full of compromises, the Irish language gets official recognition in a compromise arrangement replacing more rigid Sinn Fein demands for it.
Read more: Sinn Féin's John Finucane meets with leaders in Washington and New York