The United States 48th Vice President Mike Pence is to arrive in Ireland this Monday, five days earlier than expected, to meet with Irish leaders in County Clare and Dublin
Vice President Mike Pence will arrive in Ireland on Monday afternoon and spend three days meeting with Irish leaders in Shannon, County Clare and Dublin. His stay in Ireland will involve a mix of official and private engagements.
Pence will fly into Shannon Airport, where he will meet with Ireland's Tanaiste (Deputy Leader) Simon Coveney. The Vice President will stay at Trump International Golf Links & Hotel Doonbeg, President Donald Trump's golf resort, on the County Clare coast.  He will then travel to Dublin on Tuesday to meet with An Taoiseach (Prime Minister) Leo Varadkar and the President of Ireland Michael D Higgins.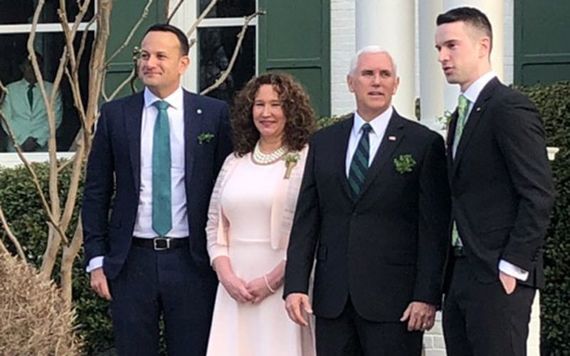 2
The Irish Times reports that Pence will meet first with President Higgins at the Áras an Uachtaráin (the president's residence) in the Phoenix Park, in Dublin. He will then meet with Vardkar at the nearby house, Farmleigh. 
On Tuesday afternoon, he will attend a round-table discussion with Irish and American businesspeople working in the multinational sector in Ireland at the Phoenix Park residence of the recently appointed US Ambassador to Ireland Edward Crawford.
Read more: Trump's Ambassador to Ireland getting high marks from locals
The VP was to visit Ireland on Friday and Saturday of this week but his plans were changed after President Trump opted to cancel his trip to Poland instead staying in the United States to deal with the possible devastation caused by the category five hurricane, dubbed Dorian, which is expected to make landfall in Florida over the coming days.
A White House spokesperson said, "Due to a change in the Vice President's schedule, VP Mike Pence will meet with the Taoiseach on Tuesday instead of Friday."
Pence's visit comes just three months after Donald Trump visit, his first as President of the United States. Trump was greeted by protests in Clare and Dublin. 
While Pence, a proud Irish American, has regularly visited Ireland over the years, this is his first trip as Vice President.
He is traveling with his wife Second Lady Karen Pence, his sister Anne Pence Poynter and his mother Nancy Pence Fritsch.
Mike Pence's Irish roots
Pence's own Irish lineage can be traced to Doonbeg, County Clare where he will be staying, The VP's mother, Nancy, is first-generation Irish American. Her side of the family hails from Doonbeg, where Trump's golf resort is located. 
On Tuesday night Pence will travel back to Doonbeg, via his private airplane Air Force Two where he will have a private family dinner at Morrissey's, a pub and restaurant owned by Pence's distant cousin, Hugh NcNally. 
Among the guests will be Pence's mother, Nancy Pence Fritsch, whose father Richard Michael Cawley emigrated to the United States from a townland near Tubbercurry in County Sligo, in 1923.
Nancy's mother hailed from Doonbeg and as a younger man Pence spent a summer working at Morrissey's pub.
Richard Michael Cawley, Pence's grandfather worked as a bus driver in Chicago for more than  40 years. He arrived to Ellis Island on April 11, 1923. 
Pence often makes reference to his Irish roots and his grandfather's arrival to the US in speeches. 
Two weeks ago he tweeted about his upcoming trip to Ireland describing it as a "country that is very near to my family's heart".
Finally, on September 6-7 we will travel to Ireland, a country that is very near to my family's heart, where we look forward to meeting with President @MichaelDHiggins, Taoiseach @LeoVaradkar, and Tánaiste @simoncoveney while celebrating my Irish roots!

— Vice President Mike Pence (@VP) August 15, 2019
Brexit and Northern Ireland
The White House has said that during his visit the Vice President would discuss the United States'  "commitment to maintaining peace, prosperity, and stability in Ireland by upholding the Good Friday Agreement".
He would also discuss trade, investment and strengthening the economic relationship between the two nations.
After his trip to Ireland Pence will travel to the United Kingdom where he plans to discuss Brexit, Iran and the "threat of Chinese malign influence".
Read more: Make America Great Again, take away Donald Trump's iPhone and Twitter account