The Prime Minister and the Taoiseach are set to meet in Dublin as Brexit draws closer
British MPs are again at loggerheads over Brexit, and Prime Minister Boris Johnson has confirmed that he will travel to Dublin to meet Taoiseach Leo Varadkar next Monday to discuss Brexit.
Read More: In Ireland, VP Pence encourages "good faith" Brexit talks
First item on their return to Parliament on Tuesday was a showdown between Johnson-led Brexiteers prepared to leave the European Union without any deal and MPs – opposition as well as some Tory rebels – who want an orderly exit.
Amid strong suspicion that Johnson and his Cabinet are simply running down the clock towards a no-deal exit, the prospect of a snap general election loomed large.
That placed rebel Tories in a quandary. Should they risk their political careers by opposing the government in their bid to take control of parliamentary business and delay Brexit until next year or should they step back from the brink?
Officials at 10 Downing Street hinted at an October 14 election if the opposition and rebel Tories succeeded in stopping a no-deal Brexit.
Johnson claimed in a Monday evening speech on the steps of Number 10 that he did not want an election, but progress in talks with the EU would be "impossible" if MPs approved a proposal to further extend Britain's exit date beyond the scheduled October 31 to January next year.
He said if the Parliament turns against him, MPs would "chop the legs out" from Britain in its negotiations with the EU. Any further negotiation would be "absolutely impossible."
Jeremy Corbyn said the Labour Party was ready for a general election and would be "delighted" to "take the fight to the Tories."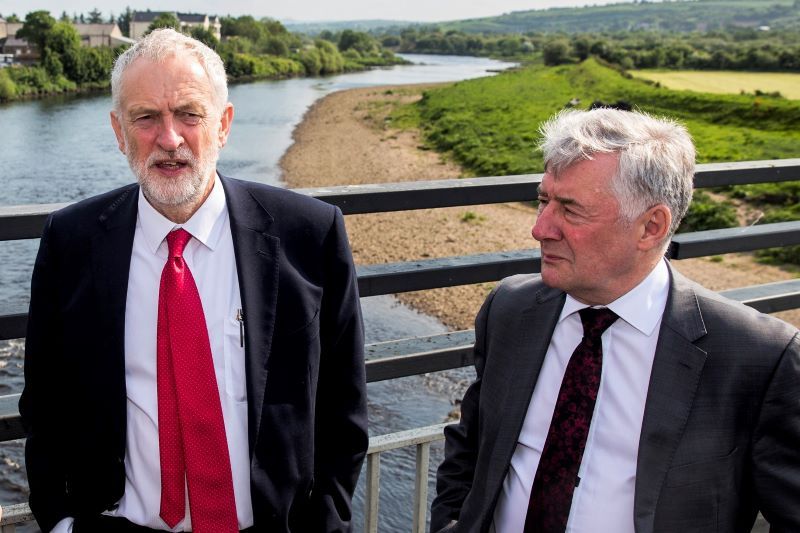 2
Read More: Boris Johnson gets approval to suspend Parliament ahead of Brexit deadline
However, Labour's Shadow Northern Ireland Secretary Tony Lloyd later said his party would vote against any government plans to hold a general election before Britain is due to leave the EU on October 31.
Lloyd said Labour would not "fall for Boris Johnson's trick" by agreeing to a general election before October 31 which could ultimately see the Tories gain a mandate for no deal.
To call an election Johnson, who only has a majority of one including the support of the Democratic Unionist Party's 10 MPs, would need the backing of two-thirds of Britain's 650 MPs to trigger a poll.
The uncertainty prevailing in Westminster over Brexit has placed a large question mark over Johnson's declared intention to prorogue -- suspend –- parliament from next Monday until October 14, the date set for the Queen's speech outlining government policy to MPs.
Legal moves by Johnson opponents have already started to block the suspension.
Opponents say the suspension is undemocratic and undermines MPs' ability to prevent a no-deal Brexit. One prominent Tory backbencher called the move "an outrageous act."
Read More: Irish told to prepare for no-deal Brexit and hard border
Meanwhile, confusion continues with a report from The Daily Telegraph's EU correspondent that his sources revealed questions in London and Brussels whether Johnson and his government were actually serious about reaching a deal before exiting the EU.
One source told the Telegraph, "They may talk about a deal but they know there is no time or political space to get one, and nothing that is happening behind the scenes suggests otherwise."