The Irish government is deeply split over whether to invite Donald Trump to Ireland with two high profile ministers clashing.
It is usual for an Irish leader to invite a sitting president to visit during the traditional St. Patrick's Day meetings that take place around that time.
However, Minister for Social Protection Leo Varadkar, considered favorite to succeed Taoiseach Enda Kenny as Fine Gael leader, has stated that the Irish government should not invite Trump.
"I'm not sure what purpose it would serve," he told the "Today with Sean O'Rourke" show on RTE radio.
On the possible economic benefits of such an invite Varadkar said these stemmed "from a visit that goes well. I wouldn't necessarily assume that's the kind of visit it would be."
But Minister for Jobs Mary Mitchell O'Connor said she was in favor of Trump being invited as a way of bolstering "a good collaborative relationship between Ireland and the US."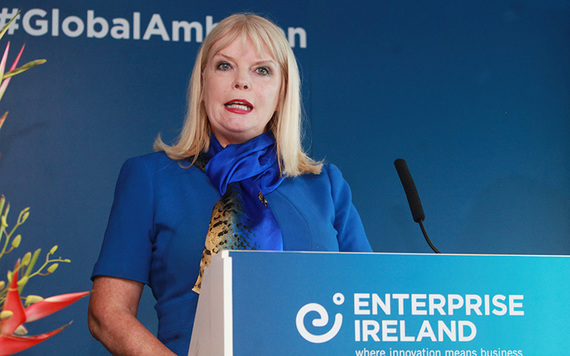 2
"Certainly, the Taoiseach must go and visit the White House on St Patrick's Day," she said, "and I'm sure the Taoiseach will, with his officials, decide whether President Trump will be invited to Ireland. But, as the President of the US, I would like to see the president invited to Ireland.
"There are over 150,000 Irish people employed in US companies here in Ireland and I would like to make sure that there is US investment into the country… I want to see US investment so I want to see a good collaborative environment and a good collaborative relationship between Ireland and the US."
Meanwhile Minister for Finance Michael Noonan tried to walk a middle line saying an early invite was not necessary.
"I think he (Kenny) should invite him at some stage," Noonan told the Limerick Leader, "but I think an early visit might be controversial."
"In all these things, the only reason he would invite him would be for the economic benefit of the country, and if it was too controversial it probably wouldn't be of economic benefit. So, it's a matter of timing, but he certainly shouldn't rule it out," Noonan said.
Noonan was widely criticized for the fawning welcome Trump received when he visited Clare to showcase his new hotel and golf course at Doonbeg in 2014. Noonan pointed out that many jobs have been delivered to the area as a result.
"Would there be criticism if it was an IDA factory that was going into West Clare with 300 jobs? This man says he's going to spend at least double the purchase price for investment down there."
Labour leader Brendan Howlin, tweeted:
This is getting silly. Possibly inviting Trump. Then ruled out. Now possible again. Taoiseach should rule it out definitively https://t.co/zyI9hmf5cA

— Brendan Howlin (@BrendanHowlin) February 5, 2017
In the North, First Minister Arlene Foster and former Deputy First Minister Martin McGuinness invited Trump to visit right after he was elected.
POLL: Should Enda Kenny refuse Trump's St. Patrick's Day invite?