Ireland's first openly gay cabinet minister, Leo Varadkar, has hit out at Vice President-elect Mike Pence. Speaking to Irish radio he said that while he'd like to see the incoming VP visit Ireland he "profoundly disagreed" with his past support for gay conversion therapy. Varadkar is currently favorite to replace Taoiseach (Prime Minister) Enda Kenny as head of Fine Gael when he retires.
Varadkar, who currently serves as Minister for Social Protection and is widely talked about as a future Taoiseach, told listeners of RTÉ's "Marian Finucane" show, "I don't like what Trump and Pence stand for, particularly on social issues. The right approach, I think, with anyone is to respect their religion, respect their values and engage with them. That's how you win over minds and soften hearts."
"When it comes to Mike Pence, I'd like him to come to Ireland. I'd personally like to meet him. I'd love to tell him my story but more importantly I'd love to tell him the story of our country. The country of his ancestors and how we went from being one of the most conservative countries in the world [to where we are now]. That's the way to deal with things."
The Indiana Governor is a proud Irish American; his grandfather, Richard Michael Cawley, emigrated from County Sligo in 1923 and his great-grandmother came Co. Clare.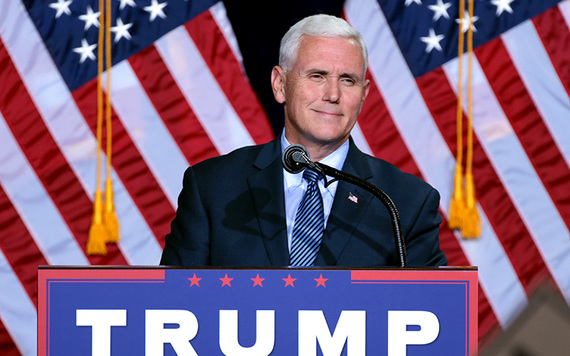 2
Taoiseach Enda Kenny received much criticism on social media after calling Pence on Friday in order to discuss the undocumented Irish, and, following the call, tweeting, "He [Pence] certainly knows Ireland and the issues that matter to our people."
Despite the Republican Party's hard-line anti-immigration platform, many consider Pence a potential ally within the new administration who could help get a deal for the estimated 50,000 undocumented Irish citizens living in America. In 2009 he was one of the few Republicans to meet the Irish Lobby for Immigration Reform (ILIR) while Congress was considering immigration reform, citing "April 11, 1923", the date his grandfather landed at Ellis Island, as a reason.
Varadkar praised his boss's diplomatic approach saying, "The most important thing to bear in mind is that the links that exist between Ireland and America are economic, they're cultural, they're family. Presidents and Vice Presidents, Taoisigh [Irish Prime Ministers] and ministers come and go but it's very important that we maintain those links."
The Panel: @campaignforleo @1GaryGannon @niamhhourigan1 @philipoconnor & @TomLyonsBiz pic.twitter.com/l6jnUaqJNf

— Marian Finucane (@MarianRTE) November 20, 2016
He also weighed in on the controversy surrounding the VP-elect's visit to see a Broadway show Friday, saying, "It was quite ugly. He was booed on his entrance, booed during the play but at the end what happened was something very beautiful in my view and very powerful; as he was about to leave the cast lined up on the stage and the main actor who actually played a Vice President, Vice President Burr.. he stood up and spoke to Mike Pence and he welcomed him, said he hoped he'd took something from it... and he expressed the concerns of some Americans that the new administration might not protect them and that it might undermine inalienable rights and freedoms that are so much part of America.
"And to me I felt that was the right approach, that's the approach we should have when we deal with the new administration."
37-year-old Leo Varadkar studied medicine at Trinity College, Dublin and was elected to the Dáil to represent the suburban constituency of Dublin West in 2007. Dubbed something of a rising star he was quickly promoted to the Fine Gael party's frontbench where he was made its spokesman for Enterprise, Trade and Employment.
When the party was returned to Government in 2011 he was made Minister for Transport, Tourism and Sport in something of a shock move. He said at the time that while he knew, "a lot of facts...I don't play the sports."
He was later moved to the Department of Health and in the run up to Ireland's referendum on same sex marriage in 2015 he came out publicly as a gay man, telling RTÉ, "it's not something that defines me. I'm not a half-Indian politician, or a doctor politician or a gay politician for that matter. It's just part of who I am, it doesn't define me, it is part of my character I suppose".
With Taoiseach Enda Kenny tipped to retire at some point within the next few years, Varadkar is the current favorite to succeed him; the Irish Times has described him as "leading the race" and in a poll last month the Sunday Independent 39% of voters backed him for the top job, 14 points higher than the number who supported his rumored rival Simon Coveney, the current Minister for Housing, Planning, Community and Local Government.
Read more: Irish Vice President Mike Pence, one heartbeat from the presidency