Britain's Foreign Secretary made the comments as Johnson's new Cabinet ramps up preparations for no-deal
Direct rule would be imposed on Northern Ireland in the event of a no-deal Brexit, Britain's Foreign Secretary Dominic Raab said on Monday.
Read More: Britain's Boris Johnson is Ireland's worst nightmare - here's why
Speaking on BBC 4 Radio, Raab said: "We'll make sure that arrangements are in place so that there's no vacuum, so there's the efficient conduct of government, but the number one priority is to see the parties in Northern Ireland revive the executive and the assembly so they can take responsibility and control."
Northern Ireland has been without a functioning government since 2017 when power-sharing between Sinn Fein and the DUP broke down.
"We'll make sure – and there will, of course, need to be legislation considered across the no-deal scenario – that all the arrangements, whether they're regulatory or administrative, are in place so that we don't have a vacuum."
Raab added: "The question will be the extent to which it can be done, and that's something I know Julian Smith [the Northern Ireland secretary] will be looking at very carefully, along with Michael Gove [the Cabinet Office minister]."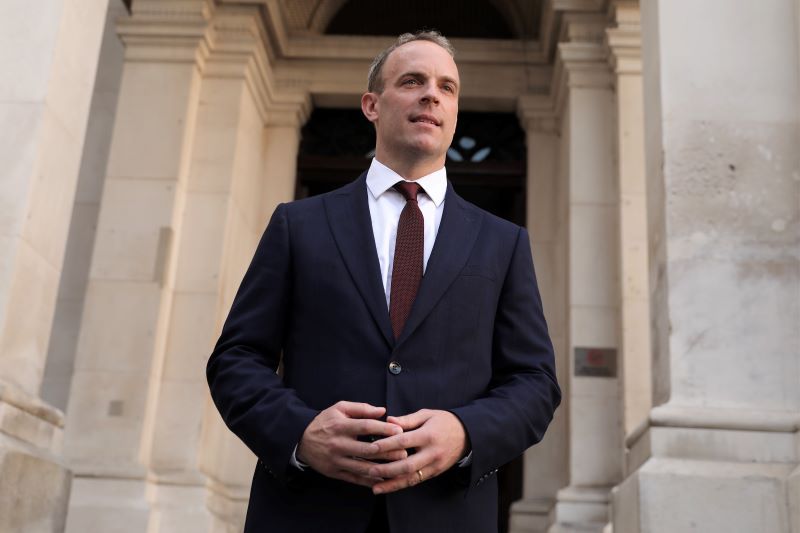 2
The Financial Times reports that Raab's comments fall in line with those made by civil servant Mark Sedwill to Boris Johnson in April, which were revealed in a leaked memo: "The current powers granted to the Northern Irish Secretary would not be adequate for the pace, breadth or controversy of the decisions needed to be taken through a no-deal exit."
"Therefore we would have to introduce direct rule."
Read More: Irish unity referendum is on the way, claims Belfast's Lord Mayor
Johnson's no-deal advertising blitz
Raab's admission about direct-rule comes as Prime Minister Boris Johnson is launching what The Telegraph calls "an unprecedented marketing blitz on billboards, radio, and television" in preparation for a no-deal event.
As it stands, the UK is due, after two previous delays, to leave the European Union on October 31. Johnson, who became Prime Minister last week in the wake of Theresa May's resignation, is determined to deliver Brexit, with or without a deal.
The main sticking point of the stalled Brexit negotiations remains the issue of the backstop in Northern Ireland, who voted to remain in the EU during the 2016 referendum vote. Johnson has said he wants to do away with the backstop entirely, but the EU insists that the current Withdrawal Agreement is not open for further negotiations.
On Monday, Rishi Sunak, the Chief Secretary to the Treasury, said: "We are turbocharging preparations for no-deal and that is now the Government's number one priority."
Read More: Boris Johnson named new Prime Minister of UK, promises to "deliver Brexit"
"We want to remove this undemocratic backstop from the existing agreement but if the EU is not willing to talk about that, then it's right that we prepare properly with conviction."