A tearful Theresa May fails to unit Parliament with third Brexit deal. The shortest serving British Prime Minister since WWII says her role in government was "the honor of my life"
The British Prime Minister Theresa May has officially announced that she will step down as the leader of the conservative Tory Party on June 7. Her decision is said to have come after the backlash against her over the "new Brexit deal."
In a tearful address to the media outside 10 Downing Street, in London, the official residence of the Prime Minister, May said she had done her best to deliver a Brexit deal.
She said, "I have striven to make the UK a country that works not just for a privileged few but for everyone and to honor the result of the EU referendum."

However, she said it is now in the "best interests of the country for a new prime minister to lead that effort".
"So, I am today announcing that I will resign as leader of the Conservative and Unionist Party on Friday 7 June so that a successor can be chosen."
The leader of the party in power automatically becomes the prime minister.
In her statement, May said the process of electing her success would begin the week after she officially steps down (June 7). She said she has officially informed Queen Elizabeth and said she would continue to serve as Prime Minister until the process is complete.
She concluded her speech by saying:
"I will shortly leave the job that it has been the honor of my life to hold.
"The second female prime minister, but certainly not the last. I do so with no ill will, but with enormous and enduring gratitude to have had the opportunity to serve the country I love."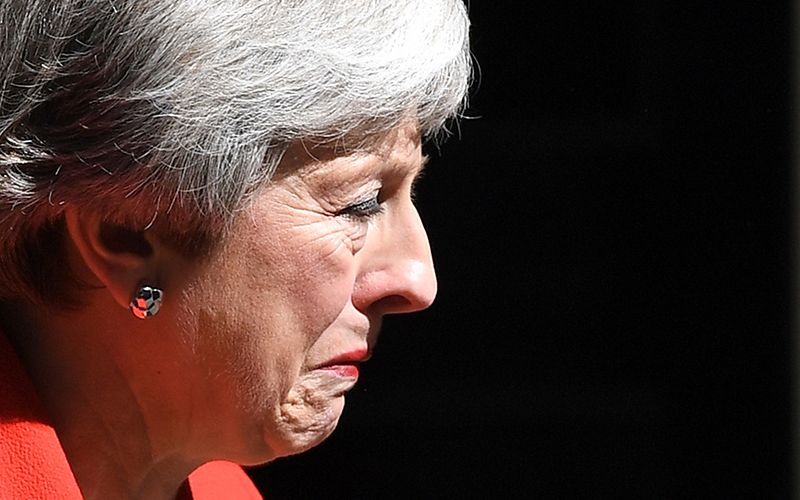 2
Read more: Irishman shocked by police passport check on bus across Northern Irish border
May now becomes the shortest-serving Prime Minister since the Second World War.
Her resignation comes after a fresh revolt within the conservative party, following the introductions of the newest Brexit deal, which was launched in June. The latest plans were met by strong opposition from her Tory cabinet colleagues. The vote on the latest deal has now been postponed.
British Members of Parliament have rejected May's withdrawal agreements, which she struck with the European Union leaders, three times.
The latest Brexit deal includes giving them the option of holding a referendum on the deal this prompted a furious reaction from the conservatives.
May said in order to deliver a Brexit deal, her successor would now have to build a consensus with Parliament.
She said "It is and will always remain a matter of deep regret that I have not been able to deliver Brexit…
"It will be for my successor to seek a way forward that honors the result of the referendum.
"To succeed, he or she will have to find consensus in Parliament where I have not.
"Such a consensus can only be reached if those on all sides of the debate are willing to compromise."
Read more: The woman who changed Ireland - Mary Robinson turns 75