President Donald Trump would surely exploit the latest scandal in the Biden family, derailing Joe's bid for the White House. 
The Biden family dirty laundry was forensically examined by Maureen Dowd in her New York Times column on Sunday and it may be enough to end his dream of the presidency.
Biden has the reputation of the blue-collar Irish guy who can mix it with everyone and is said to be the Democrat Donald Trump fears most, the person who can detach some of that white blue-collar vote.
If so, Trump must be licking his lips at the seedy chapter emerging about the Biden family, which has more betrayals and backstabbing than a Medici court.
Dowd's column revealed to a worldwide audience what has been common knowledge in tabloid and Biden insider circles for some time—that a family fracas has the potential to unseat the best-laid presidential plans of jovial Joe.
Read more: US Congressmen accused of bullying Ireland over Israeli goods boycott
It involves an unlikely love story involving Joe Biden's son Hunter and Hallie, the widow of his other son Beau, who died tragically of brain cancer in 2015. They have become a couple with the full blessing of Pater Joe and his wife Jill.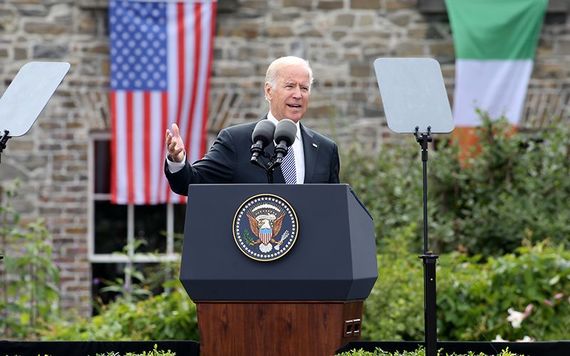 2
Kathleen Biden, Hunter's wife meanwhile, has sought a divorce alleging extramarital affairs and wild spending sprees on drugs, strip clubs, and other women. She alleged he spent money on "drugs, alcohol, prostitutes, strip clubs, and gifts for women with whom he has sexual relations." Kathleen also alleges that Hunter spent over $120,000 in two months and the couple is bankrupt.
One can only imagine what Kathleen thinks of Hallie's behavior. Kathleen was a staunch friend and ally of Hallie during her husband's battle with brain cancer which eventually defeated him.
Joe Biden, of course, knows family tragedy like no other person. He lost his first wife just six weeks after he was elected to the US Senate from Delaware, in 1972.
As he has stated, "Six weeks after my election, my whole world was altered forever. While I was in Washington hiring staff, I got a phone call. My wife Neilia and three children were Christmas shopping, a tractor-trailer broadsided them and killed my wife and killed my daughter Naomi. And they weren't sure that my sons would live."
Read more: Jeff Sessions brands Irishmen "drunks but could be trusted" in FBI slam
Biden's incredible recovery and his eventual rise to be the vice president under Barack Obama was the ultimate feel-good story and a key element of his political persona.
He and his wife Jill appeared to preside over a loving, affectionate and numerous Irish family and Biden well deserved his reputation as a decent person in a business that does not any more encourage those who remain civil.
Now that narrative is punctured, perhaps forever and Biden is in the throes of another family crisis.
It might not matter so much were it not Donald Trump who was president.
He has proven utterly ruthless at attacking the perceived weakness of opponents with nothing off limits. Making fun and political hay about Pocahontas and Elizabeth Warren is one example but a juicy family scandal will prove even more irresistible to Trump when it comes to Biden.
Given that fact, and sad to relate, but it looks like this latest family setback might force Joe to the sidelines, again. The last thing Democrats need is a wounded candidate. Time may just have run out for the former Vice President.
Read more: US will back Irish over British on Brexit border, Irish leader says