Saoirse Kennedy Hill is the daughter of Shriver's cousin, Courtney Kennedy
Maria Shriver has opened up about the death of her cousin Courtney Kennedy's daughter Saoirse Kennedy Hill and how the tragedy has helped her rewrite the narrative of her own life.
Read More: Tragedy as Saoirse Kennedy Hill passes away at Kennedy compound
After a roughly month-long break from her social media channels, Maria Shriver discussed in her online newsletter 'Sunday Paper' how Saoirse's passing forced her to contemplate both "the fragility of life" and "the suddenness of death."
Shriver wrote: "My August break abruptly began with a death in my family. It was sudden and heartbreaking, and it stopped everyone and everything in its tracks."
Saoirse Kennedy Hill, the daughter of Courtney Kennedy and Paul Hill, was found dead at the Kennedy compound in Hyannis Port, Maine on August 1 from what was reportedly a suspected overdose.
Shriver said she took Saoirse's death "as an invitation to delve into what felt dead and lifeless inside of me."
3
Read More: Saoirse Kennedy Hill remembered with Irish poem during private funeral
"Furious"
"As I sat with my thoughts, I found myself furious at God for taking my cousin Courtney's only child away. It doesn't get any more brutal than that, as many parents know all too well. I found myself holding onto my own children tighter, only to realize that if I hold on too tightly, I might inhibit their ability to live. So, I've checked myself and am focusing instead on just being with them."
After Saoirse's passing, Shriver traveled to Utah to visit one of her sons. There, on the tenth anniversary of her mother Eunice Kennedy Shriver's passing, she hiked to the top of a mountaintop where she ultimately broke down "sobbing uncontrollably."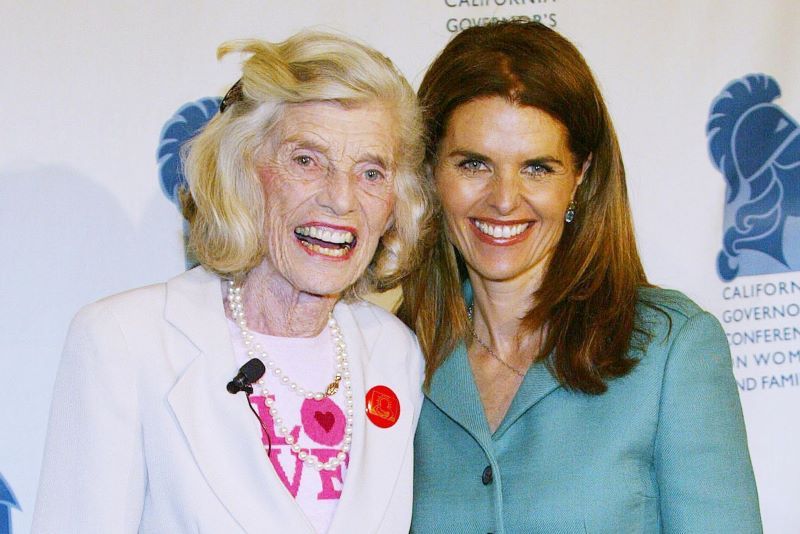 3
"I sobbed for my cousin. I sobbed for all those who are suffering. I sobbed for my own grief, sadness, and fears. I thought I was done grieving the death of my mother, my father, my uncle, my marriage, and my old identity — all of which unfolded in rapid succession over the last 10 years — but turns out, I wasn't. I thought I was done grieving my youth, my children moving out, past mistakes, unrequited loves, etc., but turns out, I wasn't. I wasn't done with grief, and it wasn't done with me."
She explains that when the grief relented, "I found myself in total stillness — the kind where you can hear the wind and your own breath. Amidst this stillness atop the mountain came an extraordinary revelation. I opened my eyes, looked around, and realized I was OK. The word "survivor" even came to mind.
"I thought back to my cousin's daughter. I'm sure she would have been stunned to hear all the incredible things that were said at her funeral. It would have stopped her cold to realize how loved she was. I'm sure it would have been a huge relief for her to feel her worth. Yet, it was only in death that she found stillness.
"I remember sitting at her wake and thinking about how I want to feel peace in life, not in death. Lo and behold, just a few days later, I found it. It only took me 63 years."
Read More: Saoirse Kennedy Hill remembered as an "Irish sprite" by her uncle RFK, Jr
A new narrative
Shriver said her journey from grief to stillness has forced her to rewrite her life's narrative.
"My new narrative, unlike my old one, is loving. It's kind. It's supportive. It's encouraging. It's non-judgmental. It no longer compares me to giants in my family long gone. It instead recognizes all that I am and all that I have been through. It allows me to look forward with loving-kindness and passionate purpose.
"And, so my friends, I hope you can carve out time to be still and rewrite your own narrative. After all, we are the hero of our own lives. We can each craft a narrative for ourselves that is loving, positive, encouraging, motivating, powerful, and true. Tell your story that way, then get about living it. Trust me, it's worth it."
Read More: Kennedy family leads tributes to "sweet Saoirse," RFK's granddaughter