The Canadian Prime Minister Justin Trudeau visited the Famine Memorial and the Epic Irish Emigration Museum in Dublin during his short visit.
The leader was given a tour of the Great Hunger memorial by its creator, sculptor Rowan Gillespie. The monument is made up of life-sized statues of men, women, children and even a dog, trudging along the river's quays.
The statue was unveiled in 1997. At the foot of one of the sculptures is a plaque which reads "in memory of the victims of the Great Famine and for their descendants who have done so much to build Canada." It is dated June 6, 1999, from the former prime minister of Canada Jean Chrétien.
Gillespie explained the stories he had researched and the sad tales behind each of his ghostly gaunt statues. He told the Irish Times that the Canadian leader remained silent throughout his tour but looked into the faces of each of the statues.
"He was very quiet and that was positive. I think he was absorbing and thinking about it," the sculptor said.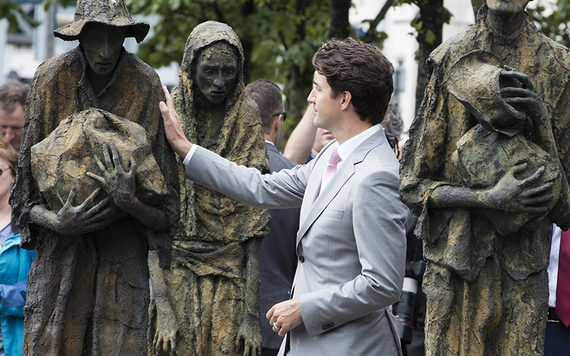 4
Following his tour Trudeau was brought on a tour of the Epic Irish Emigration Museum, located close by in the Custom House Quarter (CHQ) building, at George's Dock.
The Prime Minister was presented with research, carried out by the museum's staff, which reveals that he has roots in County Cork.
Trudeau's response was "Wow, this is news to me!"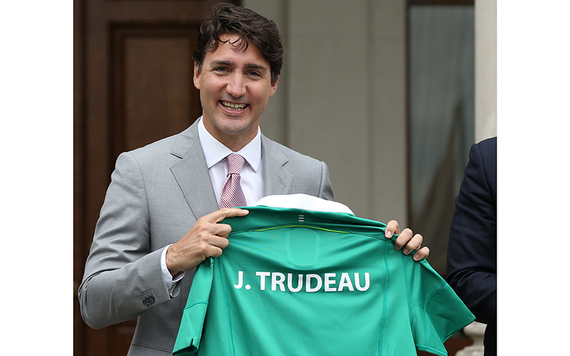 4
Through his mother, Margaret Sinclair, Trudeau is a direct descendant of the Bernard family from Bandon, County Cork.
In 1661, Francis Bernard married Mary Freake and had six daughters and two sons, the research shows. Trudeau is descended from their younger son, Arthur Bernard, who was High Sheriff of Cork, in 1697, and MP for Bandon, from 1713 to 1714.
In 1695, Arthur Bernard married Anne Power of Mount Eglantine, County Waterford. The Powers and their relatives the Boyles were part of the intellectual elite of late 17th and early 18th century Ireland.
Arthur and Anne also had a large family, 10 daughters and four sons, including Trudeau's six-times great grandfather, Francis Bernard. Francis got earned a degree from Trinity College in 1729 before moving to England.
The research also uncovered that Trudeau's four-times great-grandfather relocated to Singapore and Malaysia, which was then part of the colonial Indian 'station.' His family remained there for a century, until 1906 when they emigrated to Canada.
The Epic Irish Emigration Museum museum, which is almost entirely digital, is housed in a 1820s building, an original departure point for many Irish immigrants. The museum tells the story of Ireland's emigrants, from ancient times to present day, through interactive exhibitions in 20 galleries.
Trudeau (45), who has headed Canada's Liberal Party since 2013, was visiting Ireland following his having hosted the former Taoiseach Enda Kenny in Montreal earlier this year.
The Canadian leader's visit to Dublin received international press coverage as media joked about his "bromance" with the new Taoiseach (Prime Minister) Leo Varadkar. The newly appointed 38-year-old Fine Gael leader's Canadian-themed socks went viral as did shots of the pair jogging in Phoenix Park and Trudeau trying out his new sliothar and hurl.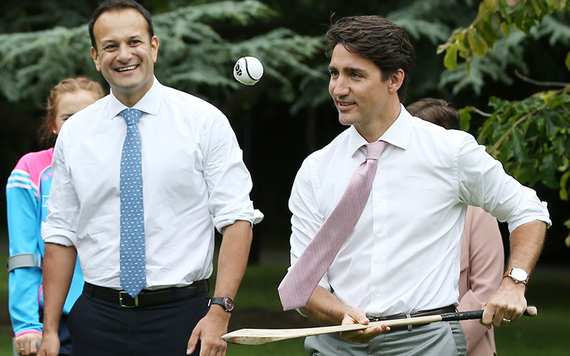 4
On Tuesday evening Trudeau attended a dinner at Dublin Castle hosted by the Irish leader.
Read more: Justin Trudeau slams Donald Trump's US leadership during visit to Ireland
Making reference to the Great Hunger Trudeau asked, during his speech, that we use history as a lesson, which we should not repeat.
He said, "Today, of course, millions of people around the world face the threat of famine and must leave their countries to seek refuge elsewhere.
"People flee famine in South Sudan while people in Yemen, Somalia and Syria also live in the shadow of hunger.
"I am glad that at a time when other countries are taking back control of their borders, and turning inward, both our countries have decided to accept large numbers of refugees from Syria, 25,000 in yours and 4,000 in ours."
Trudeau is continuing his trip visiting Britain and meeting with Queen Elizabeth II on Wednesday before attending the G-20 Summit, where discussions will focus on policy issues pertaining to the promotion of international financial stability. The summit will take place in Hamburg, Germany this Friday and Saturday.