Waterford politician John Deasy, who acted as Special Envoy to the United States Congress on the issue of the undocumented Irish plans to retire from politics
John Deasy, the Irish government's U.S. envoy to Washington, D.C. tasked with negotiating a solution for the undocumented Irish and increasing the future flow of Irish immigrants to America, plans on retiring from politics.
Deasy, 51, announced last week that he will not stand for re-election in the next Irish general election, the date of which is unknown.  The Co. Waterford native, who was elected as a member of the Dail in 2002, was appointed by Taoiseach Leo Varadkar to the Washington job two years ago.
Read more:  Irish undocumented in the US need more protection, says Ireland's Justice Minister
"Next year will mark 30 years working in politics. I started working in the U.S. Senate in 1990 and I've other interests. It's something I've thought about for years. I decided that if I didn't leave now I would be too old to start something else," Deasy told The Irish Times.
"I have other interests that I've really wanted to focus on for years and the job I'm doing right now and for the last couple of years, allowed me to connect back with my background working in Capitol Hill.
"That's been really interesting for me and brought me back to what I was doing for a living 20 years ago.  If I was to do something, it might be connected with the U.S."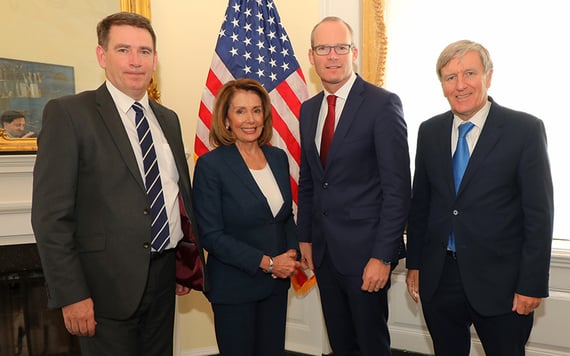 3
Deasy has been heavily involved in the quest to secure inclusion for Ireland in the annual E-3 visa program which allocates work visas to the U.S. exclusively for citizens of Australia.  The effort to include Ireland came close to passing late last year, only to be thwarted by conservative Republican Senator Tom Cotton of Arkansas.
Deasy told the Times he will continue to work on the immigration issue until the next Irish election.  And he hopes that the next Irish government continues to appoint someone to directly liaise with Capitol Hill.
Read more: Boston Irish Center denounces abrupt deportation of children receiving medical care
Deasy said that leaving politics is the right decision for him and his family – he is married to TV presenter Maura Derrane, and they are parents of a son.
3
"If I had left 10 years ago I would have missed it. I won't miss it now. It has become a very strange animal. It has become chronically uncertain for people who have become elected," Deasy said.
"If somebody has a stable job with a young family I would not recommend it. The instability will continue after the next election as politics continues to fracture and people's lives will be put on hold for years."
Varadkar praised Deasy's contribution to Irish politics.
"John has done stunningly effective work as my envoy to Capitol Hill informing Congress about the impact Brexit could have on Ireland and campaigning for immigration reform for Irish citizens. That work will continue for the duration of this government and hopefully beyond," Varadkar said in a statement.
Read more: Irish man Keith Byrne continues to fight deportation from US