He'll wrap up a 20-year career as a member of the House of Representatives in January after a shock primary defeat, but Congressman Joe Crowley promises that he won't vanish without a trace.
"I ain't done yet. I don't know what I'm going to do," Crowley said at the annual Annie Moore Awards ceremony hosted by the Irish Lobby for Immigration Reform (ILIR) last Thursday evening at the New York Athletic Club in Manhattan.
His words were greeted with loud applause from those in the audience, many of whom community leaders who worked with Crowley on a host of Irish American concerns since before he was elected to represent Queens in the House back in 1999.
Crowley received the Friend of Ireland Award from ILIR. Other honorees were Cavan native Connie O'Reilly, owner of the O'Reilly Restaurant Group, and Niall O'Dowd, founder of the Irish Voice, IrishCentral.com and Irish America.
ILIR Chairman Ciaran Staunton said of Crowley, "We have known Joe since he was a musician in Queens. He has been our best friend. He takes our calls directly and we are here tonight to say thank you very much. We are looking forward to many years ahead."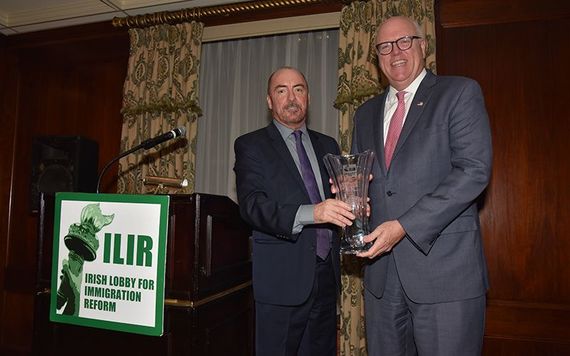 3
Crowley didn't give an indication about his next career move after he leaves office in January.  He spoke about the importance of immigration to the U.S. and how he has always been "in tune" with the immigrant experience. Crowley's mother was a native of Co. Armagh.
"Every ounce of my being has been, since a little boy, focused on my being Irish and Irish American. It is who I am and who I will be, and I'm pleased to accept this award tonight and pleased to be here with so many people who I've called friends throughout the years," he said.
"I've been so involved in issues relating to Ireland, be it the peace process, the MacBride Principles, the teaching of the Great Hunger, An Gorta Mor, in our state's curriculum….it's been a pleasure of mine to be engaged in all of these issues."
After his remarks Crowley picked up a guitar and sang some Irish songs. He also mingled with guests and spoke proudly of his son Cullen, a freshman at the United States Naval Academy.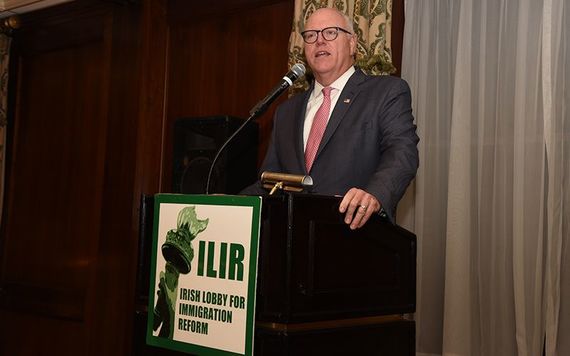 3
With regards to the efforts to secure comprehensive immigration reform in the era of Donald Trump, Staunton said the Irish will never give up.
"Because we are facing something tough doesn't mean we have to hide," he said, adding that the battle is one which should unite people from all over the world.
"If you pass legislation to affect someone from Mexico, you're also affecting someone from Mayo," Staunton said.
"It's now okay to go after immigrants, but that's not acceptable. That is why we say in our campaign, we are not going quietly.  We don't know what a white flag looks like.
"We remember the No Irish Need Apply signs. We may as well put them up again and change them to Mexican or any other country in the world. We cannot put up with this."
Staunton says that the majority of calls he receives from Irish immigrants these days concern harassment received at airports when returning to the U.S., "even though they are legal and have been living here for 20 or 30 years. It's unacceptable."
Irish Consul General Ciaran Madden addressed the guests and said the Irish government continues to raise the issue of immigration reform in all of its meetings with U.S. officials.
"Every meeting, immigration is a part of it. There is no progress to report, but be assured it's always there," he said, adding that the Irish government is also working on making it easier for immigrants who wish to return to Ireland but encounter difficulty in several areas, such as obtaining driver's licenses and insurance.
Read more: Brett Kavanaugh was pretty nasty to women in high school his Yearbook proves