Although Senator John McCain's dream of a comprehensive reform of US immigration policy is unlikely to happen in Trump's America the Irish will always remember his bipartisan efforts.
Irish on both sides of the Atlantic have mourned the passing of Senator John McCain, particularly those who fondly remember the senator for his several appearances at rallies hosted by the Irish Lobby for Immigration Reform (ILIR).
One of McCain's signature issues in the Senate was comprehensive reform of the nation's immigration laws, and though his dream still remains elusive, especially in the era of President Trump, his bipartisan efforts won't soon be forgotten by the Irish.
Read more: John McCain requested "Danny Boy" be sung at his funeral
"The senator was extremely supportive of us and did his best to try and achieve reform.  I met with him on several occasions and there's no question immigration is an issue that he felt very passionate about," Ciaran Staunton, president of ILIR, told the Irish Voice.
"Senator McCain was a decent man with a huge amount of integrity.  I have nothing but positive things to say about him and his efforts towards achieving fair immigration laws not only for the Irish but for everyone else as well."
McCain attended two ILIR rallies in Washington, D.C., in March and June of 2006, in which thousands of supporters donned white and green ILIR t-shirts and traveled to the nation's capital to personally lobby politicians.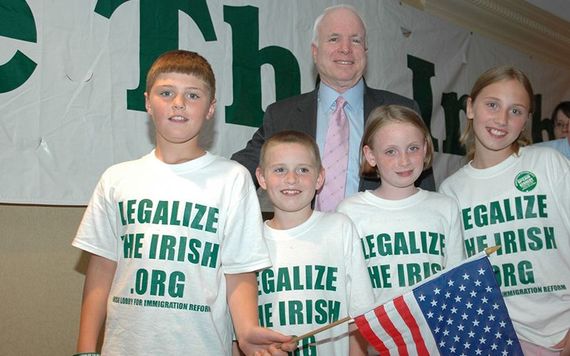 4
"You know what's at stake here.  There are people, not just Irish people, from all over the world who have come to this country for a reason, and that is to make better lives for themselves," McCain told rally goers at the March event which also included appearances from Senators Hillary Clinton and Edward Kennedy, and Congressman Joe Crowley.
"Your cause today is not just for the Irish. It is for the Hispanic woman washing dishes today in Phoenix who couldn't join you here.
"Ireland has a booming economy now, but that's not true for the rest of Europe. And why is it in America that we have vitality and strength and growth? It's because we have wave after wave of people coming to our country."
4
Three months later, McCain made an appearance at ILIR's second rally at the Holiday Inn and again praised the activists in the audience for the efforts.
"It made a difference the last time you were in town and it makes a difference now," McCain said.
"You bring with you a wonderful tradition from a wonderful country that suffered a great deal.  I am proud to again be in your company.  You mean a lot to me, but there are 11 million others and you are speaking for them and speaking eloquently."
Read more: "Do not despair" John McCain's extraordinary goodbye letter to America
McCain embraced the affection from the Irish audiences he encountered at the rallies, happily posing for photos, autographs and mouthing the words to Irish songs.
Sandwiched between the two D.C. rallies was McCain's trip to St. Barnabas in Woodlawn in April of 2006 to address an ILIR gathering that attracted more than 2,000.  As the Irish Voice reported at the time, McCain was "so impressed by [ILIR's] efforts that his staffers immediately contacted ILIR to arrange a meeting in the Bronx."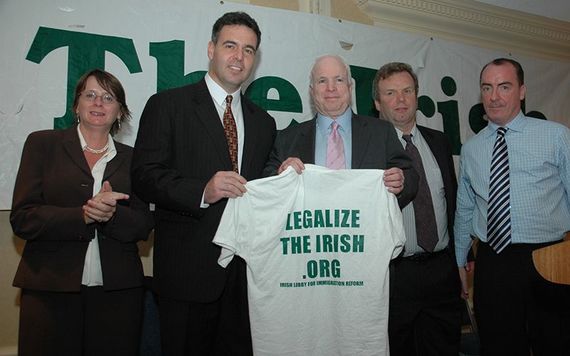 4
He entered St. Barnabas Church to music from the film Rocky, with chants of "Ole, Ole, Ole" throughout. 
"So many of you have taken so much time and effort, including the 3,000 of you who traveled to Washington, D.C. last month, and you are being heard," McCain said.
McCain took questions from the audience, and stressed his belief that it would be impossible to round up and deport the undocumented.
"I would like someone to explain to me how that could be done," he said.

"Some believe we should round them up and send them back. I don't know how you do that, and I don't know why you'd want to. Of course, post-September 11 America must enforce its borders, and protect against people who want to come here to do us harm.

"But [the undocumented] have grasped the lowest rung of our ladder. They want to rise, and we should let them. Let them come out of the shadows, pay a fine, stay employed, pay taxes, and earn their citizenship. We all will be the better for it."
In his 2008 run for the White House, McCain attended an Irish presidential forum in Scranton, Pennsylvania, but a panel of politicians advising candidate Barack Obama on Irish issues took McCain to task for some of his positions on other concerns, namely the first U.S. visa for Sinn Fein leader Gerry Adams, which McCain opposed.
"History shows that it was a brilliant thing to bring Adams to America," Senator Patrick Leahy said.  "I remember how John McCain strongly opposed that.  He said it was pandering to the Irish. He had no understanding of the history involved, or how important it was to bring both sides together."
A 2008 report in the Irish Voice said, "Congressman Richie Neal, chair of the Friends of Ireland group in Congress … recalled the speech McCain delivered when he was the honoree at the 2005 American Ireland Fund gala in Washington, D.C.  McCain's highly politicized speech strongly criticized Sinn Fein for its links to the IRA at a time when the party was under pressure over the infamous pub shooting of Catholic Robert McCartney.
"'I was at the dinner when he spoke. People were startled,' said Neal.  "Senator McCain has been wrong all the way.  When Taoiseach Bertie Ahern addressed a joint session of Congress he thanked us.  But that's not the position John McCain has taken.'"
Read more: Irish-born flee Trump's America new figures show
* All photos by Nuala Purcell.