Times report reveals physicals checks on Ireland's frontier, when Britain exits the European Union, will cause an "eruption of civil disobedience."
A major investigation of the Irish border by leading newspaper The Times of London has revealed widespread claims that the return of physical checks on the frontier, feared after Britain leaves the European Union, would cause an "eruption of civil disobedience."
The paper sent reporters to the communities along the border and to residents on borders in six other European countries to investigate possible solutions after Brexit.
Read more: If Ireland is re-united, North's First Minister Arlene Foster would pack her bags
The reporters discovered that installing physical infrastructure in Ireland such as cameras would incite violence.
They also reported that the Police Service of Northern Ireland believes that dissident republicans would see the infrastructure as "fair game" and would attack it in the same way as the IRA did customs posts during the Troubles. This view is shared by the Irish government.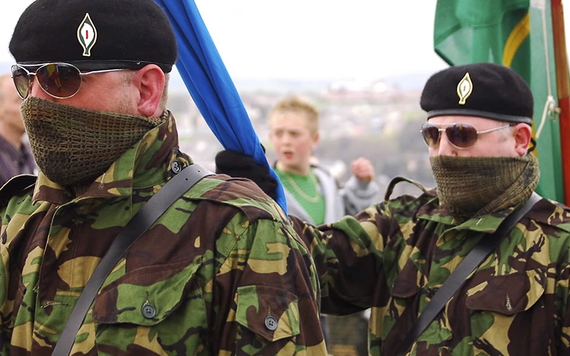 2
The Times also observed that the British government has failed to convince business or customs experts that it has an alternative plan.
Although Britain and the EU agreed last December to avoid any new "physical infrastructure" on the Irish border, Brexit talks remain deadlocked on the issue.
Currently, local people do not even notice the border, which crosses open fields, footpaths and houses without visible trace. Brexit could change all that.
FM @HeikoMaas on #Brexit: we must spare no efforts to avoid a hard border between Ireland and Northern Ireland. @GermanyonBrexit @GermanyintheEU @dfatirl @simoncoveney pic.twitter.com/bF80Ci4R8a


— GermanForeignOffice (@GermanyDiplo) April 12, 2018

Hugh Maguire, 69, lives a few yards into the Republic near Blacklion, in Co. Cavan, but has land and livestock on both sides of the border. He told the Times that any new checks as a result of Brexit would be impossible to enforce.  He recalled the ease with which farmers bypassed customs controls before the creation of the European single market in 1992.
"There was lots of smuggling of livestock on this border. I done it myself -- lots of it! And I would do it again. There's no point in telling lies about it," he said.
Declan Fearon, 60, of South Armagh, said that he campaigned against Brexit because he remembered "exactly what it was like" when customs posts in Ireland became terrorist targets before the creation of the European single market.  He feared a repetition of the attacks if cameras were erected along the border.
People would 'pull down' Irish border barriers after #Brexit, former Irish PM Bertie Ahern tells @BBCNewsnight #GoodFridayAgreement #GFA20 https://t.co/e4JGg647vt pic.twitter.com/8VsSHxSCcL


— BBC News NI (@BBCNewsNI) April 10, 2018

Separate to the Times investigation, leading Irish government and Opposition figures rejected warnings from former Northern Ireland First Minister David Trimble that Dublin's Brexit strategy risks provoking loyalist paramilitaries.
Trimble said, "The one thing that would provoke loyalist paramilitaries is the present Irish government saying silly things about the border and the constitutional issue."
Hillary Clinton told Belfast news site The Detail that Brexit was "a short sighted and unfortunate decision" which was for the U.K. to sort out.
She added, "But they better figure out what to do about the border in order to maintain the peace."
Read more: Martin McGuinness Principles launched by Irish American leaders