Last week was a snowy, cold one in New York, but the 256th annual St. Patrick's Day parade took place under sunny skies and went off without a hitch as grand marshal Michael Dowling, president and CEO of Northwell Health, led the way for more than 150,000 marchers cheered on by hundreds of thousands of spectators.
"To be in New York, to be in the United States and to be Irish on a beautiful day like this on St. Patrick's Day – what could be better?" Dowling, a native of Co. Limerick, said at the start of the march. "It just proves what the United States is all about. No matter how you began, the United States gives opportunities that exist no place else in the world."
This year's parade featured New York Mayor Bill de Blasio for the second straight year, marching behind the banner of the New York Police Department along with Commissioner James O'Neill and Deputy Commissioner Larry Byrne.  The mayor joined the line of march last year after parade organizers admitted the Irish gay group Lavender and Green Alliance for the first time.  In the morning he hosted a St. Patrick's breakfast at Gracie Mansion and proclaimed the day in honor of Irish Consul General Barbara Jones with an official City Hall proclamation.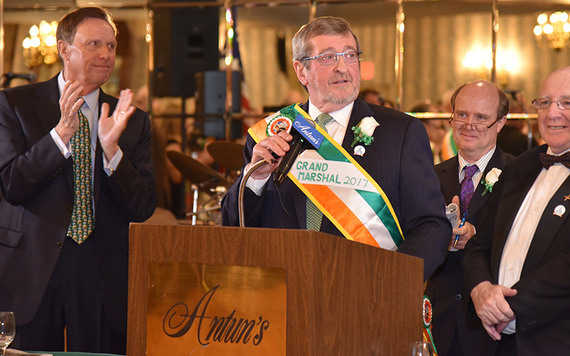 2
Right behind the NYPD was a group of marchers holding a special banner for 2017 in tribute to the late NYPD Detective Steven McDonald, who passed away in January 30 years after being shot and left paralyzed by a teenage criminal in Central Park.  The banner read "Believe in the Power of Love & Forgiveness In Memory of Detective Steven McDonald."
McDonald's widow Patti Ann and son Conor marched behind the banner along with a large contingent of cops and supporters.  "It's different," Conor, a sergeant in the NYPD, told the Irish Voice.  "Pops never missed a parade so this is all new for us."
The McDonalds, honored the night before at the annual dinner hosted by the St. Patrick's Day Foundation, NYC, also attended Mass on the morning of the 17th at St. Patrick's Cathedral celebrated by Cardinal Timothy Dolan who made special mention of Steven.  "It was the first time I had been back to the cathedral since Steven's funeral Mass," Patti Ann said. "It was very emotional."
The parade passed by Trump Tower, home of President Donald Trump, without incident. There was a heightened security presence and barricades along the sidewalk outside the building, but there were no protests.
Taoiseach Enda Kenny joined the march after arriving early in the morning from Washington, D.C., where he spent most of March 16 with Trump.   Joining him on Fifth Avenue was New York Governor Andrew Cuomo.