The Democratic Unionist Party (DUP) is preparing for a second major political clash in two years, on the second anniversary of the collapse of the power-sharing administration in Northern Ireland.
It's two years ago on January 9 since the late Martin McGuinness of Sinn Fein resigned as deputy first minister of Northern Ireland in a bitter dispute with First Minister Arlene Foster of the DUP.
The Northern Ireland Assembly subsequently imploded and the province has remained without its own home-based government ever since.
Now, Foster's party is set to split with the British government it is supposed to be supporting.  The DUP is preparing to mutiny against the Theresa May-led British Tory government in a vital vote due next Tuesday.
Read more: Domestic abuse victims among most affected by Northern Ireland government collapse
DUP leaders have said they are not prepared to support May's Brexit deal with the EU because they dislike the backstop arrangement that will ensure a soft border remains between the North and the Republic.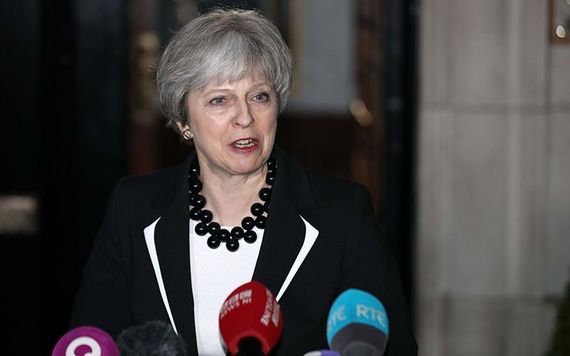 2
So, with May likely to lose the vote  – more than100 Conservatives said they will oppose her plan - Britain is set to depart the EU in March without any formal trade or political arrangement.
Chaos is expected to follow, with business and farms throughout Ireland set to suffer severe economic difficulties, despite the North having voted to remain within the EU.
The DUP, in supporting departure from the EU and also opposing May's bid for a soft exit, has ignored criticisms from farm and business leaders for its stance.
DUP deputy leader Nigel Dodds, who is also leader of the party's 10 MPs at Westminster, said the backstop provision remained the "poison" affecting any vote on the withdrawal agreement in the House of Commons.  
Dodds said, "Theresa May still insists that what she has negotiated is a good deal.
"She should remember that it would already have been consigned to the bin but for her pulling the vote in December."
Dodds blamed the EU and the Irish government for rejecting efforts to rewrite the deal or find a compromise.
He said, "EU spokespersons have gone out of their way to reiterate that there will be no renegotiation of the withdrawal agreement.
"True to form, the Dublin government has quickly shut down any possibility of a breakthrough by its now familiar tactic of a fast and flat rejection of any form of compromise."
Dodds said that since May pulled the vote in December the DUP had engaged with the British government in an attempt to move forward towards a deal which could command support in the House of Commons.
But he said, "So far, the fundamental problems which make this a bad deal appear not to have changed."
Read more: Oliver Cromwell bust fitted with alarm after UK politician kept turning it to face wall