Co-founder of the famous ALS Ice Bucket Challenge, who continues to advocate for a cure for the deadly disease, offers a heartrending glimpse into his life.
Pat Quinn lives his life with more courage and determination than most of us can ever comprehend, even though the ALS he was diagnosed within 2013 continues to progress.
The 35-year-old co-founder of the famous ALS Ice Bucket Challenge continues to advocate for a cure for the deadly disease, within his latest public post he offered a heartrending glimpse into his life and the breakup of his marriage to his college sweetheart Jenn.
Read more: Pat Quinn gets his voice back with astounding technology
Quinn wrote the post for the ALS website Augie's Quest – he uses an eye gaze system on a computer to bring his thoughts to life – and didn't hold back when describing the physical and emotional toll the disease has taken on his life.
"ALS has destroyed so much. It's decimated my physical body. I can no longer breathe on my own for more than a few minutes. So nowadays, you will always see me wearing the mask to my bipap machine," Quinn wrote.
3
"I lost my voice, so I communicate through an eye gaze system. I can't move on my own, so you will see me in a wheelchair. These things you can physically notice, but this disease doesn't stop there."
Quinn then detailed the emotional anguish that he's also grappling with, including the demise of his marriage to his college sweetheart Jenn Flynn, who he married in 2014.
"The emotional and mental aspect, if you ask me, is even more devastating. It changed me and the person I loved the most – so much that our marriage didn't survive. It crushes me," Quinn wrote.
Read more inspiring news on IrishCentral here
"Some couples find a way through it, many do not. I am a young man. Everyone around me is having kids, building families, the things every man desires as he gets older. I am not, and it's something I will never get over. ALS is an emotional roller coaster,  unlike anything you could ever imagine. If you're not crying, let me tell you, I am."
Quinn, a native of Yonkers who still lives there, told the IrishCentral's sister publication the Irish Voice in a Monday interview that he found writing the poignant piece to be "very emotional, but for some reason, I decided to share it."
"I am glad I shared it. From the very beginning, I wanted to be honest and outgoing when telling my story. It's not easy, but it's something that people need to see … it's probably the first time I opened up about Jenn and I."
Quinn has been heartened by the response he's received to the Augie's Quest post, and the constant stream of support he receives from family and friends.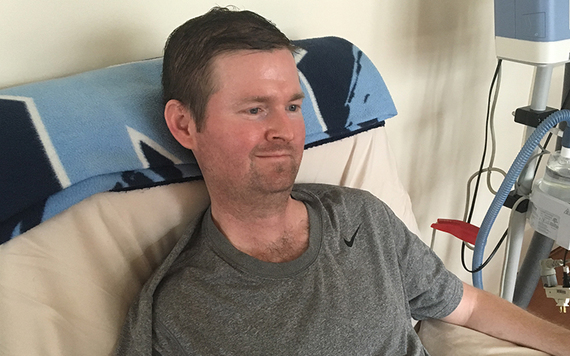 3
"The response has been incredible. So much support! It means a lot when I put myself out there and receive encouraging feedback," he said.
Quinn continues his public advocacy for finding new treatments and an eventual cure for ALS.  And he told the Irish Voice that "mentally, I'm as strong as Conor McGregor! I'm extremely determined to keep fighting and showing people you can make a difference no matter what you are put up against."
Read more: One Irish American football player's incredible fight against ALS
Quinn recently filmed a new public awareness campaign for the ALS Association with the legendary NFL star Terry Bradshaw, who spoke about being one of the many celebrities who took part in the Ice Bucket Challenge when it launched in 2014.
Terry Bradshaw & Pat Quinn ALS PSA :90 https://t.co/fI3zfZJvdf via @YouTube

— Pat Quinn (@PQuinnfortheWin) January 8, 2019
"Terry Bradshaw was the man! So funny, genuine and has a huge heart for getting involved with supporting ALS," Quinn said.
But no one's heart can be as big as Quinn's. The Irish American hero will never let ALS conquer his determination to make life better for those who will be diagnosed with the disease in the future.
"Despite all the challenges I face, I pride myself on my mental strength. My desire to inspire others to find their smile all while fighting to end ALS — it's what keeps me going," Quinn wrote on Augie's Quest.
"The new year is the perfect time to analyze ourselves and see what we do have in life, not focus on what we don't have or what we've lost. 2019 brings new beginnings. It's a time to move forward, not backward.
"ALS can take and take and take, but I am still here. You are still here. Please join me in kicking off the new year with a renewed sense of appreciation for being alive today. Not yesterday, not last year, today. Let's start with today."
Read more: Family turns to GoFundMe for Irish woman's third cancer battle