Pat Quinn, ALS patient and advocate for a cure, continues to do his all to help in the fight against the fatal disease, though his body is feeling its severe effects. Debbie McGoldrick visited with Quinn to talk about his life and his work.
The view outside Pat Quinn's living room window is serene and peaceful.   The co-founder of the ALS Ice Bucket Challenge and the living embodiment of a true hero has a two-bedroom apartment on the waterfront in his native Yonkers overlooking the Hudson River and the trees and cliffs of the Palisades.
Quinn, 34, just moved into the space last week.  His father and primary caretaker Patrick, a native of Newry, Co. Down who came to the U.S. with his family when he was nine years old, explains that they're still decorating and making it homey.  Having a bright and airy view, he said, was essential.  Looking at the glistening water and all the boats going by is a good way to lift the spirits.
Pat Quinn was only 30 years old when he was diagnosed with ALS in March of 2013.  There's no cure and not even many drugs to combat its devastating effects, but that didn't stop Quinn from becoming a forceful advocate for himself and other patients desperately in need of more research and treatment options.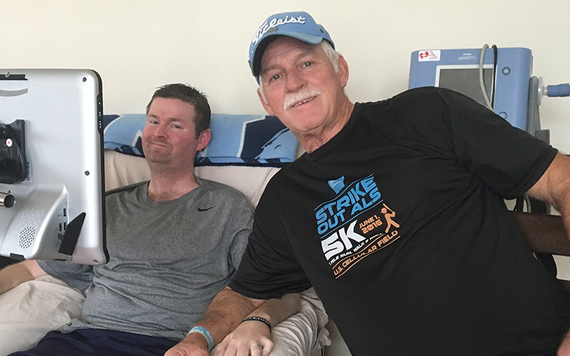 2
In the summer of 2014, together with Pete Frates in Boston, a standout Boston College athlete who was diagnosed with ALS in 2012 at the age of 27, Quinn gathered a network of friends and supporters to dunk themselves with icy water and challenge others to do the same.  The fundraising initiative became known as the ALS Ice Bucket Challenge and quickly went viral around the world, raising more than $220 million for research.
Being at the forefront of such an impactful movement is the pride of Quinn's life.  But ALS has taken its toll on his body since 2014.
Quinn can no longer walk or use his hands, and gets around with a wheelchair.  He is fed through a tube, and his voice is weak which makes speaking difficult. 
Read more: One Irish American football player's incredible fight against ALS
His mind is as sharp as it ever was, and he's able to express his thoughts thanks to a computer screen that's positioned in front of him.  He maneuvers it by focusing his eye on each letter he wishes to type, and predictive text makes the process go faster.  
The computer allows him to keep using his mind and lets him connect to social media and his favorite internet sites.  Not surprisingly, ALS organizations are at the top of that list.
"The computer makes it a lot easier," Quinn told the Irish Voice on Monday morning.  He was seated in a large, comfortable recliner, the Hudson River view and a large flat screen TV in the distance.  He was able to quickly eye-type many of his responses.
The quest for an ALS cure remains at the forefront of Quinn's mind, though he knows that he won't live to see it.  He's currently involved with a campaign called GoBoldly with a leading neurobiology researcher, Dr. Pablo Sardi.
"I'm helping them to promote their work," Quinn said. "They asked me to get involved, and I'm still doing everything I can. It was a great opportunity."
#TBT Accepting the @PRNews Hall of Fame induction 4 the #ALSIceBucketChallenge a few weeks ago! The fight vs ALS continues, keep supporting! pic.twitter.com/gvdZKo8Hib


— Pat Quinn (@PQuinnfortheWin) October 5, 2017

Quinn says the best thing he can offer researchers is hope and encouragement.  He is that rare, incredibly special soul who sees light where the rest of us would crumble.
"I think it's more of an inspiration," he says of his involvement with GoBoldly.  "When researchers sees patients doing everything they can to fight their work becomes more important.  And anyone who takes the time to do research is amazing."
Quinn is surrounded by a support system of family and friends who do all that they can to make his life somewhat easier.   He gets out when possible, but not nearly as much as he used to.  The Ice Bucket Challenge is still an annual summer event, though it's not the fundraising craze that it was in 2014.
Go buy @PeteFrates3 new book The #IceBucketChallenge at the link below. Pete is a hero. If u dont know, go find out! https://t.co/lJ0KnC0yUP pic.twitter.com/N7glqToOYh


— Pat Quinn (@PQuinnfortheWin) September 6, 2017

Empire Casino in Yonkers once again hosted an event in August with a great turnout.  Quinn didn't get dunked this time, but his supporters – starting with all the Irish in Woodlawn and Yonkers – were happy to.
Speaking of the summer of 2014, Quinn remains awed.  He shakes his head and says he "never" could have imagined that the challenge would have taken off the way it did. 
He and Frates were feted by many organizations for their advocacy, and Quinn became not only a hometown but a national hero.  His apartment is full of memorabilia gifted to him by pro athletes, and photos with the likes of New York Yankees great Derek Jeter, not to mention all the citations and honors from politicians.
"When I was diagnosed with ALS I was young.  Not many young people are diagnosed with it. So I knew right away that I wanted to do something to help find a cure," he says.
"And the money from the challenge accelerated the research."
In May, the first ALS drug approved by the FDA in 22 years came on the market. Radicava can slow the progression of the disease in those who are newly diagnosed.  In Quinn's case Radicava wouldn't be of help, and the annual cost runs into six figures.
One drug that has proven vital to Quinn's comfort is medical marijuana. He takes it in oil form on his tongue every night before bed.  Ambien and the baseline ALS prescription Riluzole are also on his daily menu, and that's about it unfortunately.  The drug options for ALS management are few and far between.
"My body is always fighting, and medical marijuana helps it to relax," Quinn says.  "It calms the twitching and muscle spasticity."
Quinn has assistance to stretch his limbs daily, "range of motion exercises to keep my body from getting too tight," he says.  He watches TV, uses social media and focuses on things like his Medicaid arrangements and "all the little stuff that keeps me going," he adds. Yonkers City Council President Liam McLaughlin has been an especially good friend.
Quinn beams when talking about his vast Irish network. The love and support he's received from the Irish community, he says, has been "the best!! The best!!"  He types the exclamations for emphasis. 
"Nobody has been more supportive than the Irish, especially here in Yonkers." 
Quinn's friends in bands like the Narrowbacks and Shilelagh Law remain steadfast in their support.  They'll be at the next event hosted by Quinn's advocacy and fundraising group, Quinn for the Win, on Sunday, October 15 at Maggie Spillane's in Mount Vernon.  The event is Quinntoberfest, now in its fourth year, and guests can partake in a silent auction and raffles.
When Quinn was a younger man – he played rugby for his alma mater, Iona College in New Rochelle – being diagnosed with a fatal disease was obviously the farthest thing from his mind.  But after the dreaded news came, lying down and waiting for the inevitable simply wasn't an option.  A new Pat Quinn came to life after that fateful day in March of 2013.
"I never really had the drive to do anything great. I was just living, paying my bills and having fun," he says. 
"But after the diagnosis, I felt different inside and I went for it. It gave me a passion, unlike anything I've ever felt before.  I never worked so hard at something."
Quinn smiles.  He never stops smiling.  Having the honor of spending time in his company brings another gentle champion of humanity to mind, the late NYPD Detective Steven McDonald, who passed in January of this year. McDonald was only 29 when he was left paralyzed in 1986 from a gunman's bullet.  He dedicated the rest of his life to peace, justice and forgiveness, and kept the faith no matter how dark life seemed.
Quinn met McDonald and his wife Patti Ann, not long before his death.  "We had a strong connection.  And Patti checks in on me," he says.
What's the real luck of the Irish?  Getting to claim icons like Pat Quinn and Steven McDonald as our own.  McDonald never stopped making the world a better place, and Quinn won't either.
"I know I have more to achieve and more to accomplish for sure," he says with his ever present smile that ALS will never extinguish.
Here's a local news report from August 2017 on  the Ice Bucket Challenge and Pat Quinn: