New York's famed Rosie O'Grady's bar and restaurant – together with its larger event spaces, the Skylight Room and the Manhattan Club – will close its doors for good on Friday, June 30, yet another victim of the pandemic. 
Rosie's, located at 800 Seventh Avenue on the corner of West 52nd Street in Manhattan, owned by the Co Leitrim-born restaurateur Mike Carty, shut for several months at the start of the pandemic in March of 2020. It briefly reopened at the end of the year for the Covid-impacted holiday season before closing again at the start of 2021. 
In May of 2021, Rosie's welcomed customers once more, but a dispute with the building's landlord, SL Green, over rent went to an arbitration panel which found in favor of the landlord. The rent on the property, Carty told the Irish Voice, sister publication to IrishCentral on Tuesday, was $3 million per year. 
"We thought we had a deal with the landlord over rent which we would have paid back over several years," Carty said. "We did a deal and thought we were on solid ground but the arbitrator went against us." 
So Rosie's, a beloved Manhattan institution that has hosted a countless number of Irish dinner dances and social get-togethers, not to mention serving as a Midtown port of call for many Irish tourists, will close.
A number of Irish groups which have hosted gatherings at Rosie's event spaces are dismayed by the news, given that the venue, thanks to Carty, was always affordable and accommodating – much more so than any other Manhattan caterer. 
"It is hard to figure out where we'll go from here. Mike and everyone at Rosie's – they were always the best, always giving great value and a great party," one Irish community leader who has hosted gatherings at Rosie's told the Irish Voice. 
A native of Aughavas, Co Leitrim who immigrated to New York in the 1960s, Carty and the late Austin Delaney from Co Mayo, opened the first Rosie O'Grady's in the Wall Street area in 1976. The current location on Seventh Avenue welcomed customers starting in 1981.
Rosie's was a go-to spot not only for the Irish, but theater-goers enjoying nearby Broadway shows, office workers from Midtown's skyscrapers, and tourists from all over. The pandemic dealt a crushing blow to all of the above that the city is still in the midst of recovering from. 
"The pandemic was awful for the business. We were closed for 15 months," Carty said. "We were extremely hard hit with no tourists and no office workers around." 
In 2017, Carty renovated the third floor of Rosie O'Grady's, at significant cost, to create the Skylight Room for catered events. The space, he said, did extremely well and sales were projected to rise, but the pandemic stopped Rosie's in its tracks. 
"We put a lot of money into the renovation for sure and it was working out great for us. We had plans to be in Rosie's for another 30 years, but unfortunately, it didn't work out that way," Carty said. 
He reopened Rosie's in November of 2020 for the pandemic holiday season, "but there was no one around. We lost thousands a week." Rosie's once again closed at the start of 2021, and reopened in May. 
It is unknown what will become of Rosie's, Carty said. "I don't know what they are going to do with it. But the building does need some work," he added. 
Carty is well-known in New York's Irish circles for his support of many causes, including the New York GAA. He is one of the driving forces behind the ongoing redevelopment of Gaelic Park in the Bronx. Last year, the New York GAA hosted a Hall of Fame gala at Croke Park in Dublin and presented Carty with a lifetime achievement award.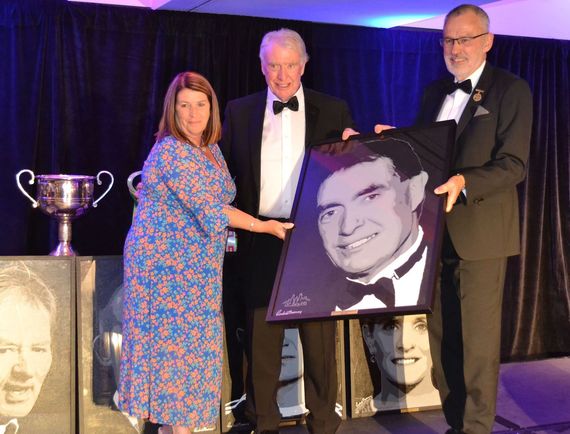 2
At Rosie's, he is a constant presence, always on hand to make sure events are run smoothly and that customers enjoy a good time.
How does he feel about closing the doors to Rosie O'Grady's for good?
"Well, we had a great run. We didn't think it would end like this. The pandemic was very hard," Carty said. 
*This column first appeared in the May 31 edition of the weekly Irish Voice newspaper, sister publication to IrishCentral.