Keepers of the Steps, a cultural program of the United Irish Cultural Center of San Francisco (UICC), is a growing collection of Irish dance stories, memorabilia, and ephemera.
The compendium, launched in 2021, is tracing the roots of Irish step dancing in the San Francisco Bay Area back to the mid-1800s during the Gold Rush era when Irish immigrants arrived in record numbers, though, as organizers note, there is appetite to expand the project beyond the local area.
Since its launch, the Keepers committee has been actively collecting anything and everything related to Irish dance.
"Dresses are just part of what we are actively collecting," organizers told IrishCentral, "yet they are arguably the most visual and emotive part of the exhibit.
"We also are growing our collection of shoes, poodle socks, wigs, hair accessories, photographs, brochures, feis programs, competitor numbers, music (records, CDs, cassette tapes, etc), as well as many other things associated with Irish dancing and the Irish immigrant experience."
Organizers note: "In all the seemingly random items, there are countless stories to be told.
"Who could have foreseen a sponge roller being a part of a cultural exhibition!"
Keepers of the Steps was the brainchild of Anne Cassidy Carew who, in the throes of the pandemic, was searching for creative ways to engage with the local Irish community as the then UICC Cultural Programming Director (and former Board President).
Plans really began to take shape in the summer of 2021 when current project lead Eileen Mize, who enjoyed a long competitive career with the McBride School of Irish Dance, joined the committee that included Noreen Boyle-Heavey, TCRG; Ann Baglin (former dancer and dance mom with SF's Murphy School of Irish Dance); Kathleen Martin McKeon (former dancer with the Healy School and dance mom to a current champion dancer now living in Dublin, Ireland); Jennifer Drennan (librarian with the UICC's Patrick J. Dowling Library); and Jamie O'Keefe (a UICC member and museum professional).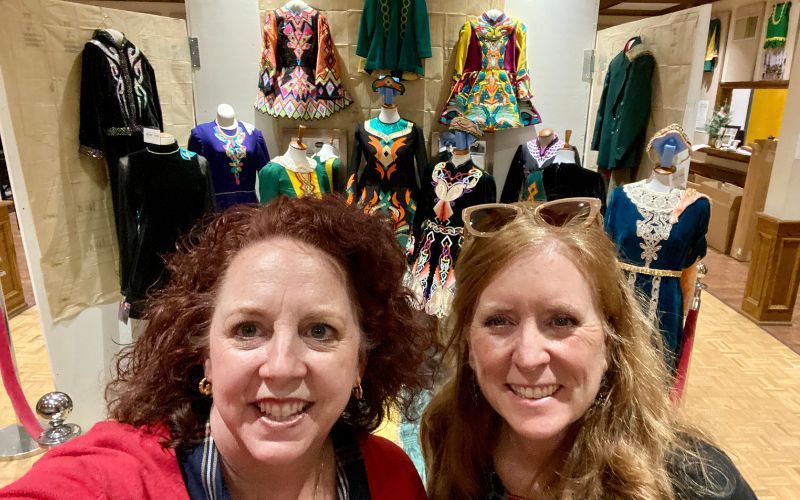 4
Mize believes there is a sense of urgency in collecting these stories: "Since Irish step dancing is largely an oral tradition passed on from one generation to the next, it is critical to capture these stories from first-hand sources while these individuals are still able to share.
"In addition, we want people to know that the UICC is a repository for the odd pieces of dance-related ephemera that may be collecting dust in the back of the garage—not just the dresses, but the feis programs and news clippings, medals, and brooches—these objects illustrate these stories and serve as real glimpses into days gone by—we are connected by these shared experiences."
Keepers of the Steps launched on social media on International Irish Dance Day - September 17 - in 2021, and the quest for content for the exhibition continued in earnest.
In January 2022, the Keepers project enjoyed a successful inaugural one-month exhibition, and that November, the show was introduced to a wider audience through a pop-up exhibit at the Western Regional Oireachtas which was being hosted in San Francisco.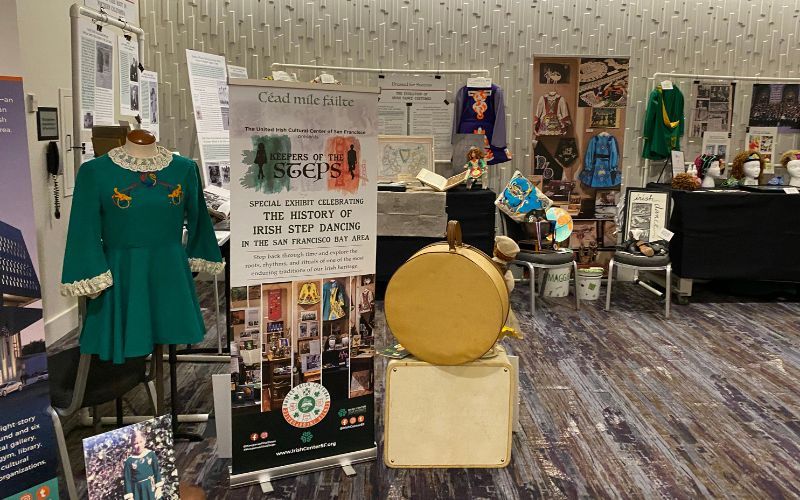 4
So far, the collection has received about 40 Irish dance dresses, some of which date back decades, and highlight the evolution of styles.
"One section of the inaugural exhibition was called 'Dressed for Success' and focused on the evolution of the dance costumes," Mize tells IrishCentral.
"Hemlines have come up and waistlines have dropped down, and dresses are lighter weight with function seemingly playing as much of a role as form."
Mize adds: "There have been some wild trends and experimentations—remember when feathers had a brief moment?!
"Consider the heavy velvet full skirts with lower hemlines than today and applique with layers of machine embroidery bedazzled with gems that were all the rage in the 90s—I think you could have three of today's dresses for the weight of that one!"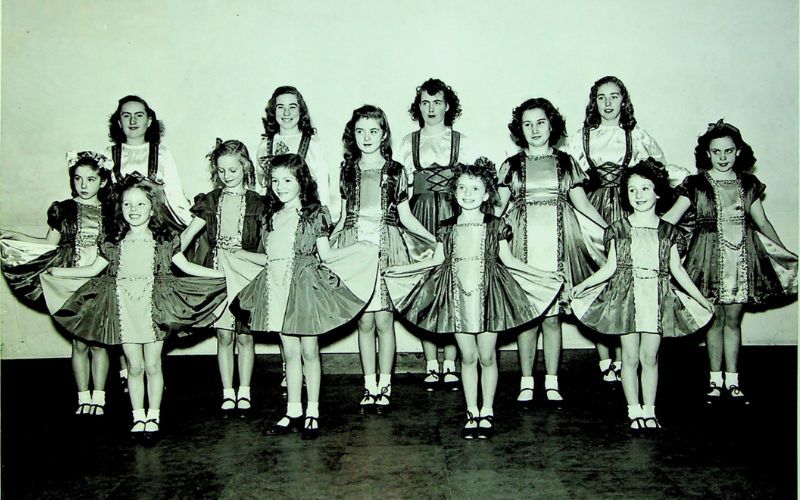 4
While the project hasn't formally coordinated with any current Irish dance costume makers, Mize recalls: "One thing we loved during the days of the exhibition is to hear someone say 'my mom embroidered that dress' or 'I remember sitting in dance class with the other moms stitching away rows and rows of chain stitch'—so I would say we have been in touch with some of our early fabricators."
Aside from Irish dance dresses, Mize says that a popular element of both the major and pop-up exhibitions was the "Founding Schools" wall - a large banner showing the "lineage" of the founding schools of the Western Region, their origins, and then the off-shoots of schools that sprang forth from those beginnings.
"Onlookers would lose themselves in following the various threads and always loved to see how/where they fit it," Mize recalled. "We are all connected!"
View this post on Instagram
Keepers of the Steps is planning another pop-up exhibit this August at the UICC in conjunction with the 2nd Annual Rock the Gates Summer Fleadh. The group is also planning to launch a virtual video tour of its first exhibit from 2022 this year on International Irish Dance Day, September 17, with an event marking the occasion. 
Organizers say they are looking forward to the UICC's new building project coming to fruition which includes a museum area where Keepers of the Steps would have space for more permanent displays. 
Keepers of the Steps has received support from the Irish Government as well as a grant from the Dance Development Fund of An Coimisiún Le Rincí Gaelacha (CLRG) and has begun forming collaborations and alliances with others interested in this type of research and preservation.
Looking ahead, the Keepers committee says one of their hopes is to create the biggest collection in the country, but would equally love for other Irish cultural hubs in the US to mount similar projects, potentially even becoming a global undertaking.
"It's a lofty idea," the organizers acknowledge, "but when this started we had no idea the stories, photos, and ephemera that we could gather and continue to gather.
"We hope to provide inspiration and perhaps a template for other regions to engage in this sort of preservation work."
Keepers of the Steps continues to solicit old Irish dance costumes (no matter the condition), dance shoes, medals/trophies, feis programs/numbers, photographs, and literally anything related to Irish dance. To learn more, you can visit the group's website, Facebook, and Instagram pages, or email Eileen Mize at emize [@] irishcentersf.org.