Kathleen Hemmings, who recently celebrated her 104th birthday, has credited Guinness for her long and happy life.
"Drink Guinness and don't marry!" Hemmings said during her recent birthday celebrations with her family and friends at Care UK's Sandfields on St. George's Road where she now lives.
To help make Kathleen's birthday one to remember, the team threw her a special party complete with a birthday cake specially made by the home's Head Chef, and not to forget – plenty of Guinness!
"I had a wonderful day," Hemmings said of her recent birthday celebrations. "It was fantastic having all my friends and relatives here for my party and to help me celebrate!"
In 2019, when Hemmings celebrated her 100th birthday, family friend Kirsty Darby told Gloucestershire Live: "She swears by Guinness is what keeps her going every day - she has one in the morning and one with her evening meal."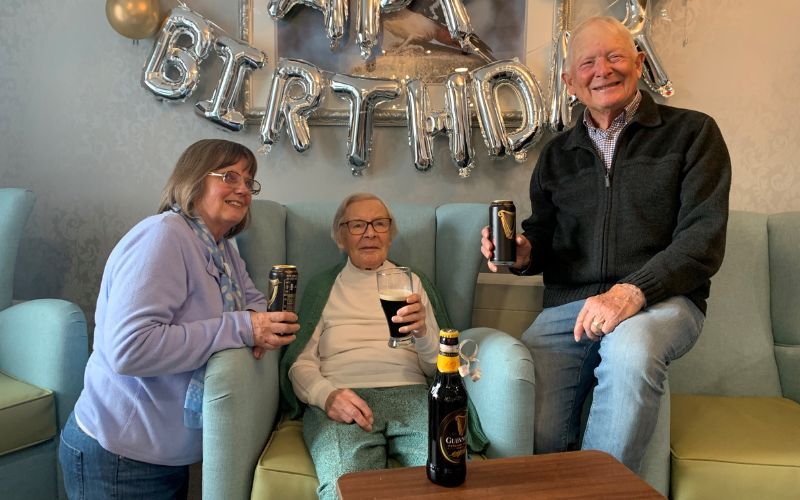 2
Born on October 2, 1919, Hemmings grew up in Brixton, London where she later began a successful career as an accountant. She enjoyed spending evenings dancing in Covent Garden and regularly attended the Royal Opera House to watch operas and ballets.
After spending time in London throughout World War Two, Hemmings decided she wanted a taste of country life, and headed for the Cotswolds in 1965, moving towards Cheltenham with her mum, her brother Charlie, and her dachshund Rusty.
Dorothy Pye, Home Manager at Sandfields, said: "Here at Sandfields, we love to throw a party for special milestones – and Kathleen's birthday certainly called for a celebration!
"It was wonderful to see Kathleen surrounded by all her loved ones to mark such an incredible milestone.
"The team worked tirelessly to make sure her day was one to remember, and we would like to thank everyone who came along to raise a glass of Guinness to Kathleen!"
While Hemmings credits Guinness to her long life, Diageo, the manufacturer of the black stuff, makes no health claims for the product. However, scientific research shows a pint of Guinness a day is actually good for your health!