It was November 11, 1987, and U2 were playing a free concert in San Francisco's Justin Herman Plaza that had been organized at a moment's notice.
One song into the performance, Bono singled out Robert Quinn, who was waving an "SF+U2" sign, for his apparent support of Sinn Féin, the then-political wing of the Irish Republican Army (IRA). 
Incensed by the IRA's recent Remembrance Day Bombing, which left 11 dead and more than 50 wounded in Enniskillen, Bono berated the fan for a full 90 seconds, questioning how they had the stomach to wave a sign that they had brought to the impromptu concert. 
Bono, it appears, had forgotten where he was, mistaking the fan's "SF + U2" sign for Sinn Féin, rather than making the more obvious connection to the city he was performing in. 
Earlier this month, Quinn's daughter Sonia replied to a tweet about Bono's 'SF' incident:
My dad was the one w the sign getting yelled at by Bono lmao https://t.co/ZkABDO7P9N

— Sonia Quinn (@soniafquinn) November 3, 2022
Video of the incident shows when the "SF + U2" caught Bono's attention.
"What's this I see over here?" Bono says during the gig.
"I see two letters - SF and U2.
"Is that a girl's name or does that stand for Sinn Féin, the Irish Republican Army ...
"Because if it does, I don't know how you can stand or stomach to wave that sign this week.
"Because you bastards left those people - 11 dead and 50 wounded  - in the name of freedom.
"F*ck freedom!"
Bono continued: "There's no glory in taking a man out of his van and shooting a bullet in his head while wife and children watch, mate.
"When was the last time you were back in Ireland, anyway?
"Well, I believe in Ireland, too. I believe my country will one day be united but not with the armalite rifle. So I say, 'no more!'"
Quinn, an Irish American San Francisco native, told IrishCentral this week that he was a U2 fanatic who had brought the sign to the "show some love" and to win free tickets from a local radio station, who were offering free tickets to an upcoming sold-out U2 concert in the Bay Area to the fan with the best sign. 
Quinn grabbed whatever he could find after hearing about the competition, which included "a big window shade, a couple of cans of spray paint, and a big aluminum extension pole", before jumping on the Bart and heading to Justin Herman Plaza. 
Quinn said this week that he was standing at the back of the concert as he didn't want to obstruct other people's view with his giant sign and, therefore, could only catch random words during Bono's rant. 
"All of a sudden, people around me started telling me that I had to take the sign down, that he was yelling at me," Quinn told IrishCentral.
"I thought to myself 'why is he yelling about my sign? I'm trying to show some love here'. Finally, someone close by told me that he was confusing the SF for Sinn Féin, so I took my sign down." 
Quinn continued: "My first thought was 'Bono, seriously? You're in San Francisco and you're gonna see SF + U2 and you're gonna read the SF as Sinn Féin before you think of San Francisco?'" 
Quinn said the verbal attack didn't spoil the concert because U2 were "really good" but said he began to reflect on the incident when he got home later that evening and started to think differently about it. 
"When I got home and reflected on it, it did kind of sour my experience. Not to get too touchy-feely, but I was doing it to really show some love - and to get a couple of free tickets - and to get shot down in such a stupendous manner in front of 20,000 people." 
"I just started thinking 'Bono, dude you're clueless."
However, the rant has not deterred Quinn from listening to U2's music and he has taken a good-natured approach to the incident, retelling the story to "dozens if not hundreds of people" over the past 35 years.
Nor did it surprise him that Bono took such a stance against the IRA. It just surprised him that it took the singer so long to make the connection between the initials SF and the city of San Francisco. 
He had never seen video footage of the incident until last week when the clip went viral on Twitter and his daughter came across it on the social media platform. 
Quinn said it was "bizarre" to see the incident properly for the first time. 
"I saw the video and I saw Bono screaming at me and I thought 'oh man, he was really, really angry'. 
"It upset me just because I did something that I thought was a flattering message trying to show the love from San Francisco to U2 and instead I get balled out in front of 20,000 people. It blew my mind. I couldn't believe that he would mistake SF for Sinn Féin in the heart of Downtown San Fransisco." 
Quinn, who has ancestral roots in Co Cork on his father's side, said he is now glad that he was unable to make out what Bono was yelling, adding that he probably would have made his way closer to the stage to give the singer a piece of his mind if he had. 
"If I had heard how much he singled me out when he questioned how I had the nerve to wave that sign around, I probably would have tried to get nearer the stage and say 'hey dude, f*ck you'," Quinn said. 
Quinn has searched "high and low" for the sign since the video went viral last week but has been unable to find it in his apartment building's storage unit. 
In the meantime, he has used photoshop to recreate the sign to the best of his memory: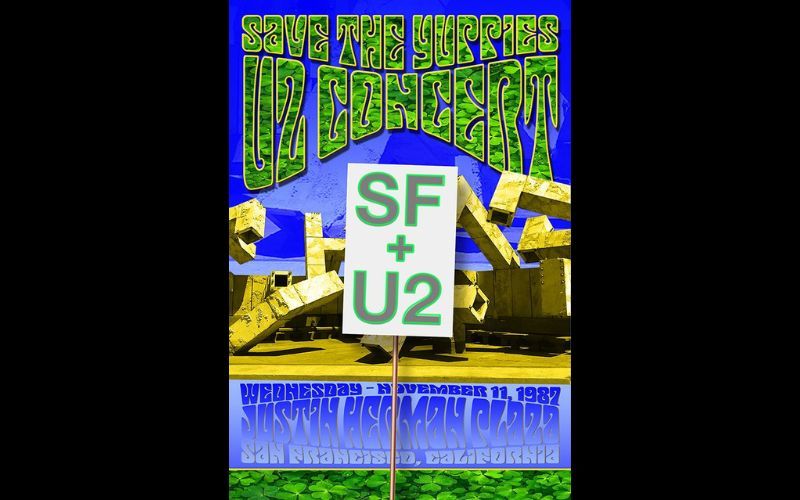 2