The Irish airline Aer Lingus plan to launch a new service between Dublin and Las Vegas for next winter.
This move will be welcomed by Irish holiday makers but Aer Lingus also hope the route will strengthen Dublin Airport's position as a transatlantic hub, meaning passengers from the United States will use their services to access the United Kingdom and mainland Europe, as well as Ireland.
Aer Lingus' Las Vegas service will be the eleventh route operated by Irish airline to the United States. They will also launch a route to Miami in September 2017. In recent years, it has also launched new transatlantic services to Hartford, Connecticut, and relaunched its route between Dublin and Los Angeles.
Read more: Aer Lingus 2017 Dublin summer schedule includes new route to Miami and more
4
Vegas, known as "Sin City", has become even more popular with Irish holidaymakers in recent years, especially with the success of Ultimate Fighting Champion Conor McGregor and the growth of his Mixed Martial Arts fan base in Ireland.
Chief Executive Stephen Kavanagh said the winter service to Las Vegas would complement the seasonality the airline sees on transatlantic services.
The airline was acquired by International Airlines Group (IAG) in 2015. The group also owns British Airways. Aer Lingus generates the majority of its transatlantic traffic during the summer months. In 2016 it carried a total of 1.7 million transatlantic passengers.
4
Kavanagh said the service will probably operate two or three times a week and added "we think there's demand there."
He continued "We can see from our own traffic data that for the Irish consumer Las Vegas is very attractive.
"We think there's an opportunity around Las Vegas. Whether it's year-round or just tactically in the winter months, that's what we're looking at."
Read more: Aer Lingus celebrates one millionth transatlantic passenger
Typically, Irish and United Kingdom residents travel to Las Vegas via Manchester or London's Heathrow.
In 2016 43 million people visited the gambling and entertainment mecca of Las Vegas, according to the Las Vegas Convention and Visitors Authority (LVCVA). Their research shows that the average gambler was aged 47 and that 16 percent of visitors were from outside the US. The LVCVA found that 76 percent of all foreign visitors gambled and typically budgeted just $370 for gambling.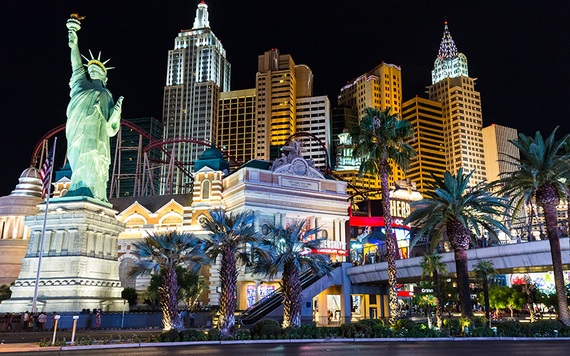 4
Aer Lingus planned to run this route as a seasonal service however, Kavanagh said this could change depending on how it performs.
"We are working to build a business case to operate a seasonal service to Las Vegas," Kavanagh told the Irish Independent.
"We need to find a balance to the peak summer months, where the US consumer is the main source of our traffic and where Ireland is the destination."
Kavanagh also told the Independent that he does not agree with plans to raise passenger charges at Dublin Airport in order to pay for a €320m runway project. The Dublin Airport Authority plans to open a third runway in 2020.
Read more: Irish airline Aer Lingus celebrates its 80th birthday