Aer Lingus resumed its daily flights between Dublin and Hartford, Connecticut on Sunday, March 26, a move welcomed by Bradley International Airport, New England's second-largest airport.
The daily Aer Lingus flight, which will operate until the end of October, marks a milestone for Bradley International Airport as Aer Lingus will operate the only direct service from Europe to Hartford, Connecticut.
Aer Lingus had paused its flights to Hartford, first launched in 2016, since March 2020 due to the COVID-19 travel restrictions that were imposed across the globe. However, the airline has now resumed its flights to the Bradley International Airport.
In celebration of the relaunch, travelers on Sunday's Aer Lingus flight were treated to live entertainment and giveaways. 
It's official: Welcome back @AerLingus!

Daily nonstop service from BDL to DUB starts today, with onward connectivity to over 20 destinations in the UK and Europe.

Learn more > https://t.co/K7k4Ee1pfV pic.twitter.com/IlSgLx1nEv

— Bradley Intl Airport (@Bradley_Airport) March 26, 2023
''We are thrilled to welcome back the non-stop daily Aer Lingus service between Dublin Airport and Bradley International Airport," Kevin A. Dillon, A.A.E., Connecticut Airport Authority Executive Director said.
"This service strengthens our connectivity to Europe and provides travellers with a seamless travel experience to reach Connecticut, which is home to globally recognized businesses and world-renowned tourist attractions."
Lynne Embleton, Aer Lingus CEO said: "After more than two years, it's great to be back flying back to Hartford.
"Our daily flights, from and through Dublin, will bring travelers from Ireland, the UK, and Europe into the centre of Connecticut which is home to global businesses and recognized as the insurance capital of the world.
"As the only European airline operating out of Hartford, we also offer a unique service to US passengers, flying them directly on our non-stop service to Dublin, and through our Dublin hub, connecting them onwards to the most popular UK and European destinations."
Passengers traveling from Dublin will enjoy the ease of going through US pre-clearance, which allows for a smooth and stress-free arrival at Bradley International Airport.
The flight takes seven and a half hours to travel from Dublin and approximately six hours return, providing a convenient option for passengers traveling between Ireland and Connecticut.
Connecticut's location between New York City and Boston is also a major advantage for travelers. Bradley International Airport is located just a short drive from both cities, making it an attractive option for travelers who want to visit multiple destinations during their trip.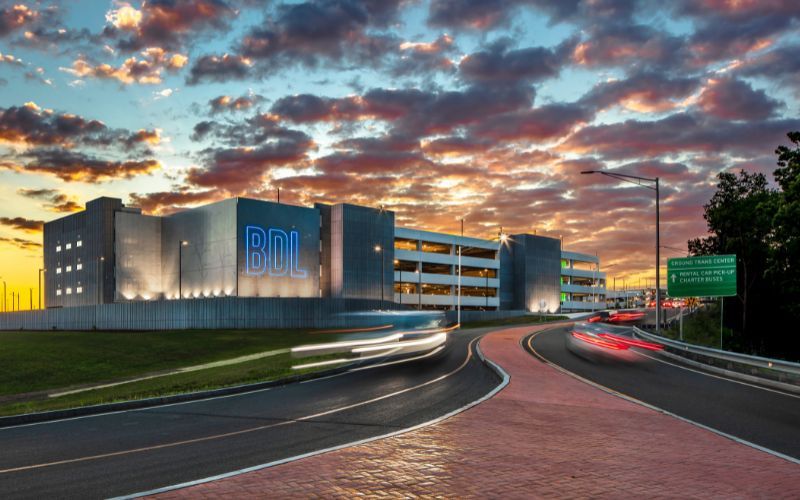 2
Bradley International Airport has undergone extensive renovations in recent years and now features a range of modern amenities for travelers. From comfortable seating areas and charging stations to restaurants and shops, the airport offers everything you need to make your travel experience more enjoyable.
The airport is also home to an on-site transit hub that offers convenient parking and car rental services. In the future, the facility will also include a dedicated area to receive high-frequency buses connecting the airport to the C Trail line and regional bus services. In the meantime, ground transportation services are available at their existing location, outside of the main terminal.
It's always recommended to book your flights in advance to secure the best price and ensure availability, particularly during peak travel periods. Travelers can check Aer Lingus' website for the most up-to-date information on flight schedules and prices, visit AerLingus.com.