Apparently, current Irish president Michael D. Higgins was one of the leaders in opposition to the visit but that bishops led the way.
Irish historian Ryle Dwyer claims, in an article based on released files on Ronald Reagan's visit to Ireland in 1984, that the United States President was treated like he had the plague by the Irish hierarchy.
Writing in the Irish Examiner in 2014, Dwyer stated that current president Michael D. Higgins was one of the leaders in opposition to the visit but that bishops led the way.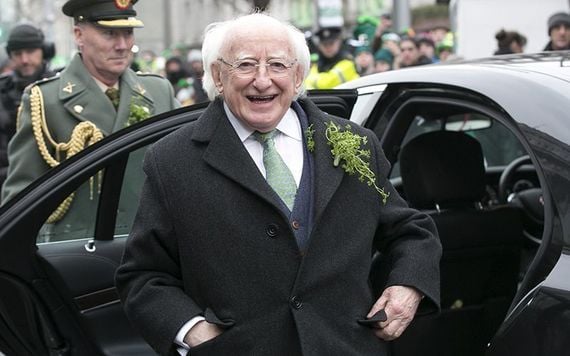 2
None of Ireland's bishops accepted an invitation to meet Reagan, who had been invited in 1982 by Charles Haughey, who was then Taoiseach.
After the Haughey invites, Reagan wrote back, "There is nothing Nancy and I would like to do more than visit your country," the president replied. "When my schedule allows it, you can be sure we will come."
Bishop Eamon Casey of Galway took the lead, strongly attacking the Reagan visit because of his stance on Central America.
Casey was described in the Washington Post as "a vehemently outspoken critic of Reagan's approach in El Salvador."
He had been present at the funeral of the murdered Archbishop of San Salvador, Monsignor Oscar Romero, on March 30, 1980.
Bishop Casey accused Reagan of backing the government forces in El Salvador and turned down an invite to the welcoming reception for the president in Galway. He later resigned after a scandal over a relationship with an Irish American woman, Annie Murphy, who bore his child.
Cardinal Tomás Ó Fiaich, Primate of Ireland, turned down an invite to the state dinner and gave no explanation.
Ireland's other leading cleric Archbishop Dermot Ryan of Dublin also refused to attend.
Ryle Dwyer states that Seán Donlon, General Secretary of the Department of Foreign Affairs, noted: "The Taoiseach invited Dermot Ryan, the Archbishop of Dublin, to the dinner, but he declined, explaining he would be absent in Rome."
Ryan was later implicated as one of the bishops most culpable in the pedophile cover-up.
Joseph Cunnane, the Archbishop of Tuam, also declined to attend the Galway function saying he had a confirmation ceremony.
Bishop Joseph Cassidy of Clonfert also declined to attend the Galway ceremony.
Ballyporeen, where Reagan's people hailed from, was in the diocese of Waterford, but Bishop Michael Russell declined all invitations for the Reagan visit.
Michael Reagan, the president's great-grandfather, was baptized in Ballyporeen in 1829 and lived there until he was about 20 when he moved to London before immigrating to the US in 1857.
Reagan visited the town and the pub there was subsequently renamed "The Ronald Reagan." It still stands in the Reagan presidential library where it was transported brick-by-brick to Simi Valley California.
Do you think the current US President would be treated the same way in Ireland? Let us know your thoughts in the comments section, below. 
* Originally published in January 2015.