Irish Catholics in the US are far from innocent as history shows figures who stirred up ant-Semitic sentiment during World War II. 
It's probably a good thing that I had no idea Teen Vogue was into history and politics.
To casually discuss an article that I just read in Teen Vogue could lead to all sorts of questions, but the very first would surely be, "So, like, why are you reading Teen Vogue?"
But the mysterious algorithms of Google and recent abhorrent behavior by neo-Nazis in New York City led me to a long, interesting article in Teen Vogue which, in case you didn't know (I swear I didn't!) bills itself: "The young person's guide to conquering (and saving) the world."
What I do know is that we're living in a kind of creepy time, when violent right-wing types are back roaming the streets and socialism is a thing again. Hey, the 1930s called!
They want their problems back!
Read more: Dublin woman discovers she was born into Nazi breeding program
3
A few months ago, there was a scuffle on the streets of Manhattan between supporters of a group billing itself the Proud Boys, and protesters who see these boys as hateful Trump lovers. The top Proud Boys' name is Gavin McInnes—Scottish, not Irish, thank you very much, by way of Canada. McInnes was slated to give a speech at the Metropolitan Republican Club back in October.
"Outside a crowd of left-wing protesters chanted, 'No Nazis, No KKK, No fascist U.S.A.' After the event, the police kept the attendees and protesters separate, but a handful of leftists, wearing masks, circled the block and tried to intercept the Proud Boys on East 82d Street," The New York Times later reported.
In the end, the two groups met up and clashed, arrests were made, and Teen Vogue was compelled to run a long article about Nazism in America.
"Until the U.S. entered World War II, in 1941, countless Americans opposed U.S. involvement in the war—despite relatively widespread media coverage of Hitler's terror—including groups like the America First Committee, whose membership included anti-Semites and Nazi sympathizers," Eric Ginsburg wrote, adding, "Charles Coughlin, an Irish Catholic priest, used his national radio show, which reached millions, to stir up anti-Jewish sentiment. His supporters formed a group called the Christian Front, which created a 'Christian Index,' of non-Jewish stores to support and whose members attacked Jews in the streets of cities like New York." Ugh.
Read more: The strange history of the Nazi plans to invade Ireland
For the record, Father Coughlin, the first mass-media political pundit, was born in Canada. Like McInnes. (Who says those folks up north are so nice and peaceful?) 
But his family was indeed from Ireland, and if it seems a tad unfair that Ginsburg would highlight Coughlin's Irishness, be thankful that he doesn't point out an even more disturbing fact: Irish Americans were prominent members of the American far-right in the 1930s. These were the Proud Boys of their day.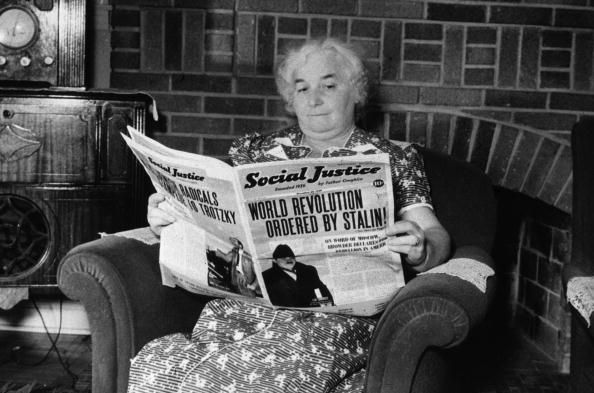 3
With his fiery anti-Communism, which eventually morphed into deep anti-Semitism, Coughlin inspired a number of groups that incited violence at the street level, including the Christian Front as well as the Christian Mobilizers. 
The next time an Irish American tells you yesterday's immigrants were so much better behaved than today's, remind them that not only did Christian Fronters randomly attack Jews and synagogues, but whispers of a broader bombing and assassination campaign brought the heavyweight of law enforcement down on these Irish Catholic Proud Boys.
Historian Ronald H. Bayor noted that one Jewish newspaper reported, "We are tired of approaching a police captain, hat in hand, saying, 'Please Captain McCarthy (or O'Brien)...my boy was hit because he is a Jew.'"
All of this not ten years after the Ku Klux Klan —and many others—made it clear they did not want Al Smith in the White House because he was an Irish Catholic!
So, when Irish folks shrug off knuckleheads like the Proud Boys —or even defend them—perhaps they need to remember they have (if you will) some skin in this game.
Read more: Philadelphia's Irish famine memorial used for far-right hate group gatherings