It was fitting that Gerry Adams showed up from Ireland at the wake and funeral in Garden City, Long Island for Bill Flynn, whom he eulogized.
Both men acted as political maestros, one galvanizing Irish America, the other Irish nationalism. They worked side by side over the decades and ensured the people of Northern Ireland had a peaceful future. There can be no greater gift than that.
Bill played a huge role as part of the Irish American group who negotiated the Adams visa for America and switched President Clinton on to Ireland.
As former Congressman Bruce Morrison, a member of that group noted:  "Bill was the consummate successful businessman who never forgot his Irish roots. He was all-in' with a process that went anywhere and met anyone if it might open doors to a just way to end the Troubles.  
Read More: Bill Flynn, Irish American giant of the Peace Process, passes away at 92
"Bill made a point of taking Loyalists under his wing to support them as they joined the ceasefire process.  Bill drafted and financed ads in the New York Times, letting his peers know that this was the new way forward and it was time for all to join in supporting what Bill Clinton could accomplish by taking "risks for peace."
"Now some 25 years after our group got started and on the 20th anniversary of the Good Friday Agreement, some think the peace process was inevitable or that the way forward was a consensus. Bill knew better because he was there when it was not at all obvious or popular to do what our little group was doing.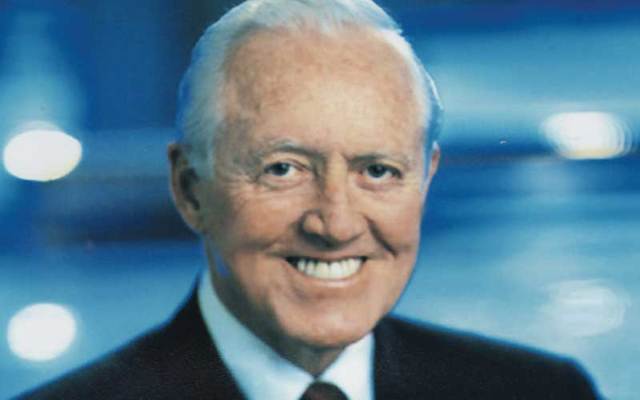 2
It is an excellent assessment of the man. Like all complex and clever men, Bill Flynn had a great gift of simplicity.
So I should say something simple about him. He did as much as anyone, and I include the great George Mitchell in this, to bring peace to Ireland.
The former Chairman and CEO of Mutual of America played a huge role in the Irish peace process, creating the opportunity for Gerry Adams to come to America to speak at the National Committee on American Foreign Policy the prestigious group that Bill chaired.
Read More: The truth about Gerry Adams US visa
He knew the stakes,  No Adams visa, no IRA ceasefire in 1994, a failed American dimension which could have cratered the entire process.
Bill approached the issue of the visa as he did everything else, with complete optimism and faith in his persuasion powers. He was a John Wayne figure, a towering fine looking man of 6 foot 3 who dominated every room he stepped into.
He had an uncanny ability to hear the other person out even when what that person was saying was diametrically opposed to his own views. I sat with him through numerous meetings with Loyalist and Unionist leaders in which I'm sure Bill held his tongue, but you'd never have guessed it.
His relationship with the Loyalists was something to see. On one of our early trips to the North, a loyalist community worker Jackie Redpath brought the leadership of the UDA and the UVF to see us.
To say there was immediate suspicion is an understatement but Flynn swept it all away.
Invitations to come speak and tell their story in America were immediately offered, meeting with vital people from the White House down were quickly put on the table. For men like Gusty Spence and David Ervine and Gary McMichael it was a new dimension completely.
Irish America in the person of Bill Flynn would include them when almost no one else would, including unionist political parties.
Read More: Bill Flynn's Irish heritage
Needless to say, Flynn delivered and the sight of top Loyalists calling in on Bill or being invited to the White House was incredible in retrospect.
I remember the day we decided on the visa option as the Irish American major play to influence the peace process. There were three of us in a Ray's Pizzeria in midtown Manhattan myself, Bill and Sinn Fein activist Ciaran Staunton. Leaders like former Congressman Bruce Morrison also played a key role as well as businessman Chuck Feeney.
We had been in close touch with Sinn Fein, the wheels of history were slowly grinding forward but they needed some locomotion from America. Would it be a bid for a visa or a special envoy?
We made the call on the visa. Flynn looked at me and in a   rare moment of emotion, pointed to the nearby wall and said "We'll go through walls if necessary to make it happen " It was a singular moment of optimism at a time when we were struggling to respond to events in Ireland. I immediately felt it would happen despite British, FBI CIA, State Department opposition. Flynn was totally behind it, that was good enough for me
Flynn had no airs and graces and often told the hilarious story against himself that he attended a White House party thinking it was a black tie when it was just suit and tie. Before knew it he was being handed empty glasses to refill and being asked where the restrooms were. It was a typical Bill story accompanied with his booming laugh
Incredibly successful as a businessman, deeply devoted to his Catholic faith and family there was also the private side to Bill. He loved the horses and owned a few good ones in his day.
In my mind's eye, I will always see him at Saratoga or Belmont, knowing every waiter in the place with a kind word and a tip for every one of them, his brother by his side. Somewhere in heaven, he's already asking where's the local track.
He was a great friend and an Irish hero. We will miss him very much. To his devoted wife Peggy and all his family, we wish our very best. Our hearts are broken.