The Irish should ask for their own visas within US immigration reform. 
Since the 1950s, the month of March has seen the President of the United States open the doors of the White House to Irish premiers and Irish-Americans alike to celebrate the Irish heritage.
As we saw and demonstrating a quite traditional welcome, President Trump greeted new Taoiseach Varadkar to the Oval Office this year. Trump also followed his predecessors' practice affording a Presidential declaration declaring March "Irish American Heritage Month."
Ireland's contributions to the country have always been a benefit to the United States. This past week, the Navy Secretary announced a new US Navy destroyer, USS Gallagher, named for a heroic Irish immigrant marine corporal killed in action in Vietnam. Corporal Gallagher from County Mayo joins the long history of Irish immigrants whose service to this nation has produced more Medal of Honor winners than any other counties.
Read more: A St. Patrick's Day message from Ireland: Thank you, America
5
There is little question of the important historic, cultural, commercial, and political contributions Irish immigrants to America. However, when it comes to immigration, Irish Americans continue to feel left out in the cold.
In 1965 Senator Ted Kennedy sponsored an immigration reform bill (that he would later say he regretted) that had the unintentional consequence of unfairly denying Ireland a reasonable allotment of US immigrant visas. Prior to 1965, we were allotted 17,500 visas. In 1995, the number was down to 4,500 and today, Ireland has a maximum of a mere 147 (out of 50,000) Diversity Lottery Visas.
The assurance given in 1965 was that the strong cultural ties would ensure that Irish immigrants were not adversely affected. However, we knew then as we know now, that is not true.
Read more: Hey Irish, don't blame Trump on immigration, blame Ted Kennedy
5
In recent times, legislators have looked for support from all communities, including the Irish, for "comprehensive immigration reform." For their part, the Senate passed an Immigration Bill in 2013 but it never made it to the House of Representatives. Within this bill, the only language to address the Irish was a "technical correction" to give the Irish a chance to claim some unused Australian E-3 Visas.
This does not go far enough. We now seek support for an allotment of our own Irish E-3 and a reciprocal deal with Ireland to address the long-standing inequities.
Irish Americans are indeed concerned about families who are DACA eligible (Deferred Action for Childhood Arrivals), although the Irish may have only a handful, and also concerned for the decades-old issue of upwards of 50,000 undocumented Irish here. These families love this country as their own and should not be considered a blip on the radar screen of the total 13 million undocumented.
5
Today, the pool of possible Irish Immigrants are highly-educated, English-speaking, and anxious to make successful lives and businesses here and to create stronger ties between our nations. Ireland is the European home to many US companies and workers, and Ireland also facilitates US Customs and Immigration Pre-Clearance at its ports.
Irish entrepreneurs have established businesses here in the US which are major employers of Americans. We believe that this mutually economic benefit will be enhanced by a reasonable quota of immigrant visas and an end of decades-long wait for 50,000 Irish that we have long advocated for.
So, this Saint Patrick's Day and throughout Irish American Heritage Month, we invite all here to enjoy our parades and celebrations of the Feast of Ireland's patron Saint Patrick. In return, we humbly ask your support, that legislators may address our longstanding immigration needs, in honor of the contributions made by immigrants, and on behalf of the 33 million Irish-Americans today, citizens who pay taxes and do vote.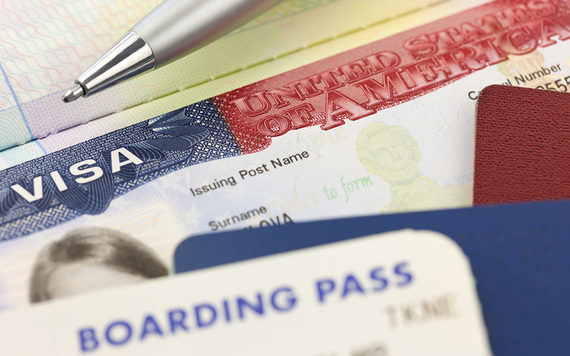 5
Irish immigrants are no better than any other immigrant group, but also no worse. Irish America, especially during Irish-American Heritage Month should not be faulted to ask for these disparities to be addressed now and effectively.
Dan Dennehy is the National Director and Immigration Committee Chair Ancient Order of Hibernians in America Inc.
The AOH is the oldest and largest Catholic, Irish-American fraternal Organization in America. Founded in New York City in 1836, and with a growing membership in every state, the AOH seeks to aid the newly-arrived Irish, both socially and economically, achieve a United Ireland with Peace and Justice for all and promote the ideals, history, political action, and charitable work of all Irish and Catholic Americans.
For additional information on the AOH visit: www.aoh.com.