Fun facts about Irish American Heritage Month 2018 and the activities you can undertake to celebrate it.
March 1 marks the start of Irish American Heritage Month 2018! The announcement was made by President Trump on February 28 in a statement that certainly sounded like Trump was saying immigrants make America great again.
"During the month of St Patrick's Day, we celebrate Irish-American Heritage Month and the tremendous role Irish immigrants and their descendants have played in the development of our great Nation," Trump said.
"Irish-American Heritage Month is a great opportunity to celebrate the nearly 33 million Americans with Irish ancestry and their tremendous contributions to the betterment of our country.
"This month, and every month, we appreciate their efforts in helping usher in a new era of American prosperity."
Read more: Where is the oldest St Patrick's Day celebration in the world?
US President @realDonaldTrump has proclaimed March 2018 as Irish-American Heritage Month. pic.twitter.com/KaUuxkfkcS

— Brian O'Donovan (@BrianOD_News) February 28, 2018
The US President continued to acknowledge the Irish and those of Irish descent who have played crucial roles in the countries history and contributed greatly to the success of the country as immigrants and the descendants of immigrants.
"Irish Americans have distinguished themselves in every sector of American life.  Many have been among the key architects of our country's greatness," he said.  
"Nine of the men who signed our Declaration of Independence were of Irish origin.  Presidents Andrew Jackson, John F. Kennedy, Ronald Reagan, and many others have traced their roots to the Emerald Isle.
Read more: Fun facts about St. Patrick's Day - One month away!
4
"Businessman Henry Ford, founder of one of America's most iconic companies, was the son of an Irish immigrant."
The statement also addressed the current relationship between Ireland and the US, a relationship that will be under the microscope in Ireland throughout March, especially as Irish Taoiseach (Prime Minister) Leo Varadkar meets with President Trump as part of the White House St. Patrick's Day celebrations.
He stated: "As we spend this month honoring Irish Americans, we also pledge to further strengthen our relationship with the Emerald Isle itself, as we look forward to a bright future of greater friendship, cooperation, and commerce for centuries to come."
What is Irish American Heritage Month 2018? The facts:
4
Irish American Heritage Month began in March 1991 to honor the achievements and contributions of Irish immigrants and their descendants living in the United States.
During the month of St Patrick's Day, the Taoiseach travels to the US to present the President with a bowl of shamrock, a traditional symbol of Ireland. This is generally followed by the Friends of Ireland Luncheon hosted by the current Speaker of the House and attended by the President or Vice-President.
Irish American Heritage Month 2018 fun and activities: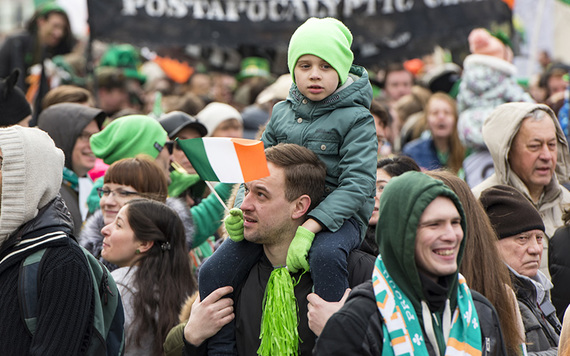 4
There are plenty of ways for you to get involved in Irish American Heritage Month 2018! You can start on a long-term project like learning how to play traditional Irish music, learning the Irish language and researching your Irish ancestry or you can get involved in the many St Patrick's Day events happening all over the world throughout March.
Check out all our St Patrick's Day stories here and be sure to sign up for our newsletter to keep updated.
How will you be celebrating Irish American Heritage Month 2018? Let us know in the comments section below.