When a recently bereaved Irish widow tells her horrified son that a stray dog is the reincarnation of her husband, things get weird. "Róise & Frank" tells a very moving and very funny story about how we process and fail to process grief. 
Irish films, that is films that are being scripted and performed in the Irish language, are having a moment. 
This week, "Róise & Frank," a film that has already won six audience awards right here in the US, will come to New York City cinemas with the kind of advance buzz that money can't buy.
"Róise & Frank" is a beautifully paced and acted film about a recently bereaved Irish widow named Róise (played by Bríd Ní Neachtain) who becomes convinced the stray dog that has started following her around is actually the reincarnation of her GAA mad husband.
But first, the co-directors Rachael Moriarty and Peter Murphy let us see just how heartbroken Róise is over Frank's sudden passing in a montage of sad scenes where she's now living in a darkened house with the blinds pulled down and the rations dwindling. 
Clearly, she's not doing well. Without a line of dialogue, the filmmakers create a world of silence that's only broken by her frequent phone calls to his old voicemail to hear him say that he's not home. 
We can see that. We also see the empty side of the bed where Frank once slept. In these scenes, Ní Neachtain pulls the heart out of your chest and makes you wish for a change to come to pull her back from the brink to the land of the living.
And then it arrives. One morning she's confronted by a stray dog that stands in her path with a plaintive expression in his gentle brown eyes, as though to say, 'pull yourself together, lady.' Róise is affronted by his sudden appearance and throws a stone at him to scare him away, but he stands his ground.
Soon, he wears her down and his actions start to hint that he might know more about her, far more, than he should have the right to. For a start, he knows where to find the sliotar (or hurling ball) that brings back strong memories of her GAA-obsessed husband and son.
Then he leads her to the secret place where she and her husband used to have their picnics in the long ago, an event that suggests there may be more to this dog than meets the eye.
Finally, he leads her across town directly to Frank's grave, where by this stage, she has become convinced he knows more than he should know because he's the spirit of the man she fell in love with.
If you think this sounds nuts, you should see her son Alan's (Cillian O'Gairbhi) reaction when she finally tells him what she suspects about the dog, or more precisely who the dog really is.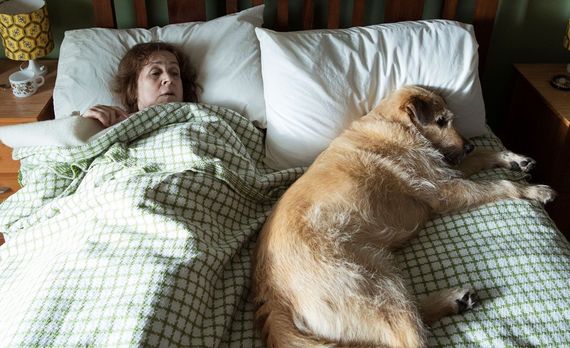 4
On its face, "Róise & Frank" is a shaggy dog story, but there is real feeling under the hood. Irish films tend not to look away from the bittersweet challenges of life and neither do the directors here, which makes this sweet film so much more affecting as it unspools.
Perhaps the most exciting thing of all is that when the film debuts here in New York this weekend, it will be part of a new wave of Irish language films that are finding a worldwide audience (and armfuls of film awards). 
"I think that's one of the most exciting things about it for us," says co-director Peter Murphy. "We're both – Rachael Moriarty and I - a good few years in the business now and we would've looked at the Scandinavian model, particularly Denmark, and thought there's a small country that's really punching above its weight in filmmaking.
"So when TG4 [the Irish language station] and Alan Esslemont, its Director General, believed we needed to find a way to make new feature films, he just thought why don't we make them Irish language movies? Because there's a huge industry of subtitles films worldwide."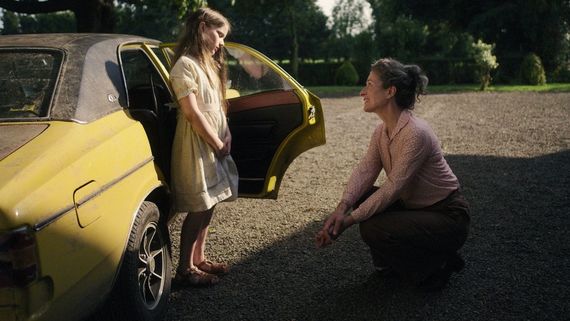 4
Making the commitment to make new films for international release in the Irish language is braver than it sounds, or at least it was. The Oscar nomination for "The Quiet Girl" ("An Cailín Ciúin,") which is still doing strong box office worldwide, has changed the game completely.
"We can make our Irish language films for a modest but reasonable budget," Murphy continues. "They are fully funded with the combination of TG4, the Broadcasting Authority of Ireland, and Screen Ireland funding, and with tax breaks from the Irish government."
With this coming together and this new faith in the vision of Irish filmmakers and their commitment to the language, the sky is finally the limit, Murphy agrees.
"Since it's now fully funded it's meant that quite a few people who are passionate about the language and have great screenplay ideas can suddenly come together. I think it was the first time ever that we have felt a little bit part of a mini-movement in movies. And that's brilliant. First the famine set film 'Arracht' did well, and then 'An Cailín Ciúin' has just sort of raised the bar for everyone, which has been great."
A fear some of the filmmakers had was finding an Irish audience. "A big fear before these films hit the screens was that that people would go, well that's a bit like homework, I'm not gonna pay my money to go and see an Irish language movie.
"But that hasn't happened. I think people are connecting with it and taking pride in it and feeling, you know that you're letting the Irish live and letting it live for people who aren't necessarily fluent but have a lot of Irish, or who kind of can recognize a lot of it or understand more of it than they'd ever imagined."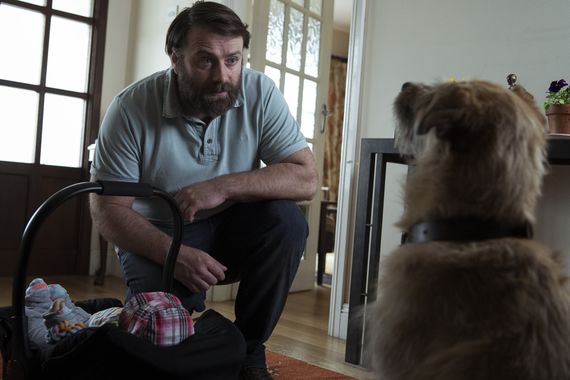 4
As well as being a disarmingly funny meditation on grief and how it can play out for people in a tightly knit rural community, the film also introduces us to young Maidche (Ruadhan de Faoite) a skinny red-headed boy who's like the Platonic ideal of a talented outsider.
Maidche can't catch a break from the bigger boys in his class, but Frank the dog takes his side as he trains for a school hurling match that looks like a pipe dream, until its not. It's not just Róise that this magic dog is coaxing out of its shell, in other words, and this nerd-to-superstar subplot is one of the funniest in the film.
"We're blown away by how well 'Róise & Frank' has landed in America," says Murphy. "It's won six audience awards here and audiences are really connecting with it. People laugh and cry at it and I always feel like, as a movie lover myself, that combination is rare and precious. It's an emotional film, but it's a feel-good film, it's got a little bit of everything."
"Róise & Frank" opens Friday, March 31 at the Quad Cinema in New York City.