Punk's not dead, the old saying goes and how could it be? It was one of the most vital youth culture moments of the last century.
A complete rejection of the mess that adults made of the world by the late 1970s, the music is somehow as powerful and fresh now as the day it was written.
In June, the Irish Arts Center in New York City will present "Good Vibrations," a new musical based on the BAFTA award-winning film by Glenn Patterson and Colin Carberry.
Chronicling the real-life story of Terri Hooley, a radical, rebellious music-lover and impresario in the Troubles-hit 1970s Belfast, it's a reminder that the spirit of 76 was felt even in the most hard-hit places.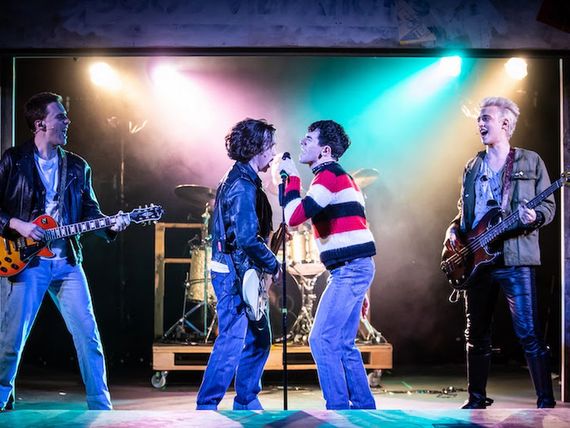 2
Last week, a cocktail party at the Irish Arts Center with contributions by special guests Cait O Riordan (The Pogues), Jimmy Fay (Lyric Theatre), and musician Paul Brady give you an idea of how central this story and Holey himself was in the annals of Irish rock.
The blurb gives you the basic outline: "When the Troubles shut down his city and his friends take sides in the undeclared war, Terri does something mad, he opens a record shop and becomes the unlikely leader of a motley band of Belfast kids who join his mission to create a new community, an alternative Ulster, and bring his hometown back to life."
"This thrilling new musical features a cast of twelve and a bounty of anthems from Northern Ireland's punk era, including the Undertones' greatest moment in rock music hit 'Teenage Kicks,' the Outcasts' 'Just Another Teenage Rebel,' and Stiff Little Fingers' 'Alternative Ulster.'"
These are top tunes, capturing their particular moments in time like a capsule, but still so good they are somehow completely outside of time too. To hear the opening notes of these legendary classics is to race to the dance floor, so some of the work of this show has already been done before the curtain even rises.
"Good Vibrations" opened in Belfast in 2019 and quickly sold out for its entire run. Then the plan had been to bring it touring, including to New York in 2020 but we saw how that worked out. This June 14 to July 16 it finally comes to the Big Apple and you can expect it to be a sell-out here too (so book this week to avoid disappointment.)
Music has the power to lift you out of the darkest depths and times and no one knew that more than the mad visionary Hooley, who somehow saw hope in a charnel house and offered it to the youth of the city, desperate to live a little in a time of despair.
It's weird to think that songs like "Teenage Kicks" are now 44 years old. That means that through the passing of time, they have become Irish classics rather like the Dubliner's "Whiskey In The Jar." But they're also their own thing too, and as distinctive in their own way as Hooley himself was for helping to bring this vital music to the wider world.
It's hard to pursue your rock and roll dreams of fame and fortune when the streets are being patrolled by soldiers and your home city is often burning. "Good Vibrations" doesn't skip over the cost to those who lived through those times but neither does it forget the passion of the young people trying to make a life for themselves in a terrible time.
Hooley lives on in Belfast now as a living legend, a man who made something remarkable happen through the force of his own personality. He's a reminder that although it got dark those years were not without majesty and "Good Vibrations" will remind you how important art, music, and hope are in our own often very dark and often hopeless age.
At a time when daily shootings have become a part of our lives in the land of the free, it's a good time to remember the Troubles. The lesson of that time and this show is that no matter how hopeless things may feel, progress is still possible and inevitable. That's a message worth buying a ticket to this exciting new show to remember. 
"Good Vibrations" plays at the Irish Arts Center from June 14 to July 16. For tickets, call 888-616-0274 or visit this website.