Summer is finally here! It's the perfect time for stepping outdoors and getting closer to nature. The best way to do that is to hit one of these scenic walking trails in Northern Ireland.
A new study from online fashion retailer Damart has uncovered Northern Ireland's best trails to visit with families and friends, revealing routes that both seasoned hikers and leisurely amblers could enjoy.
The study assessed 100 popular trails in the UK by duration, difficulty, accessibility, and amenities to rate the very best walking trails.
Giant's Gate and Causeway Coast Circular, Carrick-a-Rede to Rope Bridge and Ormeau Park Circular were revealed to be the top three best walks in Northern Ireland, according to the research. 
"Northern Ireland is well-known for its wealth of extraordinary natural landmarks, beautiful countryside, and landscapes – all of which make for an enjoyable walk and a perfect, low-cost way to spend a day, even more so on those rare occasions when the weather is on our side," said Alyson Taggart, product and publications director at Damart.
"With appreciation for the outdoors skyrocketing during the pandemic lockdowns, we wanted to provide a guide to help Brit's choose from the abundance of Northern Ireland-based walks, hikes and scrambles available to us. 
"We hope our research has highlighted well-known rambles and some hidden gem trails that are ripe for exploration, no matter if you're a hiking pro or a novice." 
The walking trails were ranked using AllTrails and Ramblers data which looked at their top 100 rank. From this, a weighted rank was created, using the rating, ease of walk, length of walk-in minutes, Instagram hashtags and Google search volumes. Each factor was weighted 20% to make up the total score of 100%.
In first place is Giant's Gate and Causeway Coast Circular, which offers incredible views of the Antrim Coast and a birds-eye view of the Causeway. The easy route has a 4.7 rating on AllTrails and is 3.5km, taking an average of 1 hour and 13 minutes to complete. The route is both family and dog friendly.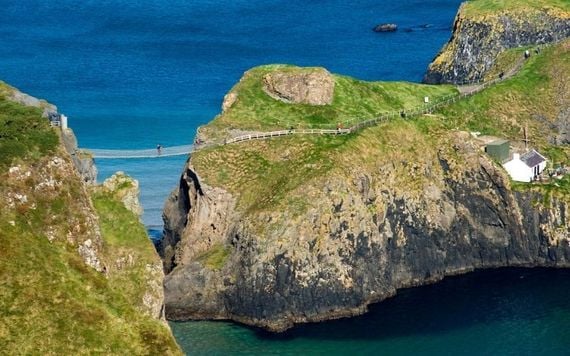 2
The Carrick-a-Rede to Rope Bridge in Antrim, near Ballycastle, is a popular area for taking in the coastal views of Rathlin Island and for spotting birds. The easy-rated route is 2.6km, taking an average of 47 minutes to complete. The route is rated 4.7 on AllTrails and is family-friendly.  It is important to note that there are admission and car parking fees.
Ormeau Park Circular, in Antrim near Belfast, is a hidden gem and great place to spot birds and fish. The easy, family-friendly trail is rated 4.4 on AllTrails and is 2.9km which would take an average of 39 minutes to finish. 
Check out the list below for more recommended trails.
The top walking trails in Northern Ireland:
Giant's Gate and Causeway Coast Circular - Bushmills, Antrim
Carrick-a-Rede to Rope Bridge - Ballycastle, Antrim
Ormeau Park Circular - Belfast, Antrim
Castlewellan Lakeside Circular - Castlewellan, Down
Blackhead - Carrickfergus, Antrim
Dunseverick to Port Moon - Bushmills, Antrim
Cavehill Circular - Newtownabbey, Antrim
Ballyboley Forest and Kilylane Reservoir Circular -Ballyclare, Antrim
Tollymore Forest and Drinns Circular - Castlewellan, Down
Glenariff Scenic Trail Circular - Cargan, Antrim
Cregagh Glen and Lisnabreeny - Belfast, Antrim
Portballintrae To The Giants Causeway - Bushmills, Antrim