Supporters of Kylemore Abbey in Connemara, Co Galway will gather on Wednesday, May 10 in New York for the third annual Spirit of Kylemore Awards at Club 101 on Park Avenue in New York at 6 pm.
For over 100 years the Benedictine nuns have made Kylemore Abbey one of Ireland's most iconic landmarks and a place of heritage, education, and faith. Their values of peace, service, hospitality, and community are reflected in the Spirit of Kylemore awards. The awards will be presented at an awards benefit and reception to three individuals recognizing their contribution to society and improving the lives of others.
This year's honorees are Timothy Cardinal Dolan, Archbishop of New York; Adrian Flannelly, chairman and CEO of Irish Radio Network; and Christine McGuinness, co-managing partner of ArentFox Schiff in New York.
Dolan will receive the special Buan Chara Award, for his continued advocacy and support to the Benedictine nuns of Kylemore. All funds raised from this event will go towards the building of a purpose-built monastery at Kylemore Abbey.
The evening includes food and drink, entertainment by Northwell Health Nurse Choir, a live auction, and an awards program. 
The evening will also highlight the ongoing campaign for the new monastery at Kylemore. Monastery fundraising efforts have been in place in the U.S. since 2016. The ground was broken in October 2019, but construction was halted abruptly on March 12, 2020, due to Covid restrictions.
Cardinal Dolan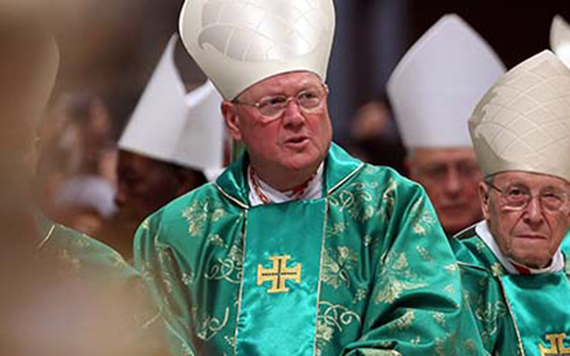 2
Cardinal Dolan was named Archbishop of New York by Pope Benedict XVI in 2009 and appointed to the College of Cardinals in 2012. Ordained to the priesthood in St. Louis in 1976, he served as an associate pastor until 1979 when he went to The Catholic University of America, graduating with a doctorate in American church history. In 2001, he was named Auxiliary Bishop of St. Louis by Pope Saint John Paul II. 
In 2013, he completed a three-year term as president of the United States Conference of Catholic Bishops. He recently completed a term as chair of the Bishops' Committee on Pro-Life activities and is currently chair of the Bishops' Committee on Religious Liberty. 
Dolan served as chairman of Catholic Relief Services and is a member of the Board of Trustees of The Catholic University of America. He is also a member of the Vatican Offices of Pontifical Council for Promoting New Evangelization, the Congregation for Eastern Churches, and the Congregation of Catholic Education. 
Adrian Flannelly
Flannelly will receive the Spirit of Kylemore Award in recognition of his lifelong commitment to building relations between Ireland and the U.S. and benefitting the lives of others, in accordance with Benedictine values of service, peace, hospitality, and community. 
Born in Attymass, Ballina, Co. Mayo, he immigrated to New York in 1959 and has been the voice of the Irish in New York for more than 50 years. During that time, he has been a tireless advocate for all things Irish, including immigration reform and the crisis facing the undocumented Irish in the U.S. 
Flannelly was a leader in establishing a memorial to Irish Famine victims on the New York City waterfront within sight of the Statue of Liberty. The Irish Hunger Memorial was shipped from his native parish, Attymass, and is in Battery Park City, close to Ground Zero, and is a major attraction for millions of visitors to Manhattan since 2001. 
In 2021, Flannelly was inducted into Irish America magazine's Hall of Fame. The same year, he was honored for his leadership and commitment to New York's Irish community for six decades and received the Irish Presidential Distinguished Service Award from Irish President Michael D. Higgins. 
Christine McGuinness
McGuinness will receive the Spirit of Kylemore Award to recognize her commitment to public service and contribution to society, benefitting the lives of others. A seasoned business lawyer with over 30 years of experience in the commercial real estate industry, she was named one of Crain's New York Business Notable Women in Law in 2022. 
In addition to her client work, McGuinness is dedicated to the well-being of others, serving as chair of Habitat for Humanity NYC and pro bono counsel to numerous nonprofits, including the Leviticus Fund in connection with the financing of low-income housing and daycare centers; the Disability Opportunity Fund, a nonprofit provider of loans to organizations that serve the disabled community; and Habitat for Humanity's NYC Community Development Fund, which provides low-interest loans to support and preserve affordable housing.
Last year, she was named Volunteer of the Year by Habitat for Humanity NYC. She graduated with a BA from Fairfield University and a JD from Fordham Law School.
For tickets and other information, visit www.irishap.org.
*This column first appeared in the April 19 edition of the weekly Irish Voice newspaper, sister publication to IrishCentral.