A Scottish mother has been condemned for selling "Provo girl" IRA doll. Mariea Hughes, 46, makes the dolls herself in her home in Cumbernauld, central Scotland and sells them online for $130 each.
The dolls are supposed to resemble members of Cumann na mBan - an Irish republican women's paramilitary organization first established in 1912 - and are decked out in black ties, skirts, berets, rifles and Easter lilies. 
Hughes defended herself against the accusation that the dolls were "tasteless" after being doorstepped by the Scottish publication, The Sunday Post.
"I'm selling a limited number of them to my pals," she told their reporter.
"I'm not mass producing them. I had to include the gun because not to do so would not be a fair reflection of the time. I'm not sorry about it."
She said a number had been ordered by Irish politicians since she started making them and they'd proved so popular there was now a waiting list.
"Can take orders for more but will be May before they go into production as there are outstanding orders to be completed first," she posted on her Facebook page.
Read more: Inspiring lives of Ireland's fiercest females to celebrate Nollaig na mBan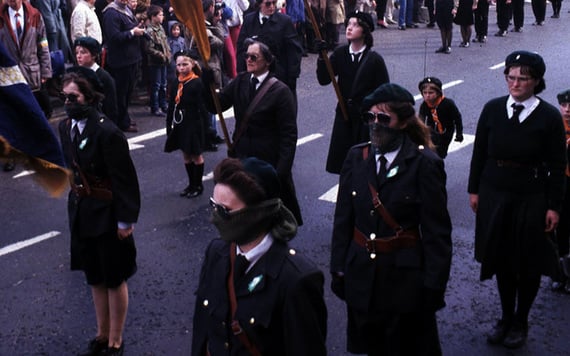 2
But victims group hit out at the Hughes as insensitive. Nick Taylor who works for the Tim Parry Johnathan Ball Foundation For Peace - which was set up in memory of two boys, aged five and 12 years old, killed by an IRA bomb - said he thought the dolls were inappropriate.
"Symbolism plays an important part in the politics of Northern Ireland and has been a source of debate and conflict whether that be to do with flags, parades, language or even colors.
"If we are to build a lasting peace, then we need to be sensitive to those affected by the past, and anyone producing a doll that associates with violence and holds a gun is bound to cause controversy and upset amongst victims and survivors."
But Hughes says she was "proud of the Cumann na mBan girls" and anyone who disagreed needed to "read a history book".
"It isn't the first or last time I'll honor them or their cause."
Established in Dublin in 1912, Cumann na mBan became an auxiliary fo the Irish Volunteers in 1916 and its members fought alongside those of the Irish Volunteers and Irish Republican Brotherhood in the 1916 Easter Rising. After the Rising, they continued their work throughout the War of Independence and overwhelmingly sided with the anti-Treaty side after the Anglo-Irish Treaty was signed in 1921. 
As Irish politics split further and further into different factions, members of Cumann na mBan began to resign to support other parties from the 1920s onward. The supported the Provisional side when the IRA and Sinn Féin split in 1969 and in Northern Ireland were integrated into the IRA during, remaining a separate entity in the Republic. The organization is listed as a proscribed group under the UK's Terrorism Act 2000. 
Read more: Bobby Sands banner results in big fine for Glasgow Celtic football club
Support for Irish republicanism has a long history in Scotland, particularly in the west. Easter Rising revolutionary James Connolly was born in Edinburgh and the Glasgow-based Celtic soccer team was founded to alleviate poverty amongst the Irish immigrant community. Today its fans still widely agitate for Irish causes and proudly fly the tricolor at matches.
H/T: Sunday Post/Sunday World