Former US Secretary of State received an honorary degree at Queen's University Belfast
Hillary Clinton, former US Secretary of State and 2016 Presidential nominee, accepted an honorary degree from Queen's University in Belfast, Northern Ireland on October 10.
While accepting her honorary Doctor of Laws (LLD) degree, Clinton urged the current Northern Irish government to come together to continue the shared mission of peace in the region, as well as to reassure the world that Northern Ireland is open for business as Brexit still lingers.
Read More: Hillary Clinton tells Dublin crowds we're at "a global tipping point"
Queen's University President and Vice-Chancellor Professor Ian Greer said Clinton "made a considerable contribution to the Northern Ireland Peace Process and, as Secretary of State, focused on economic development to underpin the emergence of a strong and competitive Northern Ireland. "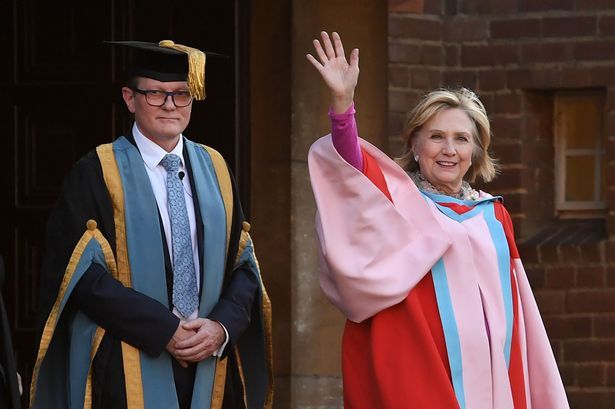 3
"With her long-standing commitment to peace, stability and economic regeneration, she is a strong advocate for Northern Ireland and an inspirational role model for the Queen's community."
Prior to Clinton's speech, Queen's Pro-Vice-Chancellor Adrienne Scullion announced a new two awards for students in Clinton's name.
'The Hillary Rodham Clinton Award for Peace and Reconciliation' will allow "two exceptional female students from the USA who wish to pursue study in a field related to politics, conflict transformation or human rights the opportunity to study at the University."
The second, named the 'Hillary Rodham Clinton Early Career Fellowship', will allow an outstanding early career researcher to work in the fields of conflict transformation; global security and borders; human rights including women's rights and children's rights; international law; international politics; international relations; and women in politics.
Clinton's degree ceremony on Wednesday was met with some protest by People Before Profit MLA Gerry Carroll. Some raised poster which read "no honours for war criminals".
3
"Peace, not paralysis"
In her speech, Clinton referenced Brexit, which she does not support, and said, "The people of Northern Ireland face consequential decisions."
"I do not come today as an authority with all the answers. I come as a friend who knows how hard the struggle has been."
"I make no excuses for being against #Brexit. It may go down as the worst self-inflicted political wounds in history." @HillaryClinton #LoveQUBGrad pic.twitter.com/Ineqj831X0

— Queen's University Belfast 🎓 (@QUBelfast) October 10, 2018
Clinton also urged Northern Ireland to form an interim government. Power-sharing in the country has been nonexistent since a January 2017 fallout amongst Democratic Unionists and Sinn Fein.
"I wonder if would it be possible," said Clinton, "for the people of Northern Ireland and those who represent them both in Westminster and here could figure out a way to form an interim community government for the purposes of securing the best possible Brexit outcome for Northern Ireland."
Read More: Hillary Clinton is "devoted to the future" of Ireland
"Back in 2016, Arlene Foster and Martin McGuinness wrote a joint letter to Prime Minister May about their Brexit priorities and concerns, that's a long time ago in political years but a similarly unified voice could be valuable in the difficult days ahead."
"Two long years with no collaboration. There is no Executive to carry on the work to honour the sacrifices of all the men and women who made peace possible... no executive to navigate #Brexit." @HillaryClinton pic.twitter.com/IuLeb3Qzjz

— Queen's University Belfast 🎓 (@QUBelfast) October 10, 2018
"Imagine a functional executive that speaks for all the people of Northern Ireland, weighing in on the final negotiations and implementation of whatever plan emerges."
"Imagine an Executive reassuring companies and investors already skittish about Brexit, sending a clear message that no matter what happens, Northern Ireland is open for business."
"The world is watching, Northern Ireland has been a symbol to people everywhere, democracy's power to transcend divisions and deliver prosperity, peace, and progress."
"We need that, that symbol, that reality now more than ever."
"Peace, not paralysis, you deserve that better future, you always have."
"I will pray and trust that it comes to pass. I and many of us in the United States will never stop standing with you, and cheering you on this journey."
You can watch Hillary Clinton's entire ceremony below, as posted to Facebook by Queen's University Belfast:
Secretary Hillary Rodham Clinton is graduating live. Join the celebrations at Queen's University Belfast.

Posted by Queen's University Belfast on Wednesday, October 10, 2018
What do you make of Hillary Clinton's speech at Queen's University Belfast? Share in the comments