Irish senators and deputies met with officials from the US embassy in Dublin last Thursday after visa applicants voiced their anger at embassy staff behavior.
The US embassy in Dublin is under fire and facing fierce questioning from Irish applicants, US-based immigration attorneys and Irish politicians over claims that embassy staff is making "rogue" decisions on visa petitions.
Cases heard by IrishCentral in particular reference petitions made for E-2 investor visas and O-1 extraordinary ability visas, with one applicant even resolving to travel to another European embassy to have their O-1 petition processed. They did so on the advice of an immigration attorney concerned about the current manner in which their clients are being "aggressively" treated by the Dublin base.   
"I have been speaking to multiple people and organizations about what has happened to me and I'm getting more and more feedback of how the Dublin Embassy is behaving outside the norm, acting completely rogue and denying people for no reason at all," one rejected O-1 applicant told us.
Their particular case had been approved by US Citizenship and Immigration Services (USCIS) only to be turned down by an official in Dublin, leaving them "stunned and shocked" with the way in which their petition had been handled by the staff.  
Read more: End of Irish immigration to US means urgent attention to Diaspora needed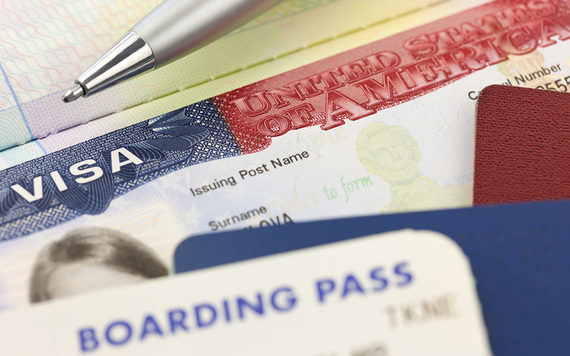 5
"I have spoken with a number of Irish Immigration Organizations, both in the US and Ireland, who tell me that there is a serious problem at the Dublin Embassy," they continued.  
"It seems that since the departure of Ambassador Kevin O'Malley, they have taken power into their own hands and are subjecting people to a level of questioning that is so unprecedented. My attorney is completely staggered by their behavior and how outside the rules they are behaving.
"It's really soul-destroying to be approved for a visa and then to have it revoked for no reason at all. I've no criminal record and no previous violations."
The lack of an ambassador from the Trump White House is also a factor. Irish leader Leo Vardakar is expected to ask for a speedy appointment of one when he travels to the US for St. Patrick's Day.
Read more: Two Cork boys' shocking tale of interrogation by ICE goes viral
The law firm dealing with this particular case, confirmed that they are seeing a higher refusal rate on O-1 visa petitions.
Immigration attorneys explained to IrishCentral that the process of the O-1 extraordinary ability visa requires petitioners to provide evidence that they are exceptional in their field of work under three out of a possible six categories, providing an application and evidence which are then combed through by USCIS before approval will send an applicant to an embassy interview.
5
Whereas USCIS approval of those three categories would generally have sufficed for interviewing officers at embassies prior to the last 12 months, it is claimed these embassy staff are now taking steps to heavy-handedly analyze the categories for themselves, not always with the particular experience that a USCIS officer would have in investigating the petition's claims.
Among the other claims made, some applicants allege that they were given no specific reason for a rejection in Dublin, some say they were interviewed by the same officer on second-attempt petitions and one attorney claimed that an application was sent back to USCIS after an embassy officer cast aspersions as to whether or not the interviewee had worked illegally in the US during a previous stay or visa spell.
"The embassy [in Dublin] is really difficult to deal with right now in the way they're making decisions but also just in the way they're treating people here," one immigration attorney told IrishCentral.
"The key word I keep hearing is aggressive. The officers are aggressive.
"It doesn't have to be adversarial," they continued, comparing their experience in Dublin to that in other US embassies where evidence was still questioned and examined but in a timely fashion with a "friendly kind of demeanor," which would seem in stark contrast to claims made about the Irish staff.
Read more: Trump administration sees more Irish being deported
5
More than one attorney that IrishCentral spoke with had suggested to a client that they look to travel to a different country's US embassy if the option lay open to them.
Irish politicians have also heard complaints from their constituents about the Dublin embassy and, as such, four embassy officials held a meeting with Irish senators and deputies to discuss the issues being raised last Thursday. Among them was Senator Billy Lawless, who is himself an Irish immigrant to the US who lived in Chicago for over 20 years.
Read more: Undocumented Irishman brought to USA aged 12 faces deportation to Dublin
While he is now a US citizen, Lawless has previously faced the E-visa process which now seems to be the source of so many difficulties for Irish applicants. He had been approached by constituents raising concerns about the embassy. He told IrishCentral that he did not witness any of the alleged aggressive behavior during their hour-long meeting with staff.  
He stated that the embassy staff informed senators present that only 2 percent of applications to the Dublin embassy are rejected, that all applications passed through four officers before facing a final rejection, and that they were adamant that not one applicant was interviewed by the same officer twice. The embassy officials were also said to be clear that explanations for each rejection were always given, although they could not be shared with anybody but the applicant themselves.
5
Lawless has since requested a further meeting, along with two other Irish senators, with the chief consular officer in order to confirm figures on applications submitted and those rejected.  
"They won't give an explanation to me or any representative because it's confidential but they guaranteed us and assured us that they all get an explanation if the visa is refused," he said.
"She did say that if a visa is being refused, it goes through four of the officers in the embassy before it's actually refused. It was very interesting to hear that from them.
"There was a lot of frustration expressed by the deputies and senators from all over the country."
The US embassy in Dublin has been contacted in relation to these claims but no statement had been received by the time of publication.
Have you recently applied for a US visa or green card at the US embassy in Dublin? How was your experience? Let us know in the comments section, below.