The second in a series of "Unifying Ireland Tracking Polls" shows that support for a United Ireland, in the aftermath of Brexit, is up by 7% since Oct 2018.
The latest "Unifying Ireland Tracking Poll", the second of four, reveals that support from a united Ireland vote is up by 7% since the last poll, carried out in October 2018.
Read more: No-deal Brexit would leave Irish trade most vulnerable in EU
Speaking to IrishCentral Senator Mark Daly said "With the British Prime minister saying that a hard border and a hard Brexit could lead to a referendum on a United Ireland 82% of people in the republic are saying that the government should start preparing for a United Ireland.
"The lesson however of Brexit is that you do not hold a referendum and then plan the future. The government do need to start preparing for a border poll because policy neglect seldom goes unpunished."
8
At the same time odds at Paddy Powers bookmakers on a united Ireland being a reality by Jan 1, 2024,  have dropped from 20/1 in January to 15/2.
The "Unifying Ireland Tracking Poll" was carried out face to face by BrandTactics. They questioned 500 people between the ages of 18 and 65+ in the areas of Munster, Leinster, and Connacht between Jan 30 and 31.
When asked whether Ireland should begin to prepare for unification, of the 500 people surveyed 75.15% answered "Yes". A huge 80.45% voted that they would be in favor of unification and not one participant elected to vote that they were "undecided".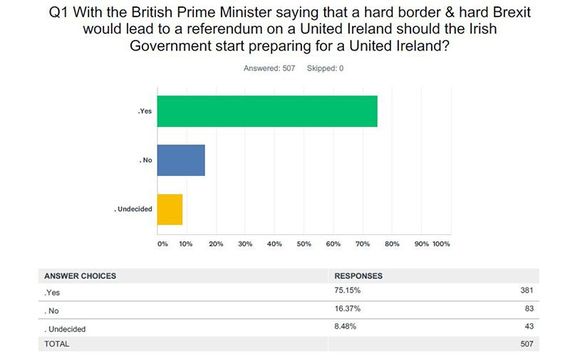 8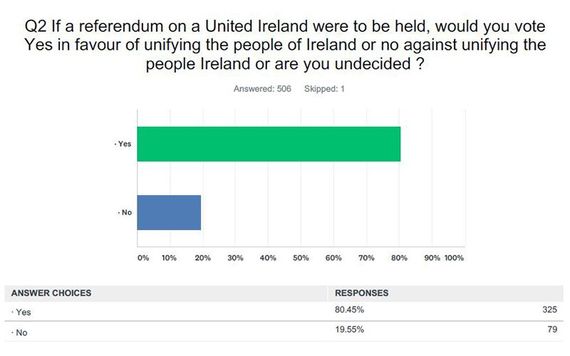 8
Again, the majority of those who took the survey believe that they were will a vote on the unification of Ireland within the next decade – 24.85% believe the vote will happen within 5 years and 35.54% see it become a reality with a decade. Only 13.21% said they believed it would "never" happen.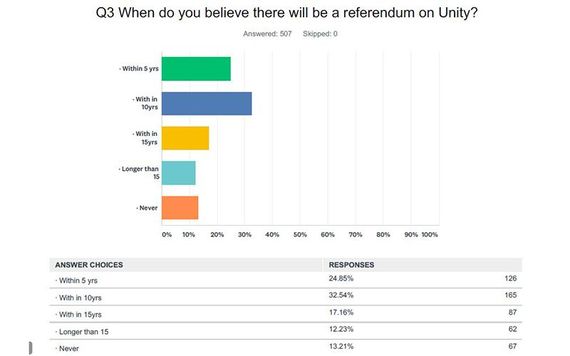 8
As the Brexit deadline of March 29 approaches and it appears that a no-deal outcome could be a real possibility the survey participants were asked if the Irish Government should be working with the Ulster Unionist to plan for Ireland's future. A majority of 65.18% voted "Yes".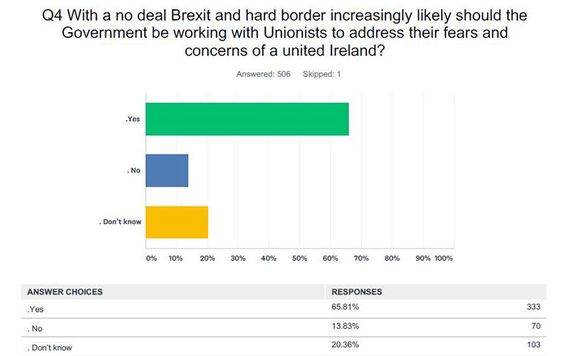 8
On the topic of establishing an All-Ireland Assembly, to cope with Ireland's plans for the future and possible unity vote, a huge 70.22% voted in favor.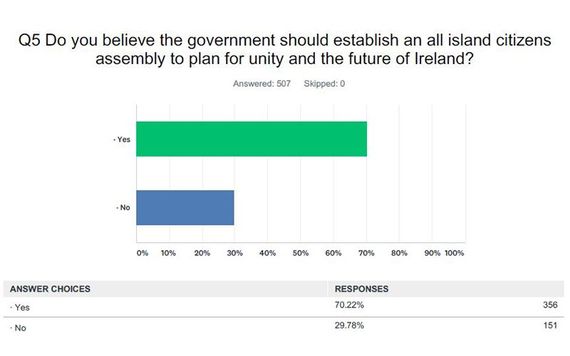 8
Given that Brexit could destabilize Ireland's Good Friday Agreement and the hard-fought-for peace in Northern Ireland the poll asked if a special task force should be put in place to ensure violence in Ireland does not raise its head once more. Just 55.34% said "Yes", while 13.04% said "No".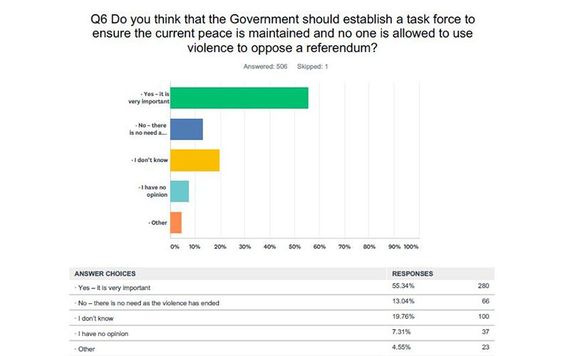 8
Do you agree with the survey results? Could a united Ireland referendum be a reality within the next 10 years? Let us know your thoughts in the comment section below.
Read more: UK Brexit poll shows Irish are less favorable to British since referendum