He's the Irish American broadcaster who is so highly-connected that the president-elect name-dropped him repeatedly during the first public debate.
Millions across the world who tuned in heard Donald Trump beseech the press to "Call Sean Hannity!" in order to confirm that he had always been against the war in Iraq.
Now megabucks media star Sean Hannity – whose grandparents came to America from Ireland with just a few dollars in their pockets – is set for an invitation to the soon-to-be president's private inaugural dinner next month. No doubt he will be a frequent visitor at 1600 Pennsylvania Avenue.
Fox News presenter Hannity, who is earning an estimated $29m a year according to Forbes, says he only got where he is today due to the driving ambition of his Irish immigrant family, who hail from Co. Down and Co. Cork.
And the 54-year-old is planning to apply for Irish citizenship to honor his Irish roots.
In an exclusive interview, Hannity, who was raised in the working class/middle class town of Franklin Square, NY said: "I've always said that I stand on the shoulders of my parents and grandparents and I believe that.
"I actually had an ancestry test. I am 100 % British isles.
"My sisters have all been to Ireland. I am the only one who hasn't been, and I am planning to go there. I want to get my Irish citizenship – my mother had dual citizenship – and I'll do the same."
Tough-talking Hannity is cheered by conservatives – and disliked by liberals – for his zero tolerance approach to political correctness. He has no time for millennials who moan about minor issues and can't handle reality.
A proud fan of Trump from the beginning, he ridiculed those like Miley Cyrus and Chelsea Handler who cried after Hillary Clinton's defeat, and criticized colleges who called off exams in sympathy for students who were upset about the election result.
He says the Irish who landed in New York at the turn of the last century had real issues to deal with – and yet they carried on to great success.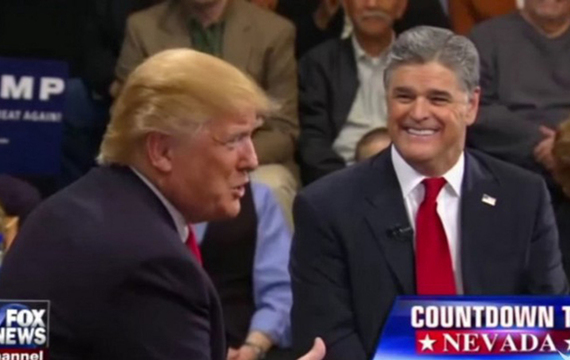 2
He said: "All these people in cry rooms, with aromatherapy, getting cocoa in college, coloring books or playdough, in safe spaces, with therapy dogs... I think of the lives of my parents and my grandparents.
"My parents Lillian and Hugh grew up really poor, my father in Bedford-Stuyvesant in Brooklyn and my mother in south Bronx, both very poor neighborhoods.
"For them, to get this small house in a town called Franklin Square was a big deal. They didn't take vacations, they spent their money on private schools for their kids. I don't remember them getting a new car until really late in life."
His father died six months after he started in Fox – he is now in his 21st year and a leading figure at the station due to the popularity of his show, "Hannity."
"My father was very Irish – always expecting tough times to come next week – he was like: 'Save your money, son.'
"That was good advice. If he knew what I was getting paid now, he would freak out. I am sure I make more in a year than he made in his whole life. He would love that his hard work paid off and his father's hard work paid off.
"I have already been in the Oval Office with President Bush and I've been to the White House many times, and on Air Force One. I've interviewed Secretaries of State, Presidents, Vice-Presidents, all the highest people in our government. My family was a big part of that success.
Read More: Sean Hannity says Trump should ban all press from the White House
"When my grandparents came here, there was a lot of discrimination against the Irish. I have a sign in my office: "Irish Catholics need not apply."
"My grandfather Cornelius had the gift of the gab; I was very close to him. He would get a job and once it was secured, he would pass it onto another family member, and so they were all working. He was a talented, hardworking guy.
"I don't know of any Irish at the turn of the century and before that who came with a lot of money, they didn't have means or status.
"It's hard for immigrants, whether they are coming from Ireland or Mexico, or Italy, it's hard because they start off with a lot of disadvantages. But what is so amazing is how in two generations, how much can change, and that is what makes these countries so beautiful.
"You climb the rungs of the ladder. I got to climb that ladder of the American dream and my success is as much my grandparents' as it is mine. These are the greatest people of no means who have worked their fingers to the bone. Very special people they were dedicated to their faith, their family and working hard."
Would his parents and grandparents be proud to know of his closeness with the president-elect?
"Call Hannity!" he jokes. "Through the course of the election, I got pretty close to Donald Trump, I got to know him more than any commentator in the country.
"I was definitely a big supporter of Trump and believe he will be a much better president than Hillary could ever dream of being.
"I call this the Forgotten Man election – he didn't forget them, he won all the states that would usually be Democratic. The lowest homeownership rate in 50 years… 50 million in poverty… 95 million Americans out of the labor force… He was talking to those people. Our stature has suffered abroad under a president fixated on apologizing for America.
"I really believe in Trump's agenda of economic growth. Look at how Ireland introduced the lowest corporate tax rate in the industrialized world and it really helped job creation. And all the other countries are mad at Ireland. Why? You're just being smart."
He added that Ireland should claim back the $13 billion Apple tax instead of fighting it.
"Would my parents be stunned about my closeness to Donald Trump? There is no doubt they would be stunned.
"What a validation for the risk they took. Imagine my grandfather Cornelius at 18 or 19, getting on a boat and there's the Statue of Liberty – good luck kid. That was most immigrants from Ireland. I think they would be particularly proud."
Any messages for those who fear the Trump presidency?
"I'll quote the Bible – let not your heart be troubled. Donald Trump, I know him well. I have talked to him often. He is very focused on fixing the American economy, getting people back to work, putting America first and getting factories working again.
"He is very focused on protecting the homeland. We are obviously a major target and he wants to lessen the risk as much as possible. He will rebuild the military because peace comes through military strength.
"Our Western and European allies have nothing to worry about. In fact, when he opens up US energy resources, it will be quite beneficial to them.
"We have had conversations about my background and his background – his father had means but not excessive means and Trump is a worker and he gets into the office at 6am every day. It's usually midnight by the time I get to talk to him – and he's still working."
And in case you're wondering – Hannity says Trump HAD told him he was against Iraq.
---
Larissa Donna Nolan is a freelance journalist mostly working for the Sunday Times (Ireland). Prior to that, she was the crime correspondent for the (Irish) Mail on Sunday and worked from 2003-2008 in the Sunday Independent