Michael Flynn could testify that Trump directed him to make contact with the Russians
Trump's former national security advisor Michael Flynn is fully prepared to testify against the President and members of his family in special counsel Robert Mueller's investigation into Russian interference in the 2016 Presidential election, according to a special news report from ABC News.
Flynn pleaded guilty on Friday, December 1, of lying to the FBI regarding his contact with the Russians and has stated that he is now cooperating fully with Mueller's investigation. ABC News claim that Flynn will now testify to say that Trump "directed him to make contact with the Russians," as did other members of the President's family and top White House officials.
In just the last 24 hours, Flynn has "promised full cooperation to the Mueller team," making him the first senior official to have held a formal role in Trump's White House to be pulled into the investigation which is exploring the possibilities of ties between Moscow and last year's election.
Read more: Liam Neeson urges Trump staff to come clean on Russia links 
5
The former general, with Irish roots in Co. Tyrone, pleaded guilty Friday to lying to the FBI regarding a December 2016 meeting with Russian ambassador Sergey I. Kislyak. Documents released as part of Flynn's plea agreements show that foreign policy discussions with the ambassador were part of a move by Trump's transition team to create foreign policy before they were in power, undermining former sanctions on Russia put in place by President Barack Obama.
Although the documents released as part of the plea do not name who instructed Flynn to contact the ambassador, it is believed to have been a "very senior member" of the transition team. Led by Vice President Mike Pence, the team also included the President's son-in-law and advisor Jared Kushner, Trump's first chief-of-staff Reince Priebus, and Flynn's deputy K.T. McFarland, who is now the US Ambassador to Singapore.
Read more: Unraveling of Team Trump is near as Russian connection comes clear
5
When Flynn eventually resigned in February 2017, it came after it emerged VP Pence had been mislead regarding his conversations with the ambassador.
In January, Trump and his aides claimed they were not aware of Flynn's communication with Kislyak or fully aware of their discussions on the sanctions Obama placed on the Russians as a result of election meddling. New documents now appear to prove this to be false, instead showing how multiple members of the team had instructed Flynn to hold such discussions.
A statement of facts signed by Flynn and prosecutors today stated: "A very senior member of the Presidential transition team directed Flynn to contact officials from foreign governments, including Russia, to learn where each government stood on the resolution and to influence those governments to delay the vote or defeat the resolution."
Just now: @BrianRoss on @ABC News Special Report: Flynn promised full cooperation to the Mueller team and is prepared to testify that candidate Trump "directed him to make contact with the Russians." https://t.co/E0tA37GOo0 pic.twitter.com/PmNEO7eekt

— Dan Linden (@DanLinden) December 1, 2017
While Flynn himself accepted the seriousness of his actions in a written statement, he suggested that they were not as grave as had been speculated in recent months.
"It has been extraordinarily painful to endure these many months of false accusations of 'treason' and other outrageous acts," the retired lieutenant general said.
"Such false accusations are contrary to everything I have ever done and stood for. But I recognize that the actions I acknowledged in court today were wrong, and, through my faith in God, I am working to set things right. My guilty plea and agreement to cooperate with the Special Counsel's Office reflect a decision I made in the best interests of my family and of our country."
Flynn statement: "My guilty plea and agreement to cooperate with the Special Counsel's Office reflect a decision I made in the best interests of my family and of our country." pic.twitter.com/UATQUgUJm3

— Dan Linden (@DanLinden) December 1, 2017
Who is Michael Flynn?
A retired three-star general who served in the military for 33 years, Michael Flynn served as President Trump's national security advisor for just 24 days. Former acting Attorney General Sally Yates had contacted the White House in late January regarding Flynn, concerned after reading an interview he gave to the FBI that he may become a blackmail target for the Russians.
In an interview with CNN in May 2017, Yates stated that she'd expected the White House to act urgently on her warnings that Flynn may have been compromised by his previous contact with the Russians but that it was another further 18 days until Flynn left the role.
Flynn leaves courthouse following guilty plea. https://t.co/E0tA37GOo0 pic.twitter.com/Zz7l2cvzGy

— Dan Linden (@DanLinden) December 1, 2017
Yates herself was fired by Trump in January for refusing to defend Trump's first attempt at a  travel ban. Flynn eventually resigned on February 13, 2017, after it was made apparent that he had misled Vice President Pence, who oversaw the transition team, and other White House officials about his conversations with the Russian ambassador.
Flynn was an early supporter of Trump and received much attention for his 2016 RNC speech in which he encouraged the crowd to chant "Lock her up" in reference to Hillary Clinton and her own FBI investigation.  
What are Michael Flynn's Irish roots?
5
Although born and raised in Rhode Island, 58-year-old Flynn is the grandson of an Irish immigrant to the US. Charles Flynn was born in 1889 in Blacklands, Co. Tyrone and emigrated to the United States in 1913, carving out a life for himself and future Flynns in Rhode Island.
Flynn once referenced his "Irish intellect" when questioned by a reporter as to why, as former Defense Intelligence Agency chief, he did not know the correct name of the leader of Iran.  
What was Trump's reaction to Flynn's guilty plea?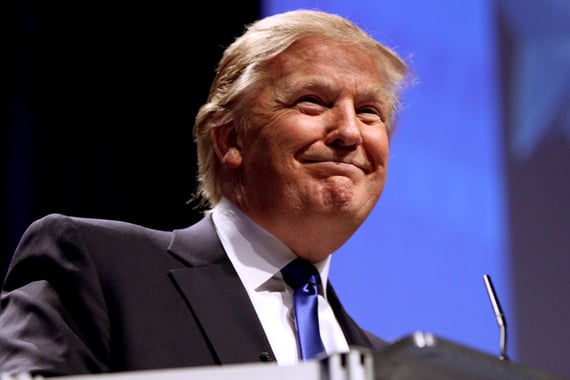 5
As of yet, the President has not commented on the guilty plea although he has been active on his favorite form of communication, Twitter. Trump tweeted instead on the rumors that he was to send his Secretary of State Rex Tillerson packing. Branding the speculation as fake news, he commented that "we work well together" despite previous stories that Tillerson had branded Trump a "moron" in a private meeting.
The media has been speculating that I fired Rex Tillerson or that he would be leaving soon - FAKE NEWS! He's not leaving and while we disagree on certain subjects, (I call the final shots) we work well together and America is highly respected again!https://t.co/FrqiPLFJ1E

— Donald J. Trump (@realDonaldTrump) December 1, 2017
The administration has, however, attempted to downplay the urgency of Flynn's plea, highlighting his short 24 days in the role of national security advisor.
"Today, Michael Flynn, a former National Security Advisor at the White House for 25 days during the Trump Administration, and a former Obama administration official, entered a guilty plea to a single count of making a false statement to the FBI," White House attorney Ty Cobb said in a statement.
"The false statements involved mirror the false statements to White House officials which resulted in his resignation in February of this year. Nothing about the guilty plea or the charge implicates anyone other than Mr. Flynn. The conclusion of this phase of the Special Counsel's work demonstrates again that the Special Counsel is moving with all deliberate speed and clears the way for a prompt and reasonable conclusion."
What do you think the outcome of the Mueller investigation will be? Let us know your thoughts in the comments section, below.