Immigrants traveling illegally into the UK are paying over $10,000 to acquire an EU passport and travel to England over the Irish border.
Ireland is being described as the "back door to Britain" by UK politicians eager for stricter controls to be put in place to prevent migrants from illegally entering the UK by driving over the Irish border.
It is believed that migrants are paying as much as $13,000 (£10,000) for a fake EU passport which allows them to travel from Paris to Dublin by plane. They then drive into Northern Ireland from the Republic, thus entering the UK, before taking a ferry from Belfast to Glasgow and then entering into other parts of Britain by car.
This route is being described as "a guaranteed way to get into the UK," with even former Irish Taoiseach (Prime Minister) Bertie Ahern in 2017 stating, "You're going to get people [coming] in here. Let's be honest about it. Wouldn't you be an awful eejit if you were trying to get into the EU and you didn't [try the route]?"
Read more: Immigrants tricking British authorities into thinking they live in Ireland
THURSDAY'S METRO: "The Brexit Backdoor to Britain" #tomorrowspaperstoday (via @hendopolis) pic.twitter.com/brIZFrzLqK

— BBC News (UK) (@BBCNews) August 16, 2017
"The British government have got to make absolutely certain that when people come into the UK from Ireland proper identification has got to be shown. There cannot be a backdoor into the UK," English Conservative Party Member of Parliament (MP) Nigel Evans said, insisting that this must be fixed before the Brexit deadline in March 2019.
"We must absolutely close down any routes that could lead to uncontrolled immigration into the UK," he added.
"We need to work with the Irish government because they should be concerned about any illegal immigration."
His fellow Tory MP Peter Bone, however, believes that the practice must be shut down through improved intelligence instead of checks at airports, believing that gangs that are trafficking and smuggling migrants into the UK must be targeted before they reach the port of entry.
Revealed: How illegal immigrants are now 'paying thousands to be smuggled into Britain via the Irish border' https://t.co/WSaj3auvWV

— Daily Mail U.K. (@DailyMailUK) June 6, 2018
"It looks like these people are being trafficked by gangs," Bone said. "Most of them will have fake papers.
"What should happen is the National Crime Agency will target the gangs. One it has become clear it is happening it is easy to take down the gangs.
"You don't solve these problems by having lots of checks on the border. The way of disrupting trafficking is all intelligence-led. It is not like walking down the street and tackling a burglary."
An Iranian migrant who previously made the trip recently spoke to the BBC about the journey and how he was "not worried" about security in Dublin.
"When I got on the plane I was not worried," he said.
"When we arrived in Dublin, I went through passport control - I passed through the checks and was able to leave.
"This route from Dublin is still fresh and the police do not focus on it as they do at Gatwick or Heathrow."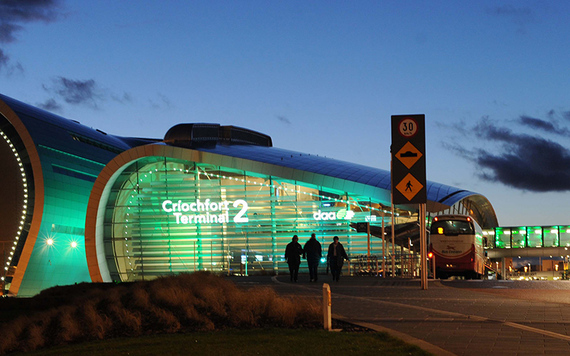 2
"If there are weaknesses at Irish ports or Irish airports, they will exploit them and use them, because once you're into Ireland, effectively you're into the UK," added the UK's former director general of immigration enforcement.
"There's nothing stopping people once you're in Ireland traveling north to Northern Ireland and then to the wider UK."
The issue of migrants entering the UK through the Irish "back door" became an issue especially in the wake of the deadly attack on London Bridge in 2017 when it was confirmed that one of the terrorists, Rachid Redouane, was named as a resident of Ireland.
The Irish Times reported that Redouane traveled over and back between the UK and Ireland, having married his British wife Charisse O'Leary in a civil ceremony on November 7, 2012. The couple listed their address as Rathmines in Dublin city where they informed the registrar they would be living. After unsuccessfully applying for asylum in the UK in 2009, Redouane is believed to have traveled to Ireland to marry shortly before departing for London once again.
Read more: Irish links to London IS terror attacks should be a wake-up call
H/T: Daily Mail