US President Joe Biden's 'Black and Tans' gaffe during remarks at a pub in Dundalk, Co Louth on April 12 has gone viral.
Biden, speaking to community members at The Windsor Pub, said: "You see this tie I have with this shamrock on it?  
"This was given to me by one of these guys right here. [Irish rugby player Rob Kearney, a distant cousin of Biden's.]
"He was a hell of a rugby player, and he beat the hell out of the Black and Tans."
Biden mistakenly referred to New Zealand's rugby team, known as the All Blacks, as the Black and Tans when he was referencing Ireland's first-ever victory over New Zealand in 2016 at Chicago's Soldier Field.
The Black and Tans, as Niall O'Dowd has previously written, "were a force of temporary constables recruited to assist the Royal Irish Constabulary in maintaining control over the IRA during the Irish War of Independence.
"They were generally thought of as the scum of the British system -  British ex-soldiers, many ex-prisoners, some turned psychopaths who formed an evil and murderous militia."
The White House's official transcript of Biden's remarks in Louth now shows "Black and Tans" being struck out and replaced with "[All Blacks]" despite Biden not correcting himself during his speech: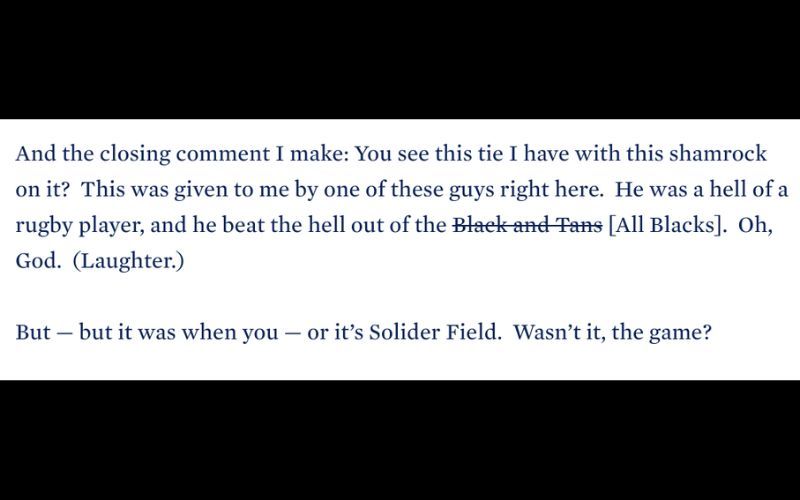 2
On Thursday, NSC Senior Director for Europe Amanda Sloat was asked during a press gaggle about the gaffe and whether or not Biden was aware he misspoke.
"I think for everyone in Ireland who is a rugby fan, it was incredibly clear that the President was talking about the All Blacks and Ireland's defeat of the New Zealand team in 2016," Sloat said.
When asked if Biden realized he misspoke right after he said it, Sloat said: "I think it was clear what the President was referring to.  
"It was certainly clear to his cousin sitting next to him who had played in that match."
While White House officials attempted to downplay the Black and Tans gaffe, a multitude of memes had already come forth:
BREAKING: New photos have emerged of the black and tans during the burning of Cork in 1920 pic.twitter.com/JIoRxld40b

— Not the RTÉ News (@notthertenews) April 13, 2023
Rare footage of the Irish Rugby team at Soldier Field before beating the Black and Tans. pic.twitter.com/1kJFfHhHjy

— Féach News (@_FeachNews) April 12, 2023
OK Joe now refer to the all blacks as the black and tans for the craic pic.twitter.com/CfURfl4ikm

— seamus ✌ (@shimboi) April 12, 2023
Good to see Wikipedia correcting the record on Rob Kearney and the Black and Tans. pic.twitter.com/wlpi9Ctccu

— Oskar Persson (@opersson1986) April 12, 2023