Up to 4,500 Irish jobs are threatened by a trade dispute between two giant aircraft manufacturers, the Democratic Unionist Party (DUP) has warned.
DUP leader Arlene Foster has persuaded British Prime Minister Theresa May to ask President Donald Trump to intervene in the dispute between U.S. company Boeing and its Canadian rival Bombardier.
The Times of London reported on Tuesday that Foster has warned the row could threaten 4,500 jobs at Bombardier in Belfast.
Spurred by Foster, May raised the issue with Trump in a phone call last week.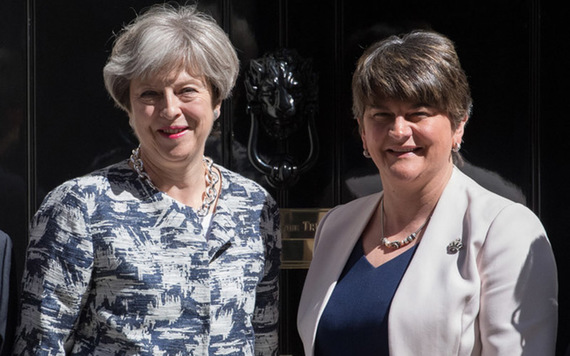 2
May's Tory Party relies on the support of the DUP's 10 MPs at Westminster to keep her government in office. May promised the DUP €1 billion in Northern Ireland funding for its support after Britain's June general election.
May's call to Trump was described by officials as constructive. It followed a visit from Greg Clark, U.K. business secretary, to Chicago last month to meet Boeing's chairman and chief executive and plead with them to drop the case against Bombardier.
Boeing has accused Bombardier of receiving unfair state support, including a £113 million sterling loan from the British government for its new C-series plane.
Read more: Unionist leader claims no evidence of support for united Ireland
Downing Street has been warned that a ruling against Bombardier in the U.S. this month could doom the company's Belfast factory, which makes airplane wings and employs 4,500 people.
The U.S.-based International Trade Commission will make an initial ruling on September 25 when industry figures expect it to order a punitive tariff of $30 million per aircraft. Without orders from the U.S., analysts predict that Bombardier's C-series program would be killed off, leaving the future of the Belfast plant in doubt.
A Downing Street official told the London Times after May's phone call to Trump, "I think the Trump administration is taking some time to think this through."  
Industry sources believe that the president's "America First" rhetoric has encouraged Boeing to take the action, however, and doubt that the White House will rein in the firm.
But a spokesman at Britain's Department for Business, Energy and Industrial Strategy, said, "This is a commercial matter but the U.K. government is working tirelessly to safeguard Bombardier's operations and its highly skilled workers in Belfast.
"Ministers across government have engaged swiftly and extensively with Boeing, Bombardier, the U.S. and Canadian governments. Our priority is to encourage Boeing to drop its case and seek a negotiated settlement with Bombardier."
Read more: Crowds cheer Prince Harry on his first visit to Northern Ireland