A united Ireland referendum is not on the cards according to DUP leader Arlene Foster.
The leader of the Democratic Unionist Party has claimed that a border poll would be "divisive and destabilizing."
Arlene Foster was speaking after Sinn Féin President Gerry Adams called for a referendum on the reunification of Ireland to be held within the next five years.
Foster counterclaimed that what Northern Ireland needs is a period of stability.
The North has been without a government at Stormont since January.
"A united Ireland will always be the goal of republicans and nationalists," she said.
"As a unionist, I will always campaign for Northern Ireland remaining within the union. Support for the union has never been greater.
"Such support does not just stem from a love for the NHS (National Health Service) or the economic stability of the United Kingdom. It is much broader than that.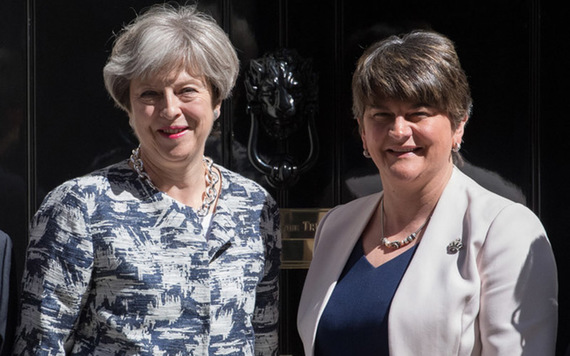 3
"The case for the union doesn't rely upon money. The United Kingdom is not the biggest nation in the world but our language, our music, our literature, our arts and our sporting success projects a power around the globe that pure numbers of people can never do.
"There will be no border poll as there is no evidence of overwhelming support for a united Ireland."
Foster said a border poll would propel Northern Ireland into a cycle of referenda.
"I want Northern Ireland to have a period of stability where we can deal with matters affecting health, education, investment, and infrastructure," she said.
Foster was responding to Gerry Adams who said Brexit had reenergized and reshaped the debate around a united Ireland.
3
"I encourage everybody to join this public discussion and debate," Adams told a party think-in.
"Sinn Féin is seeking the support of all parties in the Oireachtas for a committee on Irish unity.
"We will also be bringing forward a white paper on Irish unity. And we want to see a referendum on unity in the next five years.
"We believe that this is achievable and winnable. We also believe that this should be government policy."
To subscribe to the Irish Echo e-paper, click here.