There's only one possible outcome for Brexit. The British Prime Minister must know that she cannot depend on the Democratic Unionist Party and that Foster's days are numbered.
It is doubtful that any coherent outcome to the Brexit talks emerges save for one scenario.

Theresa May must face down the DUP and it's clueless leader Arlene Foster if real progress is to be made.
Foster has drawn blood red lines in the sand claiming that Northern Ireland can never be part of any different EU arrangement than any other part of the UK.
Read more: Hillary Clinton urges Northern Ireland to form interim government
Her use of emotive language such as "blood red" has further alienated moderate opinion in Northern Ireland which had voted to keep the North in the EU by 56 percent to 44 percent.
Instead of appealing to that moderate group and building a consensus she has gone back to the tribal world she seems happiest in - Ulster will fight and Ulster will be right.
She would prefer a return to The Troubles rather than admit the searing truth. Yes, Northern Ireland is indeed different Perhaps even within her lifetime it might be voted out of existence by a border poll given that a nationalist majority is soon inevitable.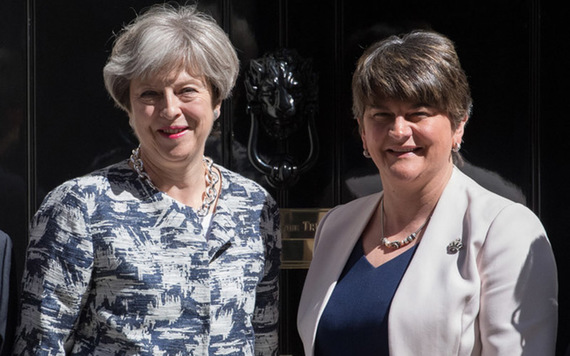 3
Instead of understanding the reality and working across the communities to find a Brexit solution Foster is all in on unionist domination and a solution that suits them ---despite the fact that the North voted to remain in Europe. But no, it's her way or the highway.
That stands also for her pact with Theresa May. On one occasion she even called her out of a cabinet meeting to demand action on a DUP proposal
Foster has displayed zero leadership skills since taking over and her veiled threats to the British Prime Minister who she props up in government must be galling for Theresa May. The question is will May take it for much longer.
Foster's position within her own party is no way secure. Since Stormont has been suspended she has no elected leadership position. She is seen by her party members who serve in the British parliament as a lightweight, one who has lost ground consistently in elections.
3
Indeed some see Nigel Dodds or Jeffrey Donaldson as possible challengers if Foster continues on her current path. Both are said to be far more flexible on what may work for them with Theresa May
They are perfectly aware that if May decides to call a vote on a Brexit proposal and dares the DUP to bring down the Tory government she may well succeed without the by drawing in Labor Party votes and ending DUP influence.
The DUP nightmare is a general election and a win for a Labor government led by well known Irish Republican sympathizer Jeremy Corbyn which could very well be the outcome if Foster brings down May.
The more the Brexit crisis deepens the more exposure the DUP will have to British political realities. If May sees an opportunity to do a deal that ditches the DUP she will do so in an instant. Foster may well preside over the last dying kick of unionist hegemony in Northern Ireland. May must know she cannot depend on such an unreliable and threatening partner. Fosters days in power may well be numbered. There will be very few tears shed if she becomes the latest Brexit victim.
Read more: Horrors of Irish Mother and Baby Homes revealed in new report
Will there be a Brexit deal made? What would be the best outcome for Northern Ireland? Let us know your views in the comment section below.